Patty Andrews: The Boogie Woogie Bugle Girl of World War II
The Music of the Andrew Sisters was the Music of the Greatest Generation
by John P. Allen
The most succesful and influential female music group in history, the Andrews Sisters were a close harmony singing group, consisting of sisters LaVerne Sophie Andrews (contralto; July 6, 1911–May 8, 1967), Maxene Angelyn Andrews (soprano; January 3, 1916–October 21, 1995), and Patricia Marie (a.k.a. Patty) Andrews (mezzo-soprano; lead; born February 16, 1918). All were born in Minnesota to a Greek immigrant father and a Norwegian American mother.
During World War II, they entertained the Allied forces extensively in America, Africa and Italy, visiting Army, Navy, Marine and Coast Guard bases, war zones, hospitals, and munitions factories. They encouraged U.S. Citizens to purchase war bonds with their rendition of Irving Berlin's song Any Bonds Today?. They also helped actors Bette Davis and John Garfield found California's famous Hollywood Canteen, a welcome retreat for servicemen where the trio often performed, volunteering their personal time to sing for and dance with soldiers, sailors and Marines (they did the same at New York City's Stage Door Canteen during the war).
While touring, they often treated three random servicemen to dinner when they were dining out. They recorded a series of Victory Discs (V-Discs) for distribution to Allied fighting forces only, again volunteering their time for studio sessions for the Music Branch, Special Service Division of the Army Service Forces, and they were dubbed the "Sweethearts of the Armed Forces Radio Service" for their many appearances on shows like "Command Performance", "Mail Call", & "G.I. Journal." Perhaps only Bob Hope and his troupe did more to entertain the troops.
Patty, the youngest and the lead singer of the group, was only seven when the group was formed, and just twelve years old when they won first prize at a talent contest at the local Orpheum Theatre in Minneapolis, where LaVerne played piano accompaniment for the silent film showings in exchange for free dancing lessons for herself and her sisters. Once the sisters found fame and settled in California, their parents lived with them in a Brentwood estate until their deaths, and several cousins from Minnesota followed them west. The sisters returned to Minneapolis at least once a year to visit family and friends and/or perform.
They started their career as imitators of an earlier successful singing group, the Boswell Sisters. After singing with various dance bands and touring in vaudeville with the likes of comic bandleader Larry Rich, also known as Dick Rich (Dick Rich was actually one of Larry's younger brothers), Ted Mack, and Leon Belasco, they first came to national attention with their recordings and radio broadcasts in 1937, most notably via their major Decca record hit, Bei Mir Bist Du Schöen (translation: To me, you are beautiful), originally a Yiddish tune, the lyrics of which Sammy Cahn had translated to English and which the girls harmonized to perfection. It sold a million copies, making them the first female vocal group to achieve a Gold Record award. They followed this success with a string of best-selling records over the next two years and they became a household name by 1940.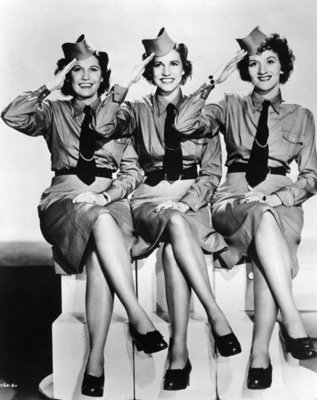 Patty Andrews was born in Mound, Minnesota on 16 February 1918, the daughter of Peter Andreos (changed to 'Andrews' upon arriving in the US) and Olga Sollie. Her real name is Patricia Marie (Patty nickname). Her father was a Greek Catholic immigrant and her mother a Lutheran from Norway who ran the pure food café, a Greek café in Minneapolis which was located adjacent to the Orpheum Theater. Her sisters were Lavern Sophie born July 6, 1911, died 1967 (cancer); Maxene Angelyn born Jan. 3, 1916, died October 1995 of a heart attack while on vacation at Cape Cod, Massachusetts. Peter Andrews did not think it honorable to have his daughters in show business and decided they should go back to school and become secretaries. Maxine was only four when she first appeared on her first radio broadcast in Minneapolis.
By the time she was six she was entertaining at veterans hospitals, for the Mayor of Minneapolis and at Daughters of American Revolution luncheons. Laverne started the trio of sisters and they appeared in kiddie revues on local radio stations and at the Orpheum in their hometown of Minneapolis. It was there they were discovered by Larry Rich, who offered them a job with his traveling revue. Patty was only ten at the time. They began their career in New York city with Jack Belasco's orchestra and later with Ted Mack making the Vaudeville circuit.
In 1937 they were heard by recording executive, Dave Kapp and they began a long association with a string of hits. In 1953, the group broke up with Laverne going to New York to study dramatics. Laverne became a career housewife and Patti stayed in show business as a single after their hopes and ambitions clashed with one another. In 1956 they regrouped and sang in Las Vegas at the Flamingo Hotel along with a host of TV offers and a new Capitol recording contract. Their first major hit was "Bei Mir Bist du Schon". Other top hits included "Don't Fence Me In", "Apple Blossom Time", "Rum and Coca Cola", and "I Can Dream, Can't I?" in 1937.
Patty is the last of the surving sisters. At age 90, Patty Andrews remains a recluse in Northridge, California, together with Wally, her husband of over 55 years. In interviews, when granted, she rarely speaks personally of her sisters. When asked about their legendary feuding, she jokes about it and quickly moves onto the next topic.
---
LYRICS: Boogie Woogie Bugle Boy of Company B
He was a famous trumpet man from out Chicago way
He had a boogie style that no one else could play
He was the top man at his craft
But then his number came up and he was gone with the draft
He's in the army now, blowing reveille
He's the boogie woogie bugle boy of Company B

They made him blow a bugle for his Uncle Sam
It really brought him down because he could not jam
The captain seemed to understand
Because the next day the cap' went out and drafted a band
And now the company jumps when he plays reveille
He's the boogie woogie bugle boy of Company B

A-toot, a-toot, a-toot-diddelyada-toot
He blows it eight-to-the-bar, in boogie rhythm
He can't blow a note unless the bass and guitar is playing with him
He makes the company jump when he plays reveille
He's the boogie woogie bugle boy of Company B

He was our boogie woogie bugle boy of Company B
And when he plays boogie woogie bugle he was buzy as a "bzzz" bee
And when he plays he makes the company jump eight-to-the-bar
He's the boogie woogie bugle boy of Company B

Toot-toot-toot, toot-diddelyada, toot-diddelyada
Toot, toot, he blows it eight-to-the-bar
He can't blow a note if the bass and guitar isn't with him
And the company jumps when he plays reveille
He's the boogie woogie bugle boy of Company B

He puts the boys asleep with boogie every night
And wakes 'em up the same way in the early bright
They clap their hands and stomp their feet
Because they know how he plays when someone gives him a beat
He really breaks it up when he plays reveille
He's the boogie woogie bugle boy of Company B

Da-doo-da da-doo-da-da da
Da-doo-da da-doo-da-da da
Da-doo-da da-doo-da-da da
Da-doo-da da-doo-da-da
And the company jumps when he plays reveille
He's the boogie woogie bugle boy of Company B!
SOURCES: IMDB, WikiPedia, CMG Worldwide
The views expressed herein are the views of the author exclusively and not necessarily the views of VT, VT authors, affiliates, advertisers, sponsors, partners, technicians, or the Veterans Today Network and its assigns. LEGAL NOTICE - COMMENT POLICY
Posted by
VTN
on February 22, 2009, With Reads Filed under
Veterans
. You can follow any responses to this entry through the
RSS 2.0
. Both comments and pings are currently closed.