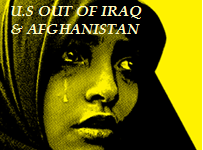 Despite intimidation from Police in LA, San Francisco, and Washington, DC,  the PEACE demonstrations on Saturday, 20 March to demand "U.S. Out of Afghanistan and Iraq Now" have been endorsed by over 1,500 organizations and individuals. Suppression of dissent regardless if it comes from the Bush or Obama administration, the LAPD, SFPD, DCPD, Capital or Park Police is not going to discourage dissent.
Here is what leaders of some of the organizations that are mobilizing have to say:
Robert L. Hanafin, Staff Writer, VT News
"Why WE are marching on 20 March"
The PEACE demonstrations on Saturday, 20 March to demand "U.S. Out of Afghanistan and Iraq Now" has been endorsed by over 1,500 organizations and individuals.
Whether it is President Bush or Obama, when it comes to war and occupation, there's no difference. It's the same soup, just a different bowl. The U.S. government is still engaged in a war of empire and occupation. It wages a war against Muslims abroad and at home. The government spends billions of dollars dropping smart bombs on dumb missions, while the
American people go without jobs, homes, health care, and decent, accessible education.
Muslims must unite with those who resist oppression and love freedom and justice. Our strength is in our unity and our resistance. Therefore, we march. – Mahdi Bray Executive Director, Muslim American Society
The National Council of Arab Americans (NCA), a fundamental constituent of the anti-war movement, in alignment with other coalition partners, are drawing attention to the massive shift of resources from development and fighting poverty to fund useless wars and destruction. Irrespective of who's in the White House, the policies have proven to be identical in maintaining a hegemonistic empire. Our
community, in particular, is subjected to harsh profiling and alienation policies; but remains determined to fight the source of injustice. …We call on our Arab-American community, and their friends, to mobilize on March 20th denouncing wars and shifting dire resources, and to tear down the wall of fear and intimidation. – Mounzer Sleiman
Vice Chair, NCA
Click here to read the full statement.

Visible protest—marching to stop the crimes of our government—makes a difference because we show what we won't accept, and we learn what we're up against. These wars are not legitimate. People around the world must see that we don't support them, and know that to us, American lives are not more important than their own. Join World Can't Wait Saturday March 20 in protest! – Debra Sweet National Coordinator, World Can't Wait
Click here to read the full statement.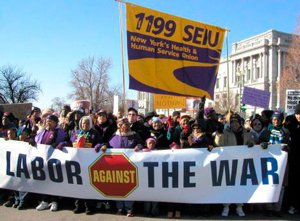 Labor organizations and unions are joining with thousands of others who will be marching on Washington, D.C., on Saturday, March 20.
Among the over 1,500 endorsers of the National March on Washington are U.S. Labor Against the War, New York City Labor Against the War, North Carolina Labor Against the War and New Jersey Labor Against War.
The United Steelworkers (USW) are sponsoring a bus to D.C. leaving from their headquarters in downtown Pittsburgh. Dan Kovalik, the senior associate general counsel for USW, said:
"The USW will be sending a bus of protesters from its headquarters in Pittsburgh to the March 20 demonstration for peace. The time is long overdue that our nation's resources be spent on real health care reform, a social safety net and job creation rather than on weapons of mass destruction and senseless wars. We march for that change in our government's set of priorities."
United University Professions (UUP)—the union representing more than 34,000 academic and
professional faculty on 29 State University of New York campuses and several other New York State schools—passed a resolution at its 2010 Winter Delegate Assembly calling on UUP leaders, chapters and members to build UUP participation in the March 20 demonstration in D.C. as part of the labor contingent.
Click here to read the UUP resolution.

In San Francisco, the March 20 demonstration will unite with the UNITE HERE Local 2 hotel workers by marching to two of the hotels being boycotted by the union. Local 2 represents more than 9,000 hotel workers who are fighting for a new contract. The Executive Board of Local 2, which has been waging a spirited contract struggle, has endorsed the March 20 demonstration. The San Francisco and Alameda County Central Labor Councils and many individual unions are mobilizing for March 20 against the wars and occupations and in solidarity with the Local 2 workers.
More information about March 20 is available at www.AnswerCoalition.org.
Help build the March 20 March on Washington!
Find out about transportation from around the country
Readers are more than welcome to use the articles I've posted on Veterans Today, I've had to take a break from VT as Veterans Issues and Peace Activism Editor and staff writer due to personal medical reasons in our military family that take away too much time needed to properly express future stories or respond to readers in a timely manner.
My association with VT since its founding in 2004 has been a very rewarding experience for me.
Retired from both the Air Force and Civil Service. Went in the regular Army at 17 during Vietnam (1968), stayed in the Army Reserve to complete my eight year commitment in 1976. Served in Air Defense Artillery, and a Mechanized Infantry Division (4MID) at Fort Carson, Co. Used the GI Bill to go to college, worked full time at the VA, and non-scholarship Air Force 2-Year ROTC program for prior service military. Commissioned in the Air Force in 1977. Served as a Military Intelligence Officer from 1977 to 1994. Upon retirement I entered retail drugstore management training with Safeway Drugs Stores in California. Retail Sales Management was not my cup of tea, so I applied my former U.S. Civil Service status with the VA to get my foot in the door at the Justice Department, and later Department of the Navy retiring with disability from the Civil Service in 2000.
I've been with Veterans Today since the site originated. I'm now on the Editorial Board. I was also on the Editorial Board of Our Troops News Ladder another progressive leaning Veterans and Military Family news clearing house.
I remain married for over 45 years. I am both a Vietnam Era and Gulf War Veteran. I served on Okinawa and Fort Carson, Colorado during Vietnam and in the Office of the Air Force Inspector General at Norton AFB, CA during Desert Storm. I retired from the Air Force in 1994 having worked on the Air Staff and Defense Intelligence Agency at the Pentagon.
ATTENTION READERS
Due to the nature of independent content, VT cannot guarantee content validity.
We ask you to
Read Our Content Policy
so a clear comprehension of VT's independent non-censored media is understood and given its proper place in the world of news, opinion and media.
All content is owned by author exclusively. Expressed opinions are NOT necessarily the views of VT, other authors, affiliates, advertisers, sponsors, partners or technicians. Some content may be satirical in nature. All images within are full responsibility of author and NOT VT.
About VT
-
Read Full Policy Notice
-
Comment Policy