– 9/11 was not all about hitting towers or killing 3000 innocent Americans. It was not about clash of civilizations nor Islam hating the west. And whoever masterfully did it can do it again. –
By Dr. Ashraf Ezzat  
Critics- amongst them Newsweek columnist Fareed Zakaria – who say the United States has over-reacted to the attacks of September 11, 2001by building an overly expensive and complex antiterrorism apparatus are wrong, said Homeland Security Secretary Janet Napolitano last month. 
And as she explained the post – 911 change of terrorist attack tactics, Napolitano said; "I think what we have to recognize is the kind of threats and possible attack tactics we see now are different than 9-11. They are not large complex conspiracies – they are smaller; they are more diverse; it is not just Al Qaeda, it is other related groups. New groups that have occurred since then that have been inspired perhaps by Al Qaeda." 
The Secretary then described the nature of the current threats to the country. "It's IED's [improvised explosive devices], it's small arms, it is hydrogen peroxide-based explosives designed to be put in backpacks and left around smaller targets in the United States. So the nature of the attacks and the means by which they would be accomplished have changed. " 
Why didn't they pull off 9/11 in the Middle East?
I quite agree with the Homeland Security Secretary that the world – and the whole of the American post- 9/11 anti terrorism apparatus – recognized completely different terrorism- if any- from 9/11. 
As a matter of fact neither America nor the rest of the world have recognized or spotted any terrorism operation like or even close to 9/11 since the horrific 9/11 except may be some scenes from the American unjustified wars in Iraq and Afghanistan. 
But why is that? Why haven't we had another 9/11? It`s not that we wish for another attack, but why 9/11 was a one-time operation and of a scale of complexity and accuracy never witnessed before?  Why the nature of terrorist attacks has changed or rather declined to go back to the traditional – plant an improvised explosive device, detonate it and run. 
As Scholars and pundits were trying to make sense of those seemingly senseless attacks.  Most analysts agreed that 9/11 proved to be the blockbuster terrorist attack of all times and whoever masterfully did it can do it again.   
 But so far, it has never been tried again. Does this give us any hint of why or who did the 9/11 attacks. Who wanted to play the international terrorist for one – time and then hide in the dark back in September, 2001? 
The official story says that Osama Bin Laden and his group of –out of medieval ages- cave dwellers did this sophisticated operation. And they pulled off the scariest attacks ever in history just to say to the whole world how much they hated and disapproved of the United States foreign policy in the Middle East, a statement that could have been symbolically made by publicly burning the American flag or resorting to the traditional small time terrorist operations which the Secretary of the American Homeland Security only speaks of now.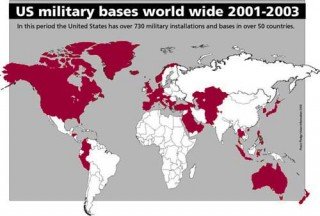 Moreover, it would have been safer and more success-guaranteed if 9/11 operation had been performed in one of the Middle Eastern countries. After all most of the alleged perpetrators were proven Middle Eastern and since the United States had a lot of military bases and interests in the region, so, it would have been wiser to carry out this operation in the Middle East where the alleged terrorists could feel like plying on their playground and enjoying the add-on advantage of getting access to whatever on-ground support, elements and facilities. 
The alleged perpetrators- against all odds- chose to pull it off in America which – theoretically speaking- made it all the more difficult and less liable to succeed for a group of alien Arabs, but more convenient if the 9/11 culprits were to include Americans. 
Thus, we have to agree that Americans were the target of the attacks not just any American interests and the 9/11 perpetrators were mightier and more dangerous than a bunch of crazy Arabs who hardly knew their way around America. 
Whoever planned 9/11 had only one thing on his mind. 9/11 planners were keen to shock the American sensibility and hurt the American national pride. They wanted to make sure they infuriated the Americans beyond measure and hard enough to drive them to declare war.   
9/11 was not all about hitting towers or killing 3000 innocent Americans. It was not about clash of civilizations nor Islam hating the west. 
It was neither about making a statement nor expressing anti-American sentiments. 
It was not an ordinary act of terrorism. 
 This high technology destruction was a sort of manipulated socio-political stimulus aimed to provoke the terrorized masses of Americans and to urge them to seek relentless revenge. And in doing so, the Americans- as expected- would promptly hand over their freedom to a higher authority dedicated to pursue and avenge the grieving nation. 
This delegated by the people authority could then move freely- and according to a preplanned agenda- to achieve the hidden targets within the sinister agenda. 
The post-9/11 political authority in the white house had the carte Blanche they needed to wage perpetual war without borders as a legitimate cover up for a scarier and more terrorizing scenario than 9/11. A scenario the world is living nowadays. A scenario of death orgy that left more than one million innocent Iraqis killed. A scenario directed by a coalition of war lords, giant oil companies, arms industry tycoons and drug traffickers. 
 In this scenario America was assigned the role of the avenger who went after the evil-doers but in fact America was played for a fool. America was doing the dirty work of the real beneficiary of 9/11 scenario, who could very well be- for all we know- the real planner of 9/11 attacks. 
Muslims and Middle Eastern idea of 9/11
 One doesn't need to think much to figure out who the only party that really benefited from dismantling powers like Iraq and the afghan-Pakistani front.  Any average man in any given city in the whole Arabic or Muslim world would not hesitate- not for a second- to tell you in the face if you popped up the question that it was ISRAEL behind 9/11 operation. 
This is how they see 9/11. Arabs –of all nations- have the first hand experience and long history with Israel. They know that Israelis will not be deterred by any moral constraint and they will do anything to achieve their goals. But how they came to tie Israel to this conspiracy theory of 9/11? 
 After the American invasion of Iraq and without having to closely follow the news it was obvious that, the Americans felt that they were dragged into this war by deception and began to realize they had made a huge mistake. The Arabs felt the pain and humiliation brought by the invasion but only the Israelis were rejoicing over what seemed to a glorious victory. 
Analysts of Middle East politics knew that Tel Aviv kept a long list of countries that posed a direct threat to Israel. The list included amongst many Iraq, Pakistan, Syria and Iran.  After launching 9/11 war on terrorism, anybody could clearly see that Tel Aviv's list has been reduced to a shorter one leaving, so far, Iran – whose President believes USA was behind 9/11- standing alone on the Israeli target list. 
However, the subsequent American wars in Iraq and Afghanistan provided fodder for another conspiracy theory that claims high officials in the white house knew beforehand about 9/11 and did nothing to stop it , supposedly to justify military action in the Middle East and to protect Israel. 
A 2006 survey by the Pew Global Attitudes Project found that significant majorities in Egypt, Indonesia, Jordan and Turkey — all among the most moderate nations in the Islamic world — said they did not believe Arabs carried out the attacks. 
Al Qa`ida soap opera
 It is hard to accept the al Qa`ida behind 9/11 myth when scientists and highly qualified specialists- chemists, engineers and architects- proved beyond doubt that WTC towers collapsed due to controlled demolition using high tech incendiaries. 
It is customary to link most terrorists with the use of- improvised explosive devices– and small arms but not with- Nano thermite– or controlled demolition demonstrated by the way WTC towers collpsed. This was not the work of improvised mentality. 9/11 was like the work of a shadow government capable of intelligence collection and covert activities including assassinations and paramilitary operations. 
The world has not witnessed another 9/11 since 9/11.This is something no anti-terrorism apparatus should take credit for. Whoever pulled the 9/11 operation got what he wanted and has no need for another major attack of the sort yet. 
Whoever invented al Qa`ida could not sustain it. It is not an easy job to keep the al Qa`ida soap opera going when its protagonist might already be dead. When the threat of an international terrorist organization is reduced to merely broadcasting – non verified– audio tapes of its leader calling for the world to do more for victims of the floods and climate change, then, we are watching – not the change of al Qa`ida tactics as the Secretary of the American Homeland Security says but rather we are watching a myth disintegrates. 
[youtube RMW5wglFkUk&feature=player_embedded]
Ashraf Ezzat is an Egyptian born in Cairo and based in Alexandria. He graduated from the faculty of Medicine at Alexandria University.
Keen not to be entirely consumed by the medical profession, Dr. Ezzat invests a lot of his time in research and writing. History of the ancient Near East and of Ancient Egypt has long been an area of special interest to him.
In his writings, he approaches ancient history not as some tales from the remote times but as a causative factor in our existing life; and to him, it's as relevant and vibrant as the current moment.
In his research and writings, Dr. Ezzat is always on a quest trying to find out why the ancient wisdom had been obstructed and ancient spirituality diminished whereas the Judeo-Christian teachings and faith took hold and prospered.
Dr. Ezzat has written extensively in Arabic tackling many issues and topics in the field of Egyptology and comparative religion. He is the author of Egypt knew no Pharaohs nor Israelites.
He writes regularly at many well-known online websites such as Dissident Voice and What Really Happened.
Dr. Ezzat is also an independent filmmaker. His debut film was back in 2011 The Annals of Egypt Revolution and in 2012 he made Tale of Osiris a short animation for children.
In 2013 his short The Pyramids: story of creation was screened at many international film festivals in Europe. And he is working now on his first documentary "Egypt knew no Pharaohs nor Israelites".
ATTENTION READERS
Due to the nature of independent content, VT cannot guarantee content validity.
We ask you to
Read Our Content Policy
so a clear comprehension of VT's independent non-censored media is understood and given its proper place in the world of news, opinion and media.
All content is owned by author exclusively. Expressed opinions are NOT necessarily the views of VT, other authors, affiliates, advertisers, sponsors, partners or technicians. Some content may be satirical in nature. All images within are full responsibility of author and NOT VT.
About VT
-
Read Full Policy Notice
-
Comment Policy