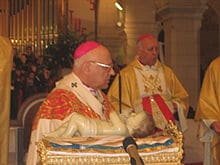 "…Well you have to remember that we are a pro-Zionist network."… God TV – "The Palestinians are not crying for nothing, and they shall stand before the sword." – Latin Patriarch of Jerusalem, Michel Sabbah, interview with Jim Dean, 2001
Christian Zionists seem to get a free pass on the extremism label. I think it has something to do with their voting power. Meanwhile, back at the hypocrisy ranch, Americans rant on about how the Saudis should reign in their extremist Wahhabi elements. But they will not consider the same courtesy with AIPAC, the Jewish Lobby, or the Christian Jihadiis, also known as evangelicals.
The Pakistanis are routinely pressured to do more against the Afghanistan Taliban, but we do nothing about Israeli and RAW (India) support for the anti-Pakistan Taliban. What seems good for the goose is not good for the gander.
The George W. Bush doctrine of "anyone that aides and abets in terrorism…we will hunt you down', had an invisible ink part to it, 'except if they are Israelis or anyone helping them, because their founding fathers were terrorists so it's just part of their culture, and it would hurt me politically."
Some years back when I began doing TV interviews with Mid East boots on the ground folks I was astounded to learn that most Christian Holy Land tourists had little direct contact with their Palestinian Christian brethren. You would think that a courtesy call to the local 'living stones' as the Palestinians Christians call themselves, might be in order. And maybe an American Christian might be curious to ask them, 'what is really going on over here, and how are you being treated?'
But alas, Evangelical Christian love does not extend to the living stones of Palestine, including descendants of the Apostles. Their numbers in the Holy Land are down from 20% to 2% since the Communist/atheist Zionists brought in their lebensraum program. And these Neo-Christian Zios want to whittle their numbers down even more.
With co-religionists and friends like these, who need enemies?
But before we here from brother Max, lets hear from Rabbi Hier of the Simon Wiesenthal Hate Center rant on about his racist Jewish state and how obvious it should be for everyone to understand that this was the plan and everyone knew it. Listen carefully…after he goes on and on about the land always being Jewish land, he then makes a big goof by saying 'you can't go back in time', ie., (to the Palestinians)…but of course this does not apply to you know who.
Of course Rabbi Hier is lying through his teeth, his job actually. Here is the proof and the part that the Rabbi Heir ilk always leave out, Balfour's letter to Lord Rothschild. The Zios broke the contract with their plan,which is in the archives, to run the Palestinians out to make room for the great number of settler Jews they were planning to bring to Israel. The three dollar rabbi also left out that this UN stamp of approval he claims in the video has been followed by several hundred condemnations, which to the Rabbi Hier ilk, they don't recognize because , 'you know…'we're Jews!' And then they expect/demand to be recognized as a Jewish state…because "we're Jews."
The unsaid racial slur here is, "All goyim to the back of the bus." And my persnal reply to that is, "No way, Jose."
Now onto brother Max Blumenthal as he enters the belly of the beast. Make way for the trees folks. Here comes the God TV cult, and to hell with the Palestinians because we're all gonna die anyway.
An afternoon in the Jerusalem studio of GOD TV, the Christian Zionist ethnic cleansing network…. Jan 24, 2011 02:19 pm | Max Blumenthal
I spent a part of this afternoon in the green room of a Russian news bureau in Jerusalem. While waiting for my friend Joseph Dana to appear on Russia TV to discuss the Palestine Papers, I looked out the window at a panoramic view of Jerusalem. In the foreground was the Mamilla cemetery, once the home to the graves of prominent Palestinian families like the Khalidis, and now the desecrated future site of the Simon Wiesenthal Foundation's ironically named "Center for Human Dignity," which was approved by the Jerusalem municipality.
Now Joseph was on. "What the papers provide us with is the ultimate confirmation that Israel is not a viable partner for peace and does not support an equitable two state solution," he said. "Israel is content with the status quo, which means a permanent state of war and the deadly reality of occupation it established in 1967."
On our way out, I noticed that the studio of GOD TV, the evangelical End Times network, were right next door. GOD TV is the key funder of the Jewish National Fund's plan to plant a million trees directly over the site of the Bedouin village Al-Arakib, a scheme that has resulted in ten demolitions of the village and untold damage to its residents. I knocked on the door of GOD TV's studio and a tall, lanky producer appeared. He told me he was from the Netherlands and introduced himself as Klaas. I asked if his network was funding the JNF's plan to plant a forest that would permanently displace Al-Arakib, forcing its residents' transfer to the Indian reservation style development town of Rahat.
He told me that while they are planting a million trees to beautify the land for the Second Coming of Christ, he knew nothing about Al-Arakib. "The Jewish National Fund hasn't told us anything about that and we certainly wouldn't be a part of anything that would do what you described," he said. Then he demanded I support my claims with evidence.
Klaas allowed me to go online on one of GOD TV's computers to show him my video of the demolition of Al-Arakib. Unfortunately, Google and YouTube were blocked by a search filter on all of the network's computers. Either a wave of porn watching and chronic masturbation has swept through GOD TV a la AIPAC in the Steve Rosen era, or they are restricted from accessing outside information like North Koreans. Or both. I left Klaas with an article by Neve Gordon about his network's collaboration with the JNF.
As I was leaving, Klaas suddenly grew argumentative.
"An Israeli friend who lives in the Negev told me the Bedouins have to be removed because they steal everything," he said. "That's their way of life — theft."
I asked if he ever spoken to a Bedouin or gone to the Negev to see the situation for himself. He said he hadn't. I then asked if he had ever met a Palestinian Christian. While our conversation took place, GOD TV was broadcasting a "report" on the Hebron massacre of 1929 which featured black and white footage of Arab men jumping around with swords in a frenzied manner interspersed with interviews with settlers.
"I noticed in Holland a lot of people said they were Christian but they didn't even go to church, so I realized that they were not really Christians. I mean, what kind of Christians are these Palestinians?" Klaas said. He seemed to be suggesting that anyone who was not born-again was not an authentic Christian.
I told him that most of the Palestinian Christians are Orthodox, and that some are direct descendants of the Apostles. I explained that the Christians of Bethlehem have been physically assaulted by Israeli troops for attempting to celebrate Palm Sunday in Jerusalem, that Christians in Gaza are blocked by Israel from celebrating Christmas in Bethlehem, and that the mayor of Nazareth Illit banned the public display of Christmas trees this year because he considered them "provocative." "You can freely walk where Jesus walked because you're an international," I told Klaas, "but what if you were a Palestinian?"
He seemed disturbed by what I had just told him.
"They really banned Christmas trees in Nazareth?" he asked. "Yeah, it was widely reported," I replied. He paused, then came back at me: "Well, I'm not going to just stand here and believe what you say. If you approach the situation in one way, then you can fit everything into your point of view."
I responded that that was exactly what GOD TV was doing with its broadcasts. He said,
"Yeah, well you have to remember that we are a pro-Zionist network." Then he added, "I'm happy to talk to you, but you're not going to convince me."
Jim W. Dean is Managing Editor of Veterans Today involved in operations, development, and writing, plus an active schedule of TV and radio interviews.
ATTENTION READERS
Due to the nature of independent content, VT cannot guarantee content validity.
We ask you to
Read Our Content Policy
so a clear comprehension of VT's independent non-censored media is understood and given its proper place in the world of news, opinion and media.
All content is owned by author exclusively. Expressed opinions are NOT necessarily the views of VT, other authors, affiliates, advertisers, sponsors, partners or technicians. Some content may be satirical in nature. All images within are full responsibility of author and NOT VT.
About VT
-
Read Full Policy Notice
-
Comment Policy