By Tariq Majeed
The murders committed by Raymond Davis on 27 January 2011 in Lahore were a pre-planned task. The killer was acting according to its script. The main aim, to be achieved through the ruthless killings, is highly sinister and is a part of the wider US design against Pakistan. It is a dire warning to the country's policymakers.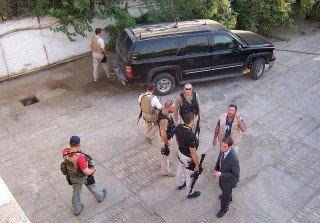 The murder of two Pakistanis by American national Raymond Allen Davis on 27 January 2011 in Lahore was not a rash act, committed in unforeseen circumstances. It was a tasked job that the CIA's terrorism expert carried out according to its script. Such tasks are never without specific aims that usually cover both the short and long term requirements of the tasking authority. That authority in this killer's case, as claimed by American officials, is US government. More specifically, it is the CIA, as was soon revealed by western media1 and Pakistan's ISI.2
Davis and hundreds of other undercover CIA operatives, who were given speedy, unchecked visas under an unusual authorisation of Pakistan embassy in Washington in 2010, have been reportedly carrying out various subversive tasks, including aiding drone attacks and suicide bombings. But the activities, rather misdeeds, of such agents are always covert.
Why did the Killer Flaunt his Trade and Crime
Why did Davis commit this heinous crime so openly? For what purpose was he there in a crowded part of Lahore during the rush hour, with an unlicensed pistol and four loaded magazines in his car? Why had he not intimated the local authorities of his movements, that he was obliged to do being an employee of the US Consulate? Why was he carrying in his car a whole range of spying gear: telescope,  GPS navigation system,3 wireless set, survival kit, multiple mobile phones,4 a forehead-mounted infra-red flashlight, high-capacity clips, a cell-phone locator, military knives, masks and make-up kit, fake business cards and a camera filled with photos of schools? 5
Killing done in Cold Blood
Davis was formally accused of double murder and illegal possession of a firearm.  In the court, he said he opened fire on the two men on a motorbike "in self-defence, fearing that they were about to rob him."6 It was a hollow pretext and turned out to be false under investigation. According to his charge sheet, "The guns recovered from his victims were not loaded, and they had not pointed any gun at the accused."7 Some stories said his two victims were intelligence men. If it was true, it shouldn't be surprising. It is a normal practice of intelligence agencies in every country to monitor unauthorised movements of staff of foreign missions.
The motorbike riders were stopped ahead of his car at red light at the traffic signal. Davis shot them in the back, firing from inside his Honda car. At a news conference on Feb 17, Capital City Police Officer (CCPO) Mohammad Aslam Tareen said: "It has been proved that Raymod Davis was involved in the killing of two young motorcyclists and he deliberately killed them in cold blood."8
Murders—A Pre-planned Task
It does not demand any deep inquiry to find that the entire murderous incident was a scripted, pre-planned task. Every move by the killer, from his leaving his dwelling and then shooting dead the two youths to his arrest, was calculated and made with deliberate intent to produce programmed results.
The shooting was done at about 2:30 pm on a working day, Thursday, 27 January 2011, at Qurtaba Chowk, Ferozpur Road, an area teeming with people. It was in the script: to kill the men in broad daylight before the eyes of a whole crowd of people, and to do it ruthlessly. After his shots had felled them, he continued shooting at them even when one of them was trying to run away. Medical and police sources said, "One of the victims, Faizan Haider, sustained nine bullets while the other, Muhammad Faheem, was shot four times."9
The killer Davis was in no hurry to flee the site of his crime. "After shooting the youths, the killer came out of his car and made video clips of the scene using his mobile phone camera," an eyewitness said.10
On leaving the crime site, he could have easily turned onto Fatima Jinnah Road and driven straight to Shahrah Quaid-e-Azam (the Mall) and then onward to the US Consulate that is not far from the Mall. Instead, he drove on Ghazi Ilmuddin (Lytton) Road, knowing well (being familiar with the routes in Lahore) that its traffic lane was narrow and overcrowded. Further on, again intentionally, he drove into the narrower and more congested area of Old Anarkali, hitting several vehicles on the way.  There, after his car was stopped by a traffic warden, according to SP Civil Lines Muhammad Umar Saeed, "Raymond let himself be arrested."10
The Third Murder—also Intentional
What about the incident of killing of another youth, Ubaidur Rehman? He was crushed to death by the US Consulate's Prado land cruiser that reportedly rushed to help Davis on receiving a call from him, and crossing over to the wrong traffic lane at Jail Road, hit and killed the motorcyclist. It then sped off and disappeared.
Before the Lahore High Court on 17 February, Advocate General Punjab "termed the killing an intentional murder committed while violating the traffic rules, (and) driving rashly, knowing that it will threaten the lives of others. He said an FIR under section 302 PPC has been registered."11
So it was—an intentional, planned murder. Davis did not call for help. He did not need it; he was proceeding according to the script—to be arrested. He called his team mates in the land cruiser to tell them he had done his job, now they could go ahead to do theirs. They did it promptly and equally mercilessly. Their job was to put another Pakistani to violent death. They were part of the murderous scheme in which Raymond Davis was the leading actor.
Main Aim—to Generate Intense Anti-American Feelings
The newspapers next day, Friday, 28 January, along with headline news of the murders of Pakistani youths by Davis and other men from the US Consulate, also reported strong public reaction to the killings. One report said, "The terrible incident sparked anti-American protests in different parts of the city, and the religious parties have announced protests after Friday prayers."12 Very soon a great swell of intense anti-American sentiment began to build up across the nation. Since then, protest rallies, condemning America and the American murderer have become a constant feature on every Friday.
The muddle about Davis' diplomatic status and his outrageous behaviour in jail are part of the whole scheme. The master schemers prepare a scheme's script to its very end, though the field operatives may be kept misinformed on how exactly it would end.  It is likely Davis' handlers assured him that in the end a release would be arranged for him, which may turn out to be true. However, there could be variations, in order to obtain maximum political benefits from the scheme.
Reymond Davis has become a rogue symbol for America. The main aim of Davis' murderous act was on track, toward fulfilment. 'Davis told the investigators on 29 January that he was on a "task" assigned to him.'13 He was mocking them while stating a fact he knew they would not understand.
A Sinister US Strategy
The aim was to fuel the already smouldering fire of anger and hatred against America in the hearts of the public in Pakistan and turn it into a blaze. Does it seem startling or surprising? It shouldn't. It is US strategy, in progress for a few years now, to deliberately generate strong, and rising, anti-American sentiment in Pakistan. Note, anti-American, not anti-Zionism or anti-Israel sentiment! It is easy to understand that this US strategy makes the public in Pakistan more and more disgruntled and disillusioned with the incumbent government. This too is a designed aim.
Around two years back, incidents of open misconduct by American nationals, including US Mission's personnel, began to crop up for no apparent reason. They broke traffic rules, violated local laws, misbehaved with police, and committed serious accidents in their vehicles, even killing people in some cases. They always escaped retribution, but each incident increased public anger against America.
Here is just one example, from a chain of those incidents, of nasty conduct of an American diplomat, as reported in the press in October 2009. "The allegedly drunk US diplomat, Jimmy Mort, ignoring red traffic signal, rammed his Prado land cruiser into CDA's fire brigade vehicle in Islamabad on 25 October, causing a loss of Rs 2.5 million to CDA. The recently imported state-of-the-art fire-fighting vehicle was badly damaged. The US diplomat even did not bother to come out of his land cruiser and later the US security personnel took him along without allowing the police their lawful procedures…The question once again is: is there any law applicable to Americans in Pakistan?"14
Vital to Comprehend and Counter the Neocons Designs
The endless vicious US drone attacks in Waziristan have the same main object—to kill innocent Pakistanis and engender deep hatred for America. This cruel and cunning strategy does serve the interests and terror schemes of AlQaeda and Taliban as well as the wider US interests of keeping the war of terrorism and its poisonous anti-Islam propaganda going. But, a still more dangerous and specific purpose of this sinister US strategy is to manufacture a justification for launching ground attacks in Pakistan, with which the Neoconservative or the Zionist policymakers of America plan to take their ongoing military offensive to its next stage–of greater destruction. Dealing with this looming danger does demand deep and cool thinking by Pakistan's rulers and political and military lead.
[youtube http://www.youtube.com/watch?v=CnlMnf7t4t4&feature=player_embedded]
Notes:

1. The News, Monday, 21 Feb 2011, Davis was CIA Spy: UK Paper.

2. The Nation, 20 Feb 2011.

3. Nation, 4 Feb 2011.

4. Nation, 16 Feb 2011.

5. Nation, 24 Feb, 2011, US caught in big lie about Raymond Allen Davis, by Dave Lindorff, CounterPunch.

6. Nation, 4 Feb 2011

7. Nation, 16 Feb 2011.

8. Nation, Friday, 18 Feb 2011, p. 12

9. Nation, 28 Jan 2011.

10. Jang, Friday, 28 January 2011, p.1.

11. Nation, Friday, 18 Feb 2011, p. 9.

12. Nation, 28 Jan 2011.

13. Nation, 30 January 2011, Rambo was on task, p. 1.

14. Nation, 26 October 2009, Drunk US diplomat costs CDA Rs 2.5 m.
After graduating from college, I joined Pakistan Army and was commissioned in a Tank Regiment.   I am a veteran of the Indo-Pakistan war. After leaving the Army, I joined IT as a profession. I was hired by Kuwait Air Force And Air Defence as an Adviser to computerize its entire operation.   Here I was the Chief Coordinator of the Project, Kuwait Automated Support System (KASS).   It was a state-of-the-art leading-edge technology where we established over 500 online terminals network with dedicated voice and data communications. It had Satellite linkups to connect with other systems and track the inventory movement for KAF & AD.   On this project, I was coordinating with the US Navy, IBM World, AT&T, and Martin Marietta for the development, deployment, and operation of the KASS.  Writing has always been a passion for me, been writing for 25 years for various newspapers and periodicals. Now for the last four years, I have formed my virtual Think Tank, Opinion Maker.  Here we have some renowned writers from Pakistan and abroad who contribute regularly that's helping the world opinion in some way.  I am a keen golfer may not be a good one but play on a daily basis. I am also fond of using the camera to picture nature and people.
ATTENTION READERS
We See The World From All Sides and Want YOU To Be Fully Informed
In fact, intentional disinformation is a disgraceful scourge in media today. So to assuage any possible errant incorrect information posted herein, we strongly encourage you to seek corroboration from other non-VT sources before forming an educated opinion.
About VT
-
Policies & Disclosures
-
Comment Policy
Due to the nature of uncensored content posted by VT's fully independent international writers, VT cannot guarantee absolute validity. All content is owned by the author exclusively. Expressed opinions are NOT necessarily the views of VT, other authors, affiliates, advertisers, sponsors, partners, or technicians. Some content may be satirical in nature. All images are the full responsibility of the article author and NOT VT.