Veterans!  Here's your Top 10 News stories of the day compiled from the latest sources
We encourage you to browse our list so that you can take what you want and keep what you need…
1. More powerful roadside bombs lead to increase in spinal injuries among troops.  Stronger armored vehicles are preventing more servicemembers in Afghanistan from being killed by roadside bombs. But the bombs are still powerful enough to cause severe skeletal and spinal injuries, the worst of which are leaving some paralyzed, Army surgeons say.
2. Data Spur Changes in VA Care.  Wall Street Journal By THOMAS M. BURTON Hospitals serving US military veterans are moving fast to improve care after the government opened a trove of performance data—including surgical death rates—to the public. The US Department of Veterans Affairs in November started …
3. Here's a great new resource for local employment stories.  Reynolds Center How effective have been the millions of dollars pumped into state and local training efforts via the US Department of Housing and Urban Development, the US Department of Veterans Affairs and the US Department of Labor, among other agencies.
4. Welcome Home Vietnam Veterans Day returns to Whittier.  Whittier Daily News…Linda Sanchez, Los Angeles County Supervisor Don Knabe, Whittier Mayor Greg Nordbak and Pico Rivera Councilman Bob Archuleta, who is also a county commissioner on military and veterans' affairs, thanked veterans for their service and sacrifice.
5. Veterans' Home in Rocky Hill to get improvements.  Middletown Press The federal Department of Veterans Affairs provided 65% of the original total cost of the $9.2 million project through the American Recovery and Reinvestment Act. The State Bond Commission approved $1 million today in additional construction costs
6. Ahead Of Schedule.  West Virginia MetroNews The $14 million project will be the first state veterans cemetery in West Virginia. Most of the money is coming from the US Department of Veteran's Affairs. It's the largest sum the agency has ever handed out for a state cemetery.
7. Veteran's fair scheduled.  San Angelo Standard Times Joining them will be representatives from TVC, Small Business Administration, Social Security Administration, US Department of Veterans Affairs (VA), and local Realtors and lenders specializing in veterans loans. Veterans wishing to discuss pending …
8. Rewriting a Civil War wrong.  ABC2 News  So Goff made his case to the US Department of Veteran Affairs. It agreed to produce a replacement, an authentic Union marker setting history in stone. "I thought they did a really nice job. It looks authentic, it's a much nicer one than the old one,

9. Jim Nielsen: Homeland heroes go without a home.  Record-Searchlight  In fact, the US Department of Veterans Affairs estimates there has been an 18% decline in veteran homelessness nationwide since 2008. This decline can be credited to the programs and services established over the years that have provided assistance to …
10. Care for your hearing while you still have it.  Cody Enterprise  Moreover, a 2009 online entry on Consumer Reports' health website reminds readers that "unless you're a military veteran who qualifies for virtually free hearing aids from the US Department of Veterans Affairs, you'll have to find a way to pay for them …
HAVE YOU HEARD?

VA recently reached a major milestone on the number of Veterans who make up its workforce. VA now has more than 100,000 Veterans making up its workforce, which represents 32 percent of VA's 312,000 employees. Leading the effort to increase the number of Veterans in VA's workforce is the Veterans Employment Coordination Service (VECS), located in the Office of Human Resources Management. VECS, and its' team of 13 regional Veteran employment coordinators located throughout the country, work collaboratively with HR offices, managers and supervisors nationally to link qualified Veterans to VA career opportunities. "As the agency entrusted with the care of our nation's more than 23 million Veterans, we take pride in knowing that many of our employees who provide services, benefits, and healthcare are representative of the customers we serve," said VECDS Director Dennis May. "Having a workforce comprised of over 100,000 Veterans shows VA is not only committed to providing the best service to our Veterans, but also employing them as well." To learn more about VECS, visit, www.va.gov/vecs
IN OTHER NEWS
Ground broken for VA clinic in South Toledo.  Toledo Blade  The US Department of Veterans Affairs officially started construction Monday on the 99850-square-foot facility to be built on South Detroit Avenue near the UT Medical Center, formerly the Medical College of Ohio. Dr. Jacobs, formerly chief of staff at …
VA, AFGE Reach Agreement on New Union Contract.  Officials of the Department of Veterans Affairs and the American Federation of Government Employees (AFGE) have reached final agreement on a new national collective bargaining agreement, their first since 1997. This contract will enhance VA's partnership with the union, change the rules for teleworking and expand the use of e–mail in labor–management relations. More information
The Middle Ground.  With all the challenges associated with coming home from war, like post-traumatic stress and chronic unemployment, the bittersweet absence of combat can be the most troubling and confusing. Almost to a man, my Army platoon misses the sting of battle as much as the camaraderie. They all agree a fifteen-month deployment to Iraq changed their chemistry–and without it, getting on with life has been an experience possibly more difficult than combat itself. …Read more »
Vice President Biden Speaks to Wounded Vets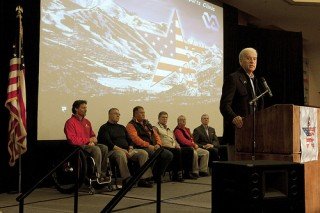 This week, Vice President Joe Biden stopped at the National Disabled Veterans Winter Sports Clinic in Snowmass, Colorado. Vice President Biden offered his thanks and encouragement to recently wounded Vets as they prepared for winter sporting events.
View photos | Read more
"Miracles on a Mountainside" – More than a Motto By Sandy Trombetta…Founder and Director, National Disabled Veterans Winter Sports Clinic.  It started as a dream. But in the 25 years since I organized the first National Disabled Veterans Winter Sports Clinic, I've seen countless Veterans transformed by the hope, courage and strength they've gained through the simple act of skiing.
ATTENTION READERS
Due to the nature of independent content, VT cannot guarantee content validity.
We ask you to
Read Our Content Policy
so a clear comprehension of VT's independent non-censored media is understood and given its proper place in the world of news, opinion and media.
All content is owned by author exclusively. Expressed opinions are NOT necessarily the views of VT, other authors, affiliates, advertisers, sponsors, partners or technicians. Some content may be satirical in nature. All images within are full responsibility of author and NOT VT.
About VT
-
Read Full Policy Notice
-
Comment Policy