By Khalil Nouri Staff Writer / Editor
It is typical to scoff at David Miliband's position for his post-political career. But in a recent New York Times article the former U.K Foreign Secretary showed that his intellect and judgment on a number of key issues, including how to bring the Afghan War to an end, was and remains almost finely honed; but it lacks an indigenous solution to be airborne: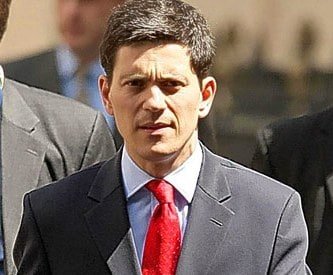 He profoundly recognizes the exact symptoms by saying, "The time is now for the West to push for a comprehensive settlement that would give all Afghan groups, including the Taliban, a voice in the country's future while at the same time taking the interests of regional power into account. " He goes on, "Afghanistan's battles are not just between the Afghan and foreign forces and the Taliban insurgence, but between (and within) Afghanistan's often warring tribes. When NATO trains the Afghan National Army, it's good—but not if you are a Pashtun who sees the predominantly Tajik army as the enemy."
He subsequently argues for "a twin-track political strategy" pointing out that "Afghan or international armies will not stabilize the country; only a peace deal can do that." Mr. Miliband then spells out his rout to peace: "Track one is an internal political settlement. Western influence is currently limited to ineffective and unspecified "pressure" on President Karzai. We need to be far more up front about our end game: a decentralized series of political settlements in the villages and valleys of Afghanistan, with security forces limited to holding the ring keeping Al-Qaeda out.
But this track will never be dynamic unless track two—the track of regional political engagement –has real legs. This means agreements which recognize the divergent interests of the different neighboring countries, from Pakistan to Iran."
Modifications to Miliband's track one:
Theoretically speaking, Miliband's laundry list is what's in need for Afghanistan today, but practically, the brain trust at NWSC assesses that Afghans are becoming immensely cynical of foreign intrusions into their daily lives, and internal affairs, that muddled murky political waters where hope and prosperity has faded profoundly in the past ten grinding years.
In order to revitalize its state of functionality, Miliband's list requires an indigenous modification and point prioritization.
Reflecting on the 2001 Bonn agreement, and reiterating the issue of the Taliban; in reality the gathering was set to lay down the foundation for a new Afghan state in post Taliban reign. Regrettably it was flawed and profoundly mishandled on many points by the Bush administration; whereby, from their laundry list, Bush's Special Envoy Dr. Zalmay Khalilzad and Special Representative of the UN Secretary General for Afghanistan, Mr. Lakhdar Brahimi, both led the fruitless effort and struck the Taliban out of the equation. And now, that the genie is out of the bottle, the West agrees to a Karzai-Taliban reconciliation that supposes to ultimately award them a Moslem version of a "shining city upon a hill."
No, the bewilderment is; how can the West view this notion through Mr. Karzai's obscure lens? How can there honestly be a reconciliation effort that involves two immensely unpopular rivalries—a voter rigged-ridden, corrupt and puppet Karzai government, and a 12th-century Islamic fundamentalist mindset with horrific human rights records? Neither can serve the silent Afghan majority nor the world. Therefore, once again, the objectives will not be met, and then all will go back to square one. With no turning back now, this failure will only force the world to have to look later on for some other group to trudge up onto another shiny city hill somewhere.
The endless search for the "shining city upon a hill" can dynamically keep perpetuating forward, because the West, so far, hasn't been able to pinpoint its location on the Afghan political map. To establish such a thing, firstly the West must show its willingness to find a political solution; secondly, the West must believe that "the Afghans can know what they are doing." And, thirdly, it must be an initiative by Afghans for Afghans—supported by a group of educated, sophisticated, secular and nationalistic Afghans who have been kept on the sideline thus far. Finding this indigenous inventiveness group requires a new level of urgency and coherence where evidently an opportunity as such was never available before; and the time window for success is limited. A political framework under the umbrella of "Afghanistan National Reconciliation," by "Restoring Afghanistan's Tribal Balance," led by the aforementioned group of Afghans, where all the parties from all ethnicities, tribes, and religious groups are brought together in a three phase council of elders (Loya Jirgah), convened outside Afghanistan—for security purposes— and setup by Afghans where they can put forward their differences to be discussed, resolved and ratified. The result can be a true form of Afghan democracy, where the interests of all Afghans will be taken into account, under a unified leader, towards a nationalistic and decentralized state that will eventually be able to govern itself as it did prior to the Soviet invasion in 1979.
Miliband's track two can never be successfully initiated until his track one becomes an Afghan for Afghan by Afghan solution track.
About the Writer: Khalil Nouri is the cofounder of New World Strategies Coalition Inc www.nwscinc.org, a native think tank for a nonmilitary solution studies for Afghanistan, and a member of Afghanistan Study Group www.afghanistanstudygroup.org
Khalil Nouri was born in an Afghan political family. His father, uncles, and cousins were all career diplomats in the Afghan government. His father was also amongst the very first in 1944 to open and work in the Afghan Embassy in Washington D.C., and subsequently his diplomatic career was in Moscow, Pakistan, London and Indonesia. Throughout all this time, since 1960's, Khalil grew to be exposed in Afghan politics and foreign policy. During the past 35 years he has been closely following the dreadful situation in Afghanistan. His years of self- contemplation of complex Afghan political strife and also his recognized tribal roots gave him the upper edge to understand the exact symptoms of the grim situation in Afghanistan. In that regards, he sees himself being part of the solution for a stable and a prosperous Afghanistan, similar to the one he once knew. One of his major duties at the beginning of Operation Enduring Freedom in Afghanistan in 2002 was advisory role to LTG Franklin Hegenbeck. He has worked closely with the Afghan tribes and his tribal exposure is well tailored for unobstructed cross-cultural boundaries within all Afghan ethnicities. He takes pride in his family lineage specifically with the last name "Nouri" surnamed from his great-grandfather "Nour Mohammad Khan" uncle to King Nader-Shah and governor of Kandahar in 1830, who signed the British defeat and exit conformity leaving the last Afghan territory in second Anglo-Afghan war. Khalil is a guest columnist for Seattle Times, McClatchy News Tribune, Laguna Journal, Canada Free Press, Salem News, Opinion Maker and a staff writer for Veterans Today. He is the cofounder of NWSC Inc. (New World Strategies Coalition Inc.) a center for Integrative-Studies and a center for Integrative-Action that consists of 24- nonmilitary solution for Afghanistan. The function of the Integrative-Studies division (a native Afghan think tank) is to create ideas and then evolve them into concepts that can be turned over to the Integrative-Action division for implementation. Khalil has been a Boeing Engineer in Commercial Airplane Group since 1990, he moved to the United States in 1974. He has a Bachelor of Science degree in Mechanical Engineering, and currently enrolled in Masters of Science program in Diplomacy / Foreign Policy.
ATTENTION READERS
We See The World From All Sides and Want YOU To Be Fully Informed
In fact, intentional disinformation is a disgraceful scourge in media today. So to assuage any possible errant incorrect information posted herein, we strongly encourage you to seek corroboration from other non-VT sources before forming educated opinion. In addition, to get a clear comprehension of VT's independent non-censored media, please read our
Policies and Disclosures
.
Due to the nature of uncensored content posted by VT's fully independent international writers, VT cannot guarantee absolute validity. All content is owned by the author exclusively. Expressed opinions are NOT necessarily the views of VT, other authors, affiliates, advertisers, sponsors, partners, or technicians. Some content may be satirical in nature. All images are the full responsibility of the article author and NOT VT.
About VT
-
Comment Policy