I have written a lot of articles covering politics, military and Veterans affairs, and on many subjects that require a great deal of research. I enjoy writing about the unsung heroes of our great military, both past and present, but especially about those who just do their job and for the most part go unnoticed. Such is the story of John "Bubba" Miles.
Every day I receive emails with stories of today's returning soldiers. Many of them are about the challenges they are having to readjusting to civilian life after facing the horrors of combat; some are about how they are moving on with their lives and the eagerness they are displaying by going back to school or getting a new job; but many are about those having a difficult time coming to grips with what they are leaving behind. I have no doubt it has been the same since man hit man on the head with a club. Each has to deal with the demons of war in his/her own way, which is why there is so much concern for those in transition.
Have you ever heard of Bubba Miles? Didn't think so…me neither until an old friend asked me if I wanted to meet a real hero from World War II that was 93 years old and was virtually unknown outside his family. It sounded like there might be an interesting story here so I took up the challenge. Unfortunately Bubba lives in Monroe, Louisiana, so it took a while to get around to his story.
To hear Bubba tell it, his life really starts on December 7, 1941 in Crowley, Louisiana. Unless you are familiar with that part of the country you'll have to look for a while at a Louisiana map to find this small community of about 10,000 down-to-earth, real Americans located in Acadia Perish. It was much smaller in 1941 and will probably always be known as the "Rice Capital of America". Fact is, not much of anything exciting has ever happened in Crowley since the boom days of Louisiana oil. But the bombing of Pearl Harbor changed the lives of a lot of Americans, particularly those from small town America.
Bubba felt, like most Americans that were young that it would be just a matter of time before the draft board would catch up with him. He was not extraordinary; not the hero type, and had not thought of joining up, so he figured he'd just go about life until his number was drawn. As luck would have it as soon as he and his high school sweetheart said "I do", Uncle Sam said "I need you" and off to boot camp he did go.
In the Forties, getting anywhere to report for military service was a series of bus rides and train trips, but from February through the middle of the year, Bubba was groomed to be an infantryman and following training in Mississippi and Louisiana, was assigned to the 43rd Infantry Division based in Hartford, Connecticut, where the customs of the South were barely recognized. Far from a diet of crawfish etouffee, boudin, jambalaya, and grits, it took a while to adjust to army chow and "Yankee English", but he did adjust.
By early fall his unit was on a cross-country train headed to San Francisco for deployment to the Pacific Theater. Their southern route train even went through his hometown in Crowley where he caught a glimpse of several folks he knew as the train slowly passed through. He had to be thinking, though he can't remember all his thoughts that day, that maybe this would be his last shot at seeing home. Maybe he wouldn't come back alive. Yes, life had certainly changed for this skinny teenager from Crowley, Louisiana.
The 43rd Infantry Division was first activated in 1923, with the division headquarters in Hartford, Connecticut. The 43rd Division consisted of two infantry brigades, the 85th in Connecticut, and the 86th in Vermont. The 85th Brigade included the 102nd and 169th Infantry Regiments, both based in Connecticut. The 86th Brigade was made up of the 172nd Infantry Regiment in Vermont and the 103rd Infantry Regiment in Maine. In addition, the 68th Field Artillery Brigade was based in Providence, Rhode Island. Many of the army units that followed the same training regimen as the 43rd, were destined to Europe and Africa, but the 43rd drew the Pacific assignment. In Bubba's words…"we were going to fight Japs, and that was okay with me". (Note: That was politically correct in those days)
There was much confusion in those early days of the war. The Japanese were running roughshod throughout the Pacific with stunning victories in Malaya, Dutch East Indies, Singapore, Burma, the Philippines, Wake Islands, and the Germans running the British all the way across Northern Africa with unchecked abandon. Another army unit which followed a similar training protocol as the 43rd, the 342nd Infantry, went all the way to San Francisco, then had a change of orders and went all they back across the country and put on a troop transport for Europe. No telegrams, no phone calls, and no letters to families and friends to tell them their orders had changed (from the book, "High Hard One" by Dodger Pitcher (1937-1951) Kirby Higby regarding his war experiences)
Bubba's 43rd was boarded on five different ships and sailed off to war with an initial destination set for Auckland, New Zealand. The voyage was not without incident as one of the troop ships was sunk by Japanese torpedoes, but most of those who abandoned the sinking ship were picked up by the other four. All equipment on board the torpedoed ship was lost. Two of the ships landed in New Zealand on 23 October 1942. Two of the ships carrying the 172nd Infantry Regiment arrived at Espiritu Santo, 26 October, which was an island used by Allied forces as a military supply and support base, naval harbor, and airfield. There the survivors of the torpedoed ship were re-outfitted before moving on to New Zealand.

The Division moved to Noumea, New Caledonia, in November and then onto Guadalcanal, 17 February 1943. The Marines originally landed on Guadalcanal in August 1942 to secure an airfield to support advanced operations for the island hopping that was to come. The Japanese originally offered little resistance to the Marines but then following establishment of a beach head became one of the most hotly contested campaigns in the entire war for the control of ground, sea and skies in maintaining control of the airfield. Bubba's 43rd came in to reinforce the Marines and here's where Bubba receive his first Purple Heart from severe shrapnel wounds to his left leg. He was patched up and returned to frontline duty in just a few weeks as the Japanese counter attacks continued almost non-stop for almost six months. The Japanese finally ceased contest for the island and evacuated their remaining troops in February 1943 off the northwest coast at Cape Esperance in the dead of night.
The 43rd then moved onto the Russell Islands which they occupied without opposition, as soon as the fighting stopped on Guadalcanal. To everyone's surprise, and befitting the strategy of the day, there was little time for pause or celebration. The 43rd underwent some additional training exercises before moving on to Vangunu and Rendova Islands where they met with minor resistance. Rendova served as the major staging point for the assault on the Island of New Georgia, in the Soloman Island campaign. The assault on New Georgia was met with determined enemy resistance.
During a lull in the often fierce fighting, Bubba and several members of his fire team found a pond and decided they needed a quick bath to wash off a week's worth of jungle stench. They weren't in the water more than a few minutes when they were hit by a Japanese counter-attack. Bubba was wounded in the back but fought on with his unit until help arrived. He spent several weeks in recovery until returning to his unit. The Japanese fought fiercely before relinquishing Munda and its airfield in early August.
The 43rd headed south back for some R&R in New Zealand following these months in combat. The R&R following the ins and out of the island hopping campaign while giving a break in the action and stress of combat, probably was just as responsible for the Post Traumatic Stress Disorder that have followed soldiers like Bubba all these years. Just when you begin to feel civilized, you are thrown back into action knowing the grand finale, the invasion of Japan itself, was just around the corner. Talk about stress… If island hopping was so fraught with casualties and so fiercely contested, surely an invasion of the Japanese home island would be unbelievable.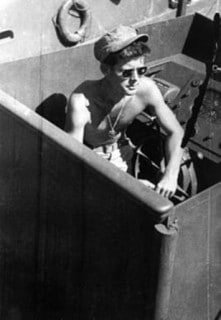 As an aside…Little known to Bubba until after the war and well into the Sixties, New Georgia became the home of John F. Kennedy's PT-109. When the Allies began the island hopping after securing Guadalcanal, Kennedy transferred on February 23, 1943 as a replacement officer to Motor Torpedo Boat Squadron 2, which was based at Tulagi Island in the Solomons. Traveling to the Pacific on USS Rochambeau, Kennedy arrived at Tulagi on April 14 and took command of PT-109 on April 23. On May 30, several PT boats, including PT-109, were ordered to the Russell Islands in preparation for the invasion of New Georgia.
After the capture of Rendova Island by Bubba and his comrades in arms, the PT boat operations were moved to a berth well-hidden in the jungles of New Georgia and began conducting PT boat assaults on the Tokyo Express, which was the Japanese supply program of resupplying their defenses of the Solomons by sending goods in under the cover of night aboard fast moving destroyers. Since the Allies controlled the skies, the Japanese had to use the cover of night to keep from being blown out of the water.
The PT Boats were very effective conducting nightly operations to disturb the heavy Japanese barge and destroyer traffic that was used in the resupplying. Kennedy's PT-109 was lost on a "poorly planned and uncoordinated" attack in which 15 PT boats with 60 torpedoes did not register a single hit, let alone sink any enemy ships. The PT-109 was struck by a destroyer returning from its supply run, estimated to be traveling in excess of 30 knots with no running lights. History will remember the Solomon Islands for the PT-109 incident, but not for Bubba's second Purple Heart.
On 19 July 1944, the Division assumed defensive positions at Aitape, engaged in patrols and reconnaissance at Tadji and along the Drinumor River, along with members of the 124th Infantry Regiment and then took the offensive, 8 August 1944. Organized resistance ended on the 25th. On 9 January 1945, the 43rd made an assault landing on Luzon in the Philippines. Under enemy fire, the Division secured the beachhead and fought into the Lingayen Plain by 12 February. The offensive was resumed against the enemy north and west of Fort Stotsenburg, with help from the Philippine Commonwealth army forces. The fighting continued until 30 June 1945. The Division left Manila, to prepare for the invasion of Japan.
Bubba may be 93 years old today and a little short on all the details, which seems to have sought refuge in the back of his mind in his battle with PTSD, but still today he thanks President Harry Truman for saving his life and the lives of hundreds of thousands of GI's by deploying the Atomic bomb.
Bubba was no hero in his mind and was soon forgotten by the American people along with his six Bronze stars, two Purple Hearts, as well as the 5 Presidential Unit Citations, 2 Medal of Honors within his ranks, 40 Distinguished service Crosses, 736 Silver Stars, 53 Legion of Merits, 51 Soldiers Medals for heroism, and 2494 other Bronze Star recipients along with the 370 days of combat and 6,026 casualties
God Bless Bubba as he feels he is ready for his next major trip to the here-in-after for a welcome reunion with his Band of Brothers from the 43rd Infantry Division. Thank you my friend for sharing your story with us.
Following his service in the Marine Corps Ed Mattson built a diverse career in business in both sales/marketing and management. He is a medical research specialist and published author. His latest book is Down on Main Street: Searching for American Exceptionalism
Ed is currently Development Director of the National Guard Bureau of International Affairs-State Partnership Program, Fundraising Coordinator for the Warrior2Citizen Project, and Managing Partner of Center-Point Consultants in North Carolina.
Mr. Mattson is a noted speaker and has addressed more than 3000 audiences in 42 states and 5 foreign countries. He has been awarded the Order of the Sword by American Cancer Society, is a Rotarian Paul Harris Fellow and appeared on more than 15 radio and television talk-shows.
ATTENTION READERS
Due to the nature of independent content, VT cannot guarantee content validity.
We ask you to
Read Our Content Policy
so a clear comprehension of VT's independent non-censored media is understood and given its proper place in the world of news, opinion and media.
All content is owned by author exclusively. Expressed opinions are NOT necessarily the views of VT, other authors, affiliates, advertisers, sponsors, partners or technicians. Some content may be satirical in nature. All images within are full responsibility of author and NOT VT.
About VT
-
Read Full Policy Notice
-
Comment Policy