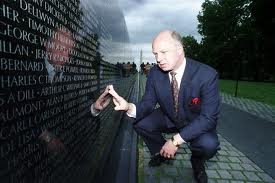 How to Make an American Activist with Items You Probably Already Have in Your Refrigerator
by Cara St. Louis for VT

Don't get me wrong.  I'm a novelist, a teacher and a nurse…and this isn't about Syria per se…but recently our President declared in no uncertain terms that no government should use chemicals on its own people.  I couldn't agree more.  Thank you, Mr. President for pointing that out.
There was much talk about Obama and the chemicals but he said it clearly when in Stockholm at a joint press conference with the Swedish Prime Minister:
Obama, Sept. 4: First of all, I didn't set a red line; the world set a red line. The world set a red line when governments representing 98 percent of the world's population said the use of chemical weapons are abhorrent and passed a treaty forbidding their use even when countries are engaged in war.
Here's why I'm bringing it up.  The path that led me from my own kitchen to chemical weapons is actually straight, short and swift.
July 10, 2010. Saturday. Seacoast Maine. My life was as ordinary as it was possible to be.
July 11, 2010. Sunday. Everything changed. Everything.  At 9:40 in the morning, my seventy-four-year-old mother was walking to church.  Her apartment lay a baseball throw away from the Episcopal Church on one side and the high school on the other. She picked her way gingerly across the road in spite of failing hips and, as she lifted her foot to step up out of the crosswalk and back onto the pavement, an old red minivan crashed down on her, sent her flying and, a few hours later she died in the hospital in my arms, every bone in her body broken in some measure.  This was my mother.
That was my mother and this was my mother, too: this woman had been a civilian working for the United States military as a technical writer and editor. She carried a high security clearance.  When I thought, even for the briefest moment, about the sheer randomness of the 'accident' by which she perished, it poked at me, woke me up at night, wouldn't leave me alone.  My mother could never talk about what she saw or did in her military work. The one thing she did say, I remember distinctly, was that some of the things she was privy to were 'damned scary.'
Among other things, she had been the technical editor for the Fact Sheet, which is an information bulletin put out by the Office of Naval Research based in London. In it, a pool of the world's highest calibre scientists report on their research and circulate summaries and descriptions of the same to their colleagues worldwide.  One would not necessarily look at this job and think, Top Secret. Since my mother's death, these bulletins have become available to the general public; declassified and released into the public domain.  They are on-line, all except two last time I checked; mid-summer, 1991.  They were there and then they were not.  She was the editor at the time.  Even if they are back now, the fact remains they were there and then, shortly after I realized they were there, they disappeared.  That would have been early in 2011.
Some of the men who were stationed at ONR were Operation Paperclip scientists: specialists in advanced materials and atmospheric physics and plasma phenomena…the list is impressive.  Again, this information is also in the public domain. There were chemists, physicists, psychologists, materials specialists…a cadre of the cream of the crop in research.  They worked on plasmas and meteorology and acoustics, just to name a few of the disciplines.  To be fair, though, my mother also worked at Naval Weapons in Dahlgren, Virginia.  I cannot begin to speculate what she must have seen there because she was even less forthcoming about that work.
Retiring at the age of 60, she went freelance in Hawaii, working for technical companies looking to get lucrative defense contracts.  I tried to imagine what must have crossed her desk within the context of all those years.  I was, to put it mildly, uncomfortable in a non-specific but persistent way…and a little scared.  I knew eventually I would have to look into this until I satisfied myself that I understood what had happened completely.  Something in 'my house' smelled, really stunk, and I couldn't find it.  The stink just got worse.
Add to this that even I, as the sole survivor, could get almost no information about the investigation into the accident. Tragic accident. Barely believable. Little old lady.  What's the problem? Why so hush-hush?  My attorney even wrote a letter to the local police reminding them that there was such a thing as the Freedom of Information Act.  Eventually, and indirectly, I found out that the fellow who had run her down was charged with manslaughter and had pleaded guilty.
December 31, 2010. John Wheeler III was found dead in a dumpster. Another death so strange it grabs you by the collar and shakes you. He was by all accounts a hale and hearty sixty-six year old who took a huge bite out of life. He ended up in the trash in a heavily travelled spot in Delaware. How come? Same question I asked myself hourly for awhile after the van hit my mother.
The death of Wheeler comes up again and again.  When people talk about a turning point, try to describe the sound of the lock clicking open after the tumbler was spun, this is often the first news story they recount. Astonishingly, they almost always add the following proviso. It has become predictable in that I'm surprised if they don't mention the two things together. Two turns of the tumbler. One was the ridiculous way Jack Wheeler died.  And then…
January 1, 2011.  Masses of birds plummet to the earth, already dead, all the same moment and 100,000 fish wash up on shores again all dead exactly at the same moment, all in Arkansas…these mass animal deaths, one right on top of another. The official reason? Fireworks. Fireworks scared 5000 birds to death simultaneously. Not even small children bought that story.  Eventually, it was confirmed that the birds carried evidence indicating blunt trauma.  Those two events, one after the other, started a wave. Ordinary people looked into what could be happening in the atmosphere…because that's where the deaths occurred. In fact, this mass die-off was so bizarre that some people went to the trouble of pinpointing similar events around the globe within a very, very brief period of time and recorded for us dozens of similar events.  It's like we all got dealt this pair of aces in a card game and we just cannot think of one without the other. Even though the mainstream media stopped talking about both of those events almost immediately after they happened, that pair of aces stays with us.  Just today, in fact, a reader of my book wrote me a note explaining that it was at the moment when thousands of birds fell from the sky in Arkansas that the innocence ended for her.  We simply cannot leave this alone.
[youtube msGqA_8duVY]
The sorts of technologies that could, in fact, bring down an entire flock of birds, dead when they hit the ground, bear names strikingly similar to the disciplines on display in the Fact Sheet, although I certainly do not contend that there is a direct connection. And when I say this, I am relying on the results of my own research into what can happen in the atmosphere and my own understanding of it, which, to be very clear is that of a layman.  There is no smoking gun. I am simply using the tins and containers in my own refrigerator, if you will, to demonstrate why these things resonate as one in my own mind and experience.  This is an example of how connections are made that may, in fact, be discarded as beside the point but push one to continue on.  I am mentioning the coincidence here because the subject is the recipe for the making of an activist.  There is a list of ingredients in every recipe.  This is my list.
But again, this isn't about Wheeler or the animal die-off, per se.  These are just markers; events common to the awakening of many of us.  We looked into the possibilities to whatever level we could tolerate looking.  I looked deeply because, in a very real way, I had my mother standing over my shoulder prodding me to keep going.  Even if, in the end, the thought has no merit whatsoever, it came to my mind thus: did my mother see something that she was going to recognize in these events?  She certainly may have. However, the true irony, the reality that makes one weep and laugh at the same time for lack of any other option, was that my mother could barely remember her own social security number by then.
Because of Jack Wheeler on the one side of the New Year and the dead birds on the other, I walked a tense balance between suspecting her death was just too ridiculous to be a true accident and suspecting that her mental capacities at that point in her life simply made her no threat at all. Laughable perhaps. Or am I weeping? Sometimes, even now, it's hard to tell which.
I can even say that, after three years, this article is only about that tragic death to a certain extent.  It isn't necessarily about being pushed into oncoming traffic or having my house burn to the ground, although those are some of the things that happened.  In the end, the incident is just a catalyst; someone scrapes a match along the side of a paper box. It led me somewhere filthy; to a place where dead things are foisted upon us as living.  It created Action.  I am a writer. There was no other way this could turn out.  The end result was a book, a very thinly fictionalized but somewhat breathtaking account of the eighteen months that followed my mother's death.  It's called The Sun Thief.  I encourage you to read it.  It has been translated into German and is also available there, in that language. Two stories run side-by-side in The Sun Thief, like a pair of aces.
The making of an activist, however, is a work in progress, the learning curve like plummeting down K2 and climbing back up again. Okay, it's often like being hauled kicking and screaming back up the hill but the next plummet down provides no relief. In fact,  as my technical advisor noted, if they had just left me alone I probably wouldn't have written the book.  I contend, as well, that if the man who ran my mother over were sitting behind bars, which he is not, I would never have felt it imperative to write the book.  Finally, timing, as we know, is everything. My mother was run down and killed just a few months before another ex-civil servant was found in a dumpster and thousands of birds died in flight and plummeted to the ground.  It just has to make you think and thinking is one of the things this article is about.
The one thing this isn't, in the end, is a joke.  As the title of the book indicates, this is about what's happening right over our heads in plain sight. This is about putting a deadly layer of denial, in every sense of the word, between us and the sun and the water and the air and the very food we put into our children's mouths.  It is about a war.  A war in which we are the enemy.  A war we are being distracted from seeing, a war about which many are finally speaking out.
Speaking of the likely agents of this war or action, Catherine Austin Fitts, Former Assistant Secretary of Housing under GHW Bush, said on camera recently in a film being made by Truth In Media Productions, "They are not a corporation as you and I think of it.  They are a hybrid of both government and corporation…there's a war going on covertly…I want to know who's really doing this and why they are behaving this way."
We are the targets in a covert action of which we have not been aware…until recently. The battlefield?  The atmosphere in which we exist; meaning my dining room table, and your childrens' schoolyard and the local swimming pool. There is no other, there is no removing ourselves or moving away from the battlefield.  In order to save our own lives, we must end the beginning.  Fast.  The path is straight, short, and swift.  And thanks to VT, I will be contributing a series of articles that do, in fact, go into the depths of what this is about. Per se.
---
Cara St.Louis is an American novelist and activist hailing from the American Southwest.  She currently resides in London, giving interviews and speaking at activists' congresses on the subjects of aerosol crimes, geonengineering and trans-humanism. 
ATTENTION READERS
We See The World From All Sides and Want YOU To Be Fully Informed
In fact, intentional disinformation is a disgraceful scourge in media today. So to assuage any possible errant incorrect information posted herein, we strongly encourage you to seek corroboration from other non-VT sources before forming an educated opinion.
About VT
-
Policies & Disclosures
-
Comment Policy
Due to the nature of uncensored content posted by VT's fully independent international writers, VT cannot guarantee absolute validity. All content is owned by the author exclusively. Expressed opinions are NOT necessarily the views of VT, other authors, affiliates, advertisers, sponsors, partners, or technicians. Some content may be satirical in nature. All images are the full responsibility of the article author and NOT VT.