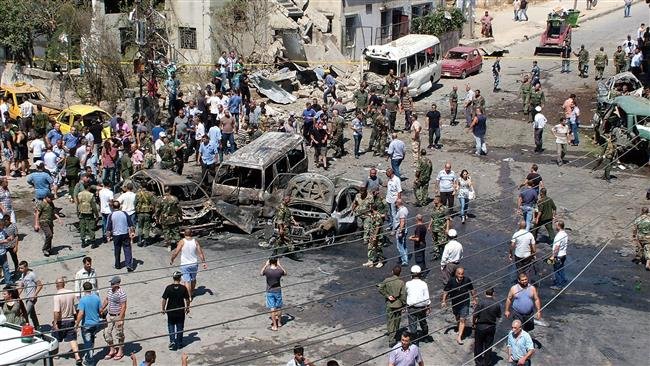 … from  Press TV,  Tehran
[ Editor's Note:  It will come as no surprise to VT readers that we are in a showdown between the US coalition and the Russian, Iranian, Syrian, and Iraqi coalition. The US coalition cannot afford a defeat, a complete one, as all their future plans to continue this mayhem process against others who will not submit to US "interests".
We see signs of the Saudis particularly willing to funnel replacements, money and arms into Syria to maintain a foothold for getting their cherished pipeline to the Mediterranean and the EU markets, instead of Iran, Iraq, and Syria. This will give their petroleum exports a price advantage, along with long term contracts.
It competes with Russian sales, but not in the short term, as such projects would take a decade, and Russia will have completed the new China pipelines and the Silk Road will be stimulating more new business.
As Southfront reported this past week, despite the help with the bombing, the military assault has slowed down to a village by village battle, with no sweeping armor maneuvers to cut off and force the surrender of large areas. There just does not seem to be the manpower to provide the multiplier effect needed.
So we will now see a duel of the US coalition members feeding replacements and material in fast enough to induce a stalemate. The progression of US announcements about more troops being needed to "really do the job", something they never mentioned before the Russians came in, are an obvious threat of intervention.
This includes today's strange announcement from the US Air Force that "boots on the grounds are needed to  hold territory". Have they not heard of the Iraqi and Syrian armies? Do they think we have not?
Although it is obvious to everyone who wants to know that the US coalition against ISIL was just for show, while the "death by a 1000 cuts" plan to take Assad down continued. This is not to say the Syrians have been holding back, as they are fighting on multiple fronts. More manpower is needed, but where could it come from that would not trigger NeoCon and Israeli demands to feed American troops back into the fighting for Israel and the Saudis' meat grinder? …Jim W. Dean ]
____________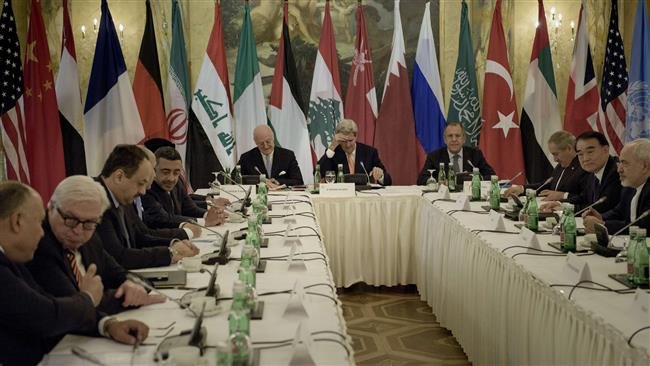 – First published  …  November 10,  2015 –
Russia says the potential removal of Syrian President Bashar al-Assad by force will create a new "black hole" in the Middle East that may simply not be survivable.
"If the next operation on the violent change of power in the Middle Eastern country is carried out, it will be disastrous not only for Syria, but will also become the most dangerous element in the destructive chain of events occurring in the region," Russian Foreign Ministry spokeswoman Maria Zakharova said on Tuesday, Russia's Ria Novosti news agency reported. "The region may simply not endure one more black hole," she said.
In the event of such political development, the region might not just turn into a set of "lurid" states, but "explode" simultaneously as a whole, the official said.
Since March 2011, Syria has been beset by foreign-backed militancy, which has so far claimed the lives of over 250,000 people and displaced millions of others. Diplomatic efforts have been going on to bring about a peaceful resolution of the crisis in Syria.
On October 30, diplomats and representatives from various countries, including Iran, as well as the United Nations and the European Union got together in the Austrian capital of Vienna for a meeting on the issue.
At the end of the talks, the participants agreed on respecting Syria's national unity and sovereignty as well as eradicating the terrorist groups operating in the Arab country.
Certain Western and non-Western countries have insisted that Syrian President Bashar al-Assad not be part of any future government in Syria.
'Exactly what Daesh wants'
Zakharova, the Russian Foreign Ministry spokeswoman, added that the potential power shift would be "exactly" what Daesh needs. The Takfiri terrorist group has overrun about a third of Syria and Iraq, and is tyrannizing the civilian population there.
"Another area of chaos suits it (Daesh) over the odds. Therefore, we say that the most important task is to save the Syrian power structure," she said.
Russia has been carrying out a bombing campaign against terrorist positions in Syria since September 30 upon a request from the Syrian government.
Perpetual hell
In an interview with Press TV's Website on the topic on Tuesday, analyst Joaquin Flores said Russia was right to be concerned about Syria's future after a potential forced removal of Assad.
The director of the Center for Syncretic Studies, a public education institute, said it was the US's goal to create a "failed state" in Syria, referring to Washington's vociferous opposition to Assad's continued rule and its support for the terrorists operating against the Syrian government.
"This means a perpetual state of chaos, where war, where murder, where fighting between small gains, where car bombings and terrorism, where the destruction of everything becomes an everyday part of life… This is really the abomination that has become US policy," Flores said.
____________
Author Details
Jim W. Dean is Managing Editor of Veterans Today involved in operations, development, and writing, plus an active schedule of TV and radio interviews. He broke into television work doing Atlanta Public TV programs for variety of American heritage, historical,military, veterans and Intel topics and organizations since 2000. Jim's only film appearance was in the PBS Looking for Lincoln documentary with Prof. Henry Lewis Gates, and he has guest lectured at the Army Command and General Staff School at Fort Gordon, GA.
He is working to find time now to database his extensive video archive of Americana and interviews filmed during his public TV days so individual topic segments can be key word searched to quickly use in future multi-media projects.
Read Full Complete Bio >>>
Jim's Latest Posts
ATTENTION READERS
Due to the nature of independent content, VT cannot guarantee content validity.
We ask you to
Read Our Content Policy
so a clear comprehension of VT's independent non-censored media is understood and given its proper place in the world of news, opinion and media.
All content is owned by author exclusively. Expressed opinions are NOT necessarily the views of VT, other authors, affiliates, advertisers, sponsors, partners or technicians. Some content may be satirical in nature. All images within are full responsibility of author and NOT VT.
About VT
-
Read Full Policy Notice
-
Comment Policy