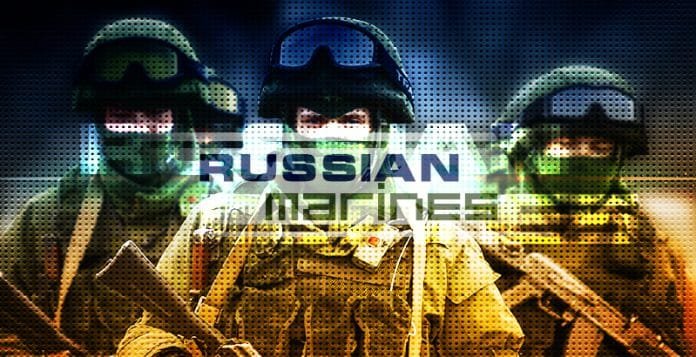 All what you need to know about the Russian Naval Infantry

Written by Igor Pejic, edited by Viktor Stoilov exclusively for SouthFront: Analysis & Intelligence
Introduction
The Russian Naval Infantry or the Russian Marines have a long history and tradition in their resume. The unit was first formed in 1705, during the Great Northern War 1700-1721 when the need for a military unit that was capable of fighting armed battles on islands and seaside regions became crucial. During the 18th and 19th century the Naval infantry had numerous involvements in variety of missions, some of them were famous victories such as Battle of Gangut and the taking of Izmail Fortress on the Danube. However the unit was repeatedly disbanded throughout the years until 1939. In the period of the Second World War the Russian marines were charged with defensive duties of the Fleet's bases and they were also sent on various amphibious missions. During the Soviet era the unit was deployed near land forts and some cities like Moscow, Leningrad, Odessa, Sevastopol, Stalingrad, contributing to the cities' defenses. The Naval infantry conducted four major operations during the War, two of them were during the Battle of the Kerch Peninsula, one during the Caucasus Campaign and one during the landing at Moonsund. In 1961 the Naval Infantry was re-formed and became a part of the Soviet Naval Forces. This included expansion of the unit as well as modernization of their equipment and vehicles. By the end of the Cold War the unit had 18,000 men with more than eighty landing ships. Since the end of the Cold War, the Russian Marines have had numerous exercises with military forces of other countries including the US Marines in 1994. The so called "Cooperation from the sea" was conducted around Vladivostok with the US III Marine Expeditionary Force in order to promote further cooperation between Russian and US military.
The Russian Marines participated actively in the local conflicts of the "Cold War"; for instance, in Yemen and Angola.
The In the post-soviet time the Russian Marines took part in 2 Chechen wars. Marine units showed prodigies of valour. More than 20 marines have got the titles of Hero of the Russian Federation. More than 5000 are awarded by military medals. Throughout the history, the Russian Naval Infantry showed a high-class battle training and the best human qualities.
Deployment in Syria
Recently the Russian Marines have been deployed in Syria as a part of the Russian military assistance in fighting terrorism. Since September this year, few hundred marines have been stationed in western Syria and in the city of Slunfeh in East Latakia, with the primary objective of guarding the Russian air base. During their short service in Syria, there have already been sporadic clashes with terrorist groups in Latakia. One of the incident happened in September when the fighters of the Islamic State tried to mount an attack on the air base in Latakia, however they were ambushed by the Russian Marines which resulted in a couple of dead terrorist while the others retreated. There are also some reports which suggest that this unit might be coordinating attacks on terrorists alongside Hezbollah and the Syrian Arab Army. The Involvement of the Russian Marines in the Syrian conflict has been already paying off. After the downing of the SU-24, this unit was successful in the search and rescue mission of the second pilot while fighting the jihadists in the border region with Turkey.

Naval Infantry – Russian Marines ε20,000 Structure/Deployment:
Pacific fleet HQ Vladivostok
– 59th Marine Battalion
-84th Armoured Marine Battalion
-263rd Artillery Battery
-1484th Signals Battalion
Baltic Fleet HQ Kaliningrad
-299th Baltic Fleet Coastal Forces Training Center
-336th guards Białystok Marine Brigade – Baltiysk
-877th Marine Battalion
-879th Air-Assault (Desant) Battalion
-884th Marine Battalion
-1612th Self-Propelled Artillery Battalion
-1618th Anti-Aircraft Missile and Artillery Battalion
-53rd Marine cargo escort platoon – Kaliningrad
Northern Fleet HQ Severomorsk
-61st Kirkinesskaya Red Banner Marine Brigade – Sputnik
-874th Marine Battalion
-876th Air-Assault (Desant) Battalion
-886th Reconnaissance Battalion
-125th Armoured Battalion
-1611th Self-propelled Artillery Battalion
-1591th Self-propelled Artillery Battalion
-1617th Anti-aircraft Missile and Artillery Battalion
-75th Naval Hospital
-317th Marine Battalion
-318th Marine Battalion
Black Sea Fleet HQ Crimea
-810th Marine Brigade – Kazachye Bukhta, Sevastopol
-880th Marine Battalion
-881st Air-Assault Battalion
-888th Reconnaissance Battalion
-1613rd Artillery Battery
-1619th Air-Defense Artillery Battery
-382th Marine Battalion
Caspian Flotilla HQ Astrakhan
-414th Marine Battalion
-727th Marine Battalion

Forces by role:
Manoeuvre:
Mechanised: 2 MR bde; 1 MR regt; 3 indep naval inf bde; 2 indep naval inf regt.
Combat Support: 1 arty bde; 3 SAM regt.
Equipment by type:
• MBT 200 T-72/T80
• RECCE 60 BRDM-2 each with 9K11 (AT-3 Sagger)
• AIFV 300 BMP-2
• APC 800; APC (T) 300 MT-LB; APC (W) 500 BTR-80
• ARTY 365; SP 263: 122mm 113: 95 2S1; 18 2S19; 152mm 150: 50 2A36; 50 2A65; 50 2S3
• GUN/MOR 66; SP 120mm 42: 12 2S23 NONA-SVK; 30 2S9 NONA-S
• TOWED; 120mm 24 2B16 NONA-K. MRL 122mm 36 BM-21
• AT; MSL SP 9P149 with 9K114 Shturn (AT-6 Spiral); MANPATS 9K11 (AT-3 Sagger); 9K113 (AT-5 Spandrel). GUNS 100mm T-12
• AD; SAM SP 70: 20 9K33 Osa (SA-8 Gecko); 50 Strela-1/Strela-10 (SA-9 Gaskin/SA-13 Gopher). MANPAD 9K32 Strela-2 (SA-7 Grail). GUNS 23mm 60 ZSU-23-4
ATTENTION READERS
Due to the nature of independent content, VT cannot guarantee content validity.
We ask you to
Read Our Content Policy
so a clear comprehension of VT's independent non-censored media is understood and given its proper place in the world of news, opinion and media.
All content is owned by author exclusively. Expressed opinions are NOT necessarily the views of VT, other authors, affiliates, advertisers, sponsors, partners or technicians. Some content may be satirical in nature. All images within are full responsibility of author and NOT VT.
About VT
-
Read Full Policy Notice
-
Comment Policy