It was a simple question.
"What is the British Government planning to do, please, to safeguard British subjects (and indeed the other humanitarians) sailing with the flotilla on its peaceful mission to Gaza?"
On 27 March I wrote to my Member of Parliament asking: "What is the British Government planning to do, please, to safeguard British subjects (and indeed the other humanitarians) sailing with the flotilla on its peaceful mission to Gaza?"
The Government had been only too happy, I said, to dispatch warships Cumberland and York to help civilians of all nationalities caught up in the Libyan trouble and deliver aid to the Benghazi medical centre.
I attached a press release http://savegaza.eu/eng/index.php?id=547 from one of the flotilla organizers, the European Campaign to End the Siege on Gaza (ECESG). It called on all governments representing participating citizens to take concrete steps to protect their safety.
After a long wait I have finally received a response from Alistair Burt, Foreign Office minister for Middle East affairs.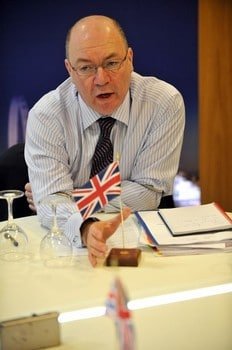 He avoids the question altogether. "We are clear in our advice against all travel to Gaza and in particular participation in flotillas of this nature, given the events of May last year. We also believe that the delivery of aid is far more effective when co-ordinated with the major international organizations on the ground, such as the UN's Office for Co-ordination of Humanitarian Affairs." That's all he has to say on the subject.
Burt used to be an officer (not a mere member but an officer) of the Conservative Friends of Israel. In a speech to the Board of Jewish Deputies in London last year, he told his audience he had worked from the age of fifteen for an MP who was a president of the Board and founder of the Conservative Friends of Israel, and how this "had a lasting effect upon me, and on my interests in Parliament".
He said: "Israel is an important strategic partner and friend for the UK and we share a number of important shared objectives across a broad range of policy areas… And as an honest broker, the UK Government does not believe that economic sanctions or embargoes on Israel [are] the way to engage or to influence it."
The director of the Conservative Friends of Israel called Burt's Foreign Office appointment excellent news.
Israel's naval blockade is illegal and so was Israel's interception of the Mavi Marmara in international waters last May. The United Nations fact-finding mission set up by the Human Rights Council to investigate violations of international law and humanitarian and human rights law resulting from the Israeli attacks a year ago on the flotilla of ships carrying humanitarian assistance to Gaza, explains why. In that assault nine people were killed and many others injured. [http://www2.ohchr.org/english/bodies/hrcouncil/docs/15session/A.HRC.15.21_en.PDF.]
The Mission's team, chaired by Karl T. Hudson-Phillips, QC, a retired Judge of the International Criminal Court, reported they were "satisfied that the blockade was inflicting disproportionate damage upon the civilian population in the Gaza Strip and that as such the interception could not be justified and therefore has to be considered illegal…
"The Mission considers that one of the principal motives behind the imposition of the blockade was a desire to punish the people of the Gaza Strip for having elected Hamas. The combination of this motive and the effect of the restrictions on the Gaza Strip leave no doubt that Israel's actions and policies amount to collective punishment as defined by international law… No case can be made for the legality of the interception and the Mission therefore finds that the interception was illegal."
And that wasn't all. The naval blockade was implemented in support of the overall closure regime. "As such it was part of a single disproportionate measure of armed conflict and as such cannot itself be found proportionate. Furthermore, the closure regime is considered by the Mission to constitute collective punishment of the people living in the Gaza Strip and thus to be illegal and contrary to Article 33 of the Fourth Geneva Convention."
The action of the Israel Defense Force in intercepting the Mavi Marmara on the high seas was "clearly unlawful" and could not be justified even under Article 51 of the Charter of the United Nations [the right of self-defense].
Will the world allow Israeli thugs to maul this latest flotilla? Yes or no?
Perhaps Mr Burt should also re-acquaint himself with Security Council resolution 1860 (2009), which emphasizes "the need to ensure sustained and regular flow of goods and people through the Gaza crossings" and calls for "the unimpeded provision and distribution throughout Gaza of humanitarian assistance, including of food, fuel and medical treatment".
Recent reports tell of the desperate shortage of hospital drugs in Gaza. The lack of 180 essential medical items and 200 disposables brings public health to crisis point. This terrible situation has been going on since I was there in 2007 and was handed an emergency list of medicines and spares for critical equipment like dialysis machines.
Even the World Health Organization, I hear, can't get necessary medical supplies delivered.
Meanwhile Israeli prime minister Netanyahu has warned that his military will use force against anyone disobeying his navy's orders and heading for Gaza's shore. They threaten to also use snipers.
The flotilla will be going about its commendable, lawful business and British nationals will be on board. Burt and his colleagues are duty-bound, legally and morally, to protect them from the criminal assault they have been threatened with.
But Burt, by word and deed, is clearly an "Israel-firster" and influenced by that delinquent foreign power. How can his employment in a Foreign Office role (or indeed any British Government role) be consistent with the principles that underpin standards in public life?
An email to ECESG asking if they had received assurances from any of the governments they approached has gone unanswered. A telephone number on the UK website was answered by a voice that was almost unintelligible and I was referred to someone in Stockholm. That person said he could only speak about the situation with the Swedish government, which had sent a note to the Israelis saying Sweden expected the flotilla not to be attacked. That, it seems, was as far as they were prepared to go to protect the civilians.
I also emailed Britain2Gaza asking for a quick reply. No luck. It is little wonder that the flotilla project never gets the space it deserves in main-stream media.
So what is the situation please? Is it the attitude of most western governments that the humanitarian flotilla can "sink or swim"? If so, why aren't the organizers being more communicative and mobilizing public outrage?
Or have those governments found the courage to embrace the flotilla's noble cause?
Stuart Littlewood worked on jet fighters in the RAF then pursued a career in industrial marketing.
More recently he worked as a freelance and with innovation consultancies. Psychology degree Exeter University, Member of the Chartered Institute of Marketing. Served as a Cambridgeshire county councilor 1993-97 and on the Police Authority. Associate of the Royal Photographic Society. Since retiring has been a newspaper columnist and produced two photo-documentary books. He is a regular contributor to a number of internet news magazines.
Stuart's book Radio Free Palestine, with Foreword by Jeff Halper, tells the plight of the Palestinians under brutal occupation. It can now be read on the internet by visiting RadioFreePalestine.org.uk.
ATTENTION READERS
We See The World From All Sides and Want YOU To Be Fully Informed
In fact, intentional disinformation is a disgraceful scourge in media today. So to assuage any possible errant incorrect information posted herein, we strongly encourage you to seek corroboration from other non-VT sources before forming educated opinion. In addition, to get a clear comprehension of VT's independent non-censored media, please read our
Policies and Disclosures
.
Due to the nature of uncensored content posted by VT's fully independent international writers, VT cannot guarantee absolute validity. All content is owned by the author exclusively. Expressed opinions are NOT necessarily the views of VT, other authors, affiliates, advertisers, sponsors, partners, or technicians. Some content may be satirical in nature. All images are the full responsibility of the article author and NOT VT.
About VT
-
Comment Policy