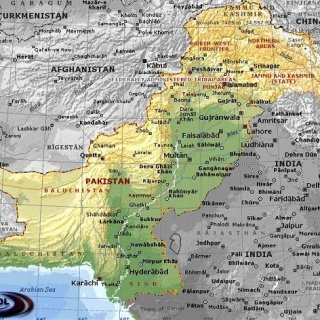 VETERANS TODAY ORGANIZIES "FACT BASED" ADVISORY GROUP
TOP MILITARY AND ACADEMIC EXPERTS WEIGH IN ON AFGHANISTAN
By Gordon Duff Senior Editor/Group Coordinator
An informal study group composed of research specialists and former senior military and intelligence officials, diplomats and government officials from the US, Britain and Pakistan and other interested countries is examining our combined understanding of the situation in Afghanistan and Pakistan. In combination with Opinion Maker in Pakistan and Defense of the Realm in Britain, we are examining how a cascade of errors and ill considered moves has brought about the dangerous situation facing the world today.
Putting aside political agenda's, we hope, will lead to an end to hostilities and increased international respect and understanding. In the interim, here are some of the issues we are examining:
It is easy to grab onto any one hypothesis and move forward without reason, without rationale, based on belief and a desire to "win." In the end, nobody asks the hard question: "Win what?" Are we looking for solutions that realign the world's borders based on language, race or ethnicity or are we conquering the schizms that separate the great religions? Are we dealing with the complexities of changing world economies and geopolitical intrigues and conspiracies?
Whenever we try to express the current conflict in terms of terrorism insurgency, tribal conflict will always be the most supportable hypothesis.

The Afghan Side:
Is anything of what we believe actually "fact based?" Do we really know what we think we know? This is where we will begin. Key to understanding is the historical context of the region, expecially the division of Pashtun regions into Afghanistan and Pakistan in 1893 by the Durand Line, meant to separate British and Russian spheres of influence. This century old ill conceived solution is killing thousands and destabilizing nations today:
A few of the areas of discussion will be:
Is the war in Afghanistan a war on terrorism or the continuation of a centuries old set of tribal rivalries?
Is the role of the US one of nation builder and peacemaker or are they seen as simply another tribe or even a foreign invader?
To what extent does the 62 year old conflict between Pakistan and India play out in the rise of insurgencies in Pakistan and the conflict inside Afghanistan?
If the Karzai government is closely aligned with India, how can it cooperate against a common enemy working with Pakistan?
If the Pashtuns (Pathans), the core tribal group making up the Afghani people, see the US as their greatest internal enemy and Pakistan as their greatest external enemy, what policies or initiatives could defuse this emnity?
If a united Afghanistan with a powerful American trained military is likely to seek military conflict with Pakistan, as many suspect, what issues need to be addressed to eliminate this threat?
If, as many believe, the current Taliban is willing to accept inclusion of women into society and a program of modernization, unlike their predecessors, how can NATO best reasses its approach?
Will Afghanistan, free of foreign influences and after a period of expected internal disruption, restablize itself under a strong centralized leader as some experts predict?
Can India's long term financial investment and considerable influence in Afghanistan be a stabilizing or is it likely to lead to increasing military threat against Pakistan?
If, as many believe, Islamic extremism is a minor secondary influence in the Pashtun/Tribal conflicts in the Af-Pak theatre, why has this not been factored in?
The current military efforts of NATO to support the Karzai government in Kabul have had questionable results over recent months. Below is a map showing the deteriorating situation for the Kabul regime during the last years of the Bush presidency in the US: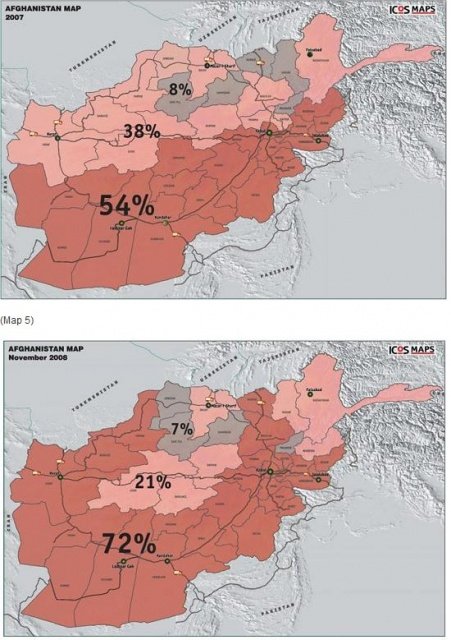 These are a few of the issues we are looking at. Meetings are scheduled in Pakistan which will include as many parties as possible. We have only begun to scratch the surface in dealing with issues that involve the lives of millions, not only in Afghanistan but in neighboring countries and semi-autonomous tribal regions and bordering nations. The lives lost during the post 9/11 conflicts weigh heavily on us all.
---
VT Senior Editor Gordon Duff is a Marine combat veteran and regular contributor on political and social issues.
Gordon Duff posted articles on VT from 2008 to 2022. He is a Marine combat veteran of the Vietnam War. A disabled veteran, he worked on veterans and POW issues for decades.
Gordon is an accredited diplomat and is generally accepted as one of the top global intelligence specialists. He manages the world's largest private intelligence organization and regularly consults with governments challenged by security issues.
Duff has traveled extensively, is published around the world, and is a regular guest on TV and radio in more than "several" countries. He is also a trained chef, wine enthusiast, avid motorcyclist, and gunsmith specializing in historical weapons and restoration. Business experience and interests are in energy and defense technology.
ATTENTION READERS
Due to the nature of independent content, VT cannot guarantee content validity.
We ask you to
Read Our Content Policy
so a clear comprehension of VT's independent non-censored media is understood and given its proper place in the world of news, opinion and media.
All content is owned by author exclusively. Expressed opinions are NOT necessarily the views of VT, other authors, affiliates, advertisers, sponsors, partners or technicians. Some content may be satirical in nature. All images within are full responsibility of author and NOT VT.
About VT
-
Read Full Policy Notice
-
Comment Policy