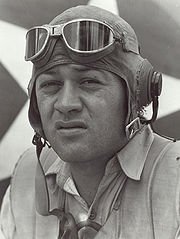 Marine veteran remembers visit by Colonel Gregory (Pappy) Boyington, Medal of Honor and Navy Cross recipient, the Marine Corps' highest ranking Ace from WW II.
(Salem, OR) – It's not often that you get to 'stand inspection' for a Medal of Honor winner.  The word was passed that Colonel Gregory (Pappy) Boyington, WW II Medal of Honor and Navy Cross recipient with VMF-214, would be visiting MCAS El Toro and the Marine Wing Service Group-37 tomorrow.  This was a big deal.  Medal of Honor winners do not pay visits every day.  Pappy Boyington was the highest ranking WW II Ace in the Marine Corps.
Gregory (Pappy) Boyington was born in Coeur D'Alene, Idaho on December 4, 1912.  He died in Fresno, California of cancer on January 11, 1988 and is buried in Arlington National Cemetery.
After graduating from the University of Washington with a B.S. in aeronautical engineering in 1934, Boyington went to work for Boeing as an engineer.  Now married he was ineligible to become a pilot in the Marine Corps. Ignoring the rules, Boyington, who was raised by his stepfather and used the name Hallenbeck, obtained a copy of his birth certificate and learned the name of his real father, Charles Boyington.  His parents had divorced when he was only a infant.  'Stretching the rules,' Boyington applied as a cadet pilot under the name Gregory Boyington.  There was no record of marriage for Gregory Boyington.  His ruse worked.
By all accounts, Boyington was an excellent pilot.  There were no air-to-air missiles, radar, or electronic gear in those days.  Fighter pilots depended on their eyes and reflexes. 
After completing flight training at the Naval Air Station, Pensacola, Florida, he was designated a naval aviator on March 11, 1937.  The next four years he saw duty at Quantico with Aircraft One, Fleet Marine Force and the 2nd Marine Aircraft Group in San Diego where he flew off of the USS Lexington and USS Yorktown. In 1940, Boyington returned to Pensacola as an instructor.  Boyington had a well deserved reputation as a fighter, gambler and hard drinker.  He was always 'up for a dare.'
While stationed in San Diego, he attended an enlisted men's party, got drunk, and missed the ferry home to North Island.  Boyington's wife was mad as hell when he called her for a ride home.  It would have been a 20 mile drive to pick-up her drunken husband.   She's reported to have told Boyington "you can swim home for all I care." 
Accepting this as a challenge, Boyington fully clothed promptly jumped into the ocean to swim the three-quarters-mile home.  Bruce Gamble in Black Sheep One: The Life of "Pappy Boyington," tells the story:  "Gradually he lost or shed all his clothes except his skivvy shorts, and when he climbed up the shore, he slipped back and shredded those." "Worst of all, his guiding light was on the shore he'd left from, causing him to swim in a half circle and land back in San Diego, with the difference that he was now buck naked." "Boyington dodged through the alleys and turned himself in to the Shore Patrol, whose chief petty officer looked up at him and said: I don't know who you are or what you've been doing, but I do know one thing–you've got to be a Marine."
In August 1941, Boyington resigned his Marine Corps commission and joined the American Volunteer Group (Flying Tigers) in the service of the Chinese government.  China was at war with Japan and needed skilled pilots.  The chance to fly in combat plus a salary of $500 a month and a $400 per confirmed kill bonus were all Boyington needed to know.  Here was his chance to get out of debt and fly combat missions, too. 
The United States was at peace at the time, but President Roosevelt wanted to help the Chinese government.  No one in our government objected to the Chinese through the ruse of an American company recruiting American pilots to fight the Japanese.   
Claire Chennault, a former U.S. Army Air Force officer, had assembled a force of 100 Curtis P-40's and 100 American military pilots to defend the Burma Road.  Now twenty-eight years old, Boyington was eager to join the volunteers.
Joel Paris was a P-40 ace with the 49th Fighter Group in the Southwest Pacific (See: http://www.acepilots.com/planes/p40_warhawk.html). According to Paris, you could win a dog fight with the Japanese in a P-40, but you had to know what you were doing:  "I never felt that I was a second-class citizen in a P-40. In many ways I thought the P-40 was better than the more modern fighters. I had a hell of a lot of time in a P-40, probably close to a thousand hours. I could make it sit up and talk. It was an unforgiving airplane. It had vicious stall characteristics. … If you knew what you were doing, you could fight a Jap on even terms, but you had to make him fight your way. He could outturn you at slow speed. You could outturn him at high speed. When you got into a turning fight with him, you dropped your nose down so you kept your airspeed up, you could outturn him. At low speed he could outroll you because of those big ailerons. They looked like barn doors on the Zero. If your speed was up over 275, you could outroll it. His big ailerons didn't have the strength to make high speed rolls …You could push things, too. Because you knew one thing: If you decided to go home, you could go home. He couldn't because you could outrun him. He couldn't leave the fight because you were faster. That left you in control of the fight. Mind you: The P-40 was a fine combat airplane." 
Boyington definitely knew how to fly the Army's Curtis P-40.  War had broken out with Japan after the attack on Pearl Harbor on December 7, 1941.  Boyington scored his first victory on February 6, 1942, when he shot down two Japanese fighters. Attacking a Japanese airfield at Chiang Mai on March 24, Boyington  destroyed three transports and four fighters.  
Pilots with the Flying Tigers were going to absorbed into the U.S. Army Air Corps.  This didn't sit well with Boyington. Already on strained relationships with Claire Chennault and his Flying Tiger superiors, Boyington resigned from the Flying Tigers on  April 21st.  He returned to New York via Calcutta, Karachi, and Bombay to rejoin the Marines.
With his combat experience, Boyington was able to obtain a Major's commission in the Corps. In the Solomon Islands, Major Boyington assumed command of a group of pilots who were not already assigned to a squadron, and they would go on to be known as the "Black Sheep Squadron". At 31, he was older than the other pilots who would call him "Pappy."  It stuck.
Flying Vought F4U "Corsairs, "VMF-214 was credited with shooting down 97 enemy aircraft in 1943-44.  Pappy Boyington was credited with 26 victories.  In early February 1944, Major Boyington was shot down, picked-up by a Japanese submarine, and spent the rest of the war as a POW in Japan.  In 1947, Colonel Boyington was medically retired from the Marine Corps.  
Our orders were to fall out in Class B uniform with rifles at 0800.  The review would take place on the MWSG-37 aircraft apron between Hangar 297 and Group Headquarters.  My memory on some of the details is fuzzy.  This took place over 45 years ago. Either 1963 or 1964.  However, I'll never forget the greeting we got from Pappy Boyington and his dress. 
We were lined-up in formation, standing at parade rest, when Pappy Boyington in the company of the group commander came into view.  Pappy was dressed in white from head to toe.  He wore a white tropical suit with matching shoes, and white, wide brim hat. Talk about standing out in a crowd. Now age 51, he looked frail like someone who was recovering from a major operation. 
The command, "Present, Arms" was given.  Acknowledging our salute, Pappy smiled at us, waiving back several times and continued his walk across the apron into the nearest hangar. I thought "this guy is not long for this world."  Boy, was I wrong.  Pappy lived 25 more years.     
 Medal of Honor Citation
The President of the United States in the name of The Congress takes pleasure in presenting the Medal of Honor to MAJOR GREGORY BOYINGTON, UNITED STATES MARINE CORPS RESERVE:
For service as set forth in the following CITATION: For extraordinary heroism above and beyond the call of duty as Commanding Officer of Marine Fighting Squadron TWO FOURTEEN in action against enemy Japanese forces in Central Solomons Area from 12 September 1943 to 3 January 1944. Consistently outnumbered throughout successive hazardous flights over heavily defended hostile territory, Major Boyington struck at the enemy with daring and courageous persistence, leading his squadron into combat with devastating results to Japanese shipping, shore installations and aerial forces. Resolute in his efforts to inflict crippling damage on the enemy, Major Boyington led a formation of twenty-four fighters over Kahili on 17 October and, persistently circling the airdrome where sixty hostile aircraft were grounded, boldly challenged the Japanese to send up planes. A superb airman and determined fighter against overwhelming odds, Major Boyington personally destroyed 26 of the many Japanese planes shot down by his squadron and by his forceful leadership developed the combat readiness in his command which was a distinctive factor in the Allied aerial achievements in this vitally strategic area.         
Robert O'Dowd served in the 1st, 3rd and 4th Marine Aircraft Wings during 52 months of active duty in the 1960s. While at MCAS El Toro for two years, O'Dowd worked and slept in a Radium 226 contaminated work space in Hangar 296 in MWSG-37, the most industrialized and contaminated acreage on the base.
Robert is a two time cancer survivor and disabled veteran. Robert graduated from Temple University in 1973 with a bachelor's of business administration, majoring in accounting, and worked with a number of federal agencies, including the EPA Office of Inspector General and the Defense Logistics Agency.
After retiring from the Department of Defense, he teamed up with Tim King of Salem-News.com to write about the environmental contamination at two Marine Corps bases (MCAS El Toro and MCB Camp Lejeune), the use of El Toro to ship weapons to the Contras and cocaine into the US on CIA proprietary aircraft, and the murder of Marine Colonel James E. Sabow and others who were a threat to blow the whistle on the illegal narcotrafficking activity. O'Dowd and King co-authored BETRAYAL: Toxic Exposure of U.S. Marines, Murder and Government Cover-Up. The book is available as a soft cover copy and eBook from Amazon.com. See: http://www.amazon.com/Betrayal-Exposure-Marines-Government-Cover-Up/dp/1502340003.
ATTENTION READERS
Due to the nature of independent content, VT cannot guarantee content validity.
We ask you to
Read Our Content Policy
so a clear comprehension of VT's independent non-censored media is understood and given its proper place in the world of news, opinion and media.
All content is owned by author exclusively. Expressed opinions are NOT necessarily the views of VT, other authors, affiliates, advertisers, sponsors, partners or technicians. Some content may be satirical in nature. All images within are full responsibility of author and NOT VT.
About VT
-
Read Full Policy Notice
-
Comment Policy