By Khalil Nouri STAFF WRITER
FOR VETRANS TODAY
Day by day a growing chorus of voices is heard saying that the tribes are the solution in Afghanistan. This very powerful grassroots movement is blossoming; and it can give the Afghan people new hope, self-esteem and a sense of belonging. 
As Representative Dana Rohrabacher (R-Calif.) told the news media Russia Today; "For about one billion dollars we could…(obtain)… the good will of all the tribal leaders and all the ethnic leaders in Afghanistan, and for another billion dollars, we could put nice projects in local villages."  But, to make sure that there is success to this notion, an effective bottom-up approach tool is required to match the existing top-down approach so that jointly both approaches can rescue the nation. 
A report published by the U.S. Institute of Peace says; "The top-down approach at nation-building that is focused on the central government in Kabul has not worked well because it ignores Afghanistan's decentralized history." A bottom-up approach is required first to accentuate then balance the nation's strengths that existed for thousands of years prior to the Soviet Invasion in 1979.
The current U.S. military operation in Afghanistan is just beginning to realize the importance of the tribes.  That is why; the Community Defense Initiative (CDI) is now being enthusiastically backed by General Stanley McChrystal.  This is a huge transition for the U.S. and NATO operations that can be valued more deeply by engaging a framework for an Afghan-American to tribal Afghan cause.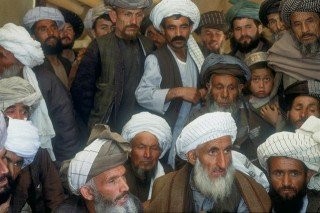 According to the Census Bureau, there are between 200,000 plus Expatriate Afghan-Americans. Their ethnic backgrounds reflect ethnicities of all Afghan origins, and most have preserved their close ties with their tribes and clans inside Afghanistan.  Culturally, their family bond and social intimacy is as strong as ever.  Furthermore, the strength and degree of tribe and clan-based loyalties is the solid foundation that has knitted the tribal constituents for centuries.
Placing the above circumstances into perspective; the question arises as to how a thriving bottom-up approach can be implemented? 
Initially the formula can be an empowerment of face to face interaction between; an Afghan in the U.S. (a tribal representative) and an Afghan in Afghanistan (a tribal leader), whose tribal roots are connected and are in acquaintanceship to each other.  In regards to a tribal representative, as mentioned above; he is not only loyal to his tribe but also to his adopted county the United States. Therefore, a genuine connection with "strings-attached" can be achieved.  On the contrary, in the perception of top-down approach, trustworthiness and tribal interlink is unachievable, and evidently has resulted in failure and disappointment.
Furthermore, the tribal leader and tribal representative will be implementing the said mutual interaction exclusively in a business tribal council framework we call "business-Jirgah to business-Jirgah" – or "Biz Jirgah to Biz Jirgah"— which should be applicable within local responsibilities and local structure, with cost effectiveness in mind, and free of foreign bureaucracies.
"Biz Jirgah to Biz Jirgah" involves establishing business relationships, and actual business initiatives on a people to people (rather than a nation to nation) basis, where each Afghan tribe is invited and encouraged to establish a business that can work closely with its American business counterpoint and eventually grow from micro to macro. 
These standardized and fixed priced businesses can reflect basic human necessities such as potable water, cold storage, fish farms, chicken farms, and so forth; while they can be built in areas that are in compliance with individual tribal approval. 
     
By using this concept which is in phase with thousands of years of customary Afghan culture, the stigma of foreign intervention is diminished and real dialogue and trust can be developed.  As the result, the seeds of trust between Afghan and American business interests are firmly planted, and needed infrastructure projects can be completed within acceptable time-frames and maintained for generations. 
           
This indigenous interaction can not only strike a successful agreement between the tribal players, but it can also be cost effective in terms of non obligation of force protection, since no American Military Civil Affairs or International Development personnel are engaged.
 

In the initial stages, this program requires full U.S. financial support, so that the average person's day-to-day necessities come from income he generates; and he can turn away from insurgency recruitment for hire to feed his family.
And finally, no central agency in Kabul can ever know the priority needs of people in every Afghan village, and unity cannot be delivered from the top.  But when local leaders, engaged in the nitty-gritty of local policymaking, practice fairness and inclusion, the people will follow.  A weak state cannot be made strong overnight.  But it can set up the systems that catalyze strong local communities by adopting village by village "Biz Jirgah to Biz Jirgah" initiatives.
"It's a village tribal culture and we need to go down to work with them on that level rather than (just) [building a central government]," as quoted Congressman Dana Rohrabacher in his Russia Today interview.
Khalil Nouri and Terry Green are the cofounders of New World Strategies Coalition Inc., a native think tank for nonmilitary solution studies for Afghanistan.  www.nwscinc.org
Khalil Nouri was born in an Afghan political family. His father, uncles, and cousins were all career diplomats in the Afghan government. His father was also amongst the very first in 1944 to open and work in the Afghan Embassy in Washington D.C., and subsequently his diplomatic career was in Moscow, Pakistan, London and Indonesia. Throughout all this time, since 1960's, Khalil grew to be exposed in Afghan politics and foreign policy. During the past 35 years he has been closely following the dreadful situation in Afghanistan. His years of self- contemplation of complex Afghan political strife and also his recognized tribal roots gave him the upper edge to understand the exact symptoms of the grim situation in Afghanistan. In that regards, he sees himself being part of the solution for a stable and a prosperous Afghanistan, similar to the one he once knew. One of his major duties at the beginning of Operation Enduring Freedom in Afghanistan in 2002 was advisory role to LTG Franklin Hegenbeck. He has worked closely with the Afghan tribes and his tribal exposure is well tailored for unobstructed cross-cultural boundaries within all Afghan ethnicities. He takes pride in his family lineage specifically with the last name "Nouri" surnamed from his great-grandfather "Nour Mohammad Khan" uncle to King Nader-Shah and governor of Kandahar in 1830, who signed the British defeat and exit conformity leaving the last Afghan territory in second Anglo-Afghan war. Khalil is a guest columnist for Seattle Times, McClatchy News Tribune, Laguna Journal, Canada Free Press, Salem News, Opinion Maker and a staff writer for Veterans Today. He is the cofounder of NWSC Inc. (New World Strategies Coalition Inc.) a center for Integrative-Studies and a center for Integrative-Action that consists of 24- nonmilitary solution for Afghanistan. The function of the Integrative-Studies division (a native Afghan think tank) is to create ideas and then evolve them into concepts that can be turned over to the Integrative-Action division for implementation. Khalil has been a Boeing Engineer in Commercial Airplane Group since 1990, he moved to the United States in 1974. He has a Bachelor of Science degree in Mechanical Engineering, and currently enrolled in Masters of Science program in Diplomacy / Foreign Policy.
ATTENTION READERS
We See The World From All Sides and Want YOU To Be Fully Informed
In fact, intentional disinformation is a disgraceful scourge in media today. So to assuage any possible errant incorrect information posted herein, we strongly encourage you to seek corroboration from other non-VT sources before forming educated opinion. In addition, to get a clear comprehension of VT's independent non-censored media, please read our
Policies and Disclosures
.
Due to the nature of uncensored content posted by VT's fully independent international writers, VT cannot guarantee absolute validity. All content is owned by the author exclusively. Expressed opinions are NOT necessarily the views of VT, other authors, affiliates, advertisers, sponsors, partners, or technicians. Some content may be satirical in nature. All images are the full responsibility of the article author and NOT VT.
About VT
-
Comment Policy