Various Pro-Peace (or anti-war if YOU prefer) Veterans, active duty, and Military Family groups and service organizations have been planning and preparing for massive demonstrations in Washington, DC and across the nation come March 20th, 2010.
I believe that the Peace of the Action logo here best epitomizes this massive SURGE in protests that are billed to be larger than any hidden from public view by the Bush administration.
Groups and organizations that once passionately questioned and opposed the Bush administrations' lies and deceit that got us into Iraq are now on the verge of protesting even more passionately against the President and party they in large part voted for and brought to power during both 2006 and 2008.
How official Washington reacts to these protests of the Democratic parties main base remains to be seen, but it will certainly impact how liberal voters VOTE come November 2010. It is well known throughout the Peace movement that Obama's Chief of Staff Rahm Immanuel has continuously made disparaging remarks about this liberal base that allowed him to become part of the Obama administration.  In fact, the entire Democratic party establishment has pretty much turned its back on the base of the party as they embrace pro-life and hawkish Democrats. There is no doubt about it, voters are angry, and these voters are determined to show just how angry they are come March 2010.
I will be following and reporting on these preparations that began even before the 2009 Christmas Holiday season began. In this first of many reports, watch and listen to Veterans who participated in the liberation of Iraq relate their experiences, then I again ask you to seriously consider hosting a viewing of Severe Clear. Though the intent of that flick is not a political message one way or another it does verify beyond a doubt that testimony given at Winter Soldier is on large part TRUE.
Robert L. Hanafin,  Veterans Today News
Sent to Veterans Today via email from Iraq Veteran Mike Prysner of the activist group March Forward.
War veterans and resisters say \"All Out for March 20th-National March on Washington!\"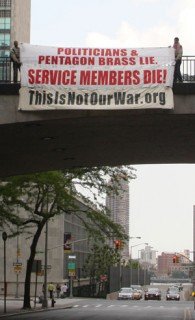 Help Pro-Peace Veterans Spread the Word:  Send this Amazing Video Everywhere. Join veterans and service members as they take to the streets on March 20!
Please watch and share this powerful video with everyone you know!
Join March Forward! and other veterans, active duty service members and military families on March 20 in DC, LA and SF as they  say "No War for Empire!"
In March of 2003, Mike Prysner was sent to invade [excuse me liberate] Iraq amidst the largest anti-war demonstrations in history, with an equally senseless war already being waged in Afghanistan.
Mike, and countless other Veterans, went believing the lies spewed by Washington, but saw first hand the criminal and imperial nature of that war, and every war waged by the U.S.
Their experiences compelled them to stand up and fight back.
Many of them joined together to form March Forward!, and have been building resistance to these wars, both in and out of the military. This video was made by their members, all of whom are Veterans and active duty Soldiers, to help publicize the next step in their struggle to end the wars—the national mass anti-war protests in Washington D.C., Los Angeles, and San Francisco on March 20th, to mark the seventh year anniversary of the brutal liberation of Iraq.
Help them make their voices heard. They need you all behind them on March 20th to stand UNITED against the continued crimes of this government—but they also need your help in spreading the word. Please circulate the above video to everyone you can, and be a part of the growing movement against the U.S. war machine.
Visit March20.org to learn more about how to get involved.
To learn more about March Forward! please visit MarchForward.org.
In solidarity,
Mike Prysner
Click this link to hear Prysner's testimony from the Winter Soldier hearings
(Neither the Editorial Board or writing staff of Veterans Today News Network endorses this public service announcement. The views expressed are solely those of A.N.S.W.E.R. Coalition
http://www.answercoalition.org/ email: [email protected]
AND March Forward.
Posted by: Robert L. Hanafin, GS-14, U.S. Civil Service-Retired, Veterans Today News
ATTENTION READERS
Due to the nature of independent content, VT cannot guarantee content validity.
We ask you to
Read Our Content Policy
so a clear comprehension of VT's independent non-censored media is understood and given its proper place in the world of news, opinion and media.
All content is owned by author exclusively. Expressed opinions are NOT necessarily the views of VT, other authors, affiliates, advertisers, sponsors, partners or technicians. Some content may be satirical in nature. All images within are full responsibility of author and NOT VT.
About VT
-
Read Full Policy Notice
-
Comment Policy