There has been an increase of media coverage dealing with the growing number of non-profit organizations providing much needed companion pets for our returning troops requiring such companionship, and Pets for Vets is one of these great ideas.
This story is in two parts. The first part will cover what groups like Pets for Vets have to offer. The second part will cover the reasons why Veterans need to be screened and prepared to accept such animals just as much as the dog needs to be appropriate for the Veteran.
For example, Veterans coping with PTSD or exhibiting signs of domestic abuse must have our own demons under control before even thinking about such companionship. In most cases non-profit groups like Pets for Vets screen potential Veteran applicants to ensure a stable environment for the Pet and Vet.
I know from personal experience that most shelter pets sent out for adoption have been rescued from an abusive situation as puppies, so potential owners are screened within reason to prevent further abuse.
Simply put we do not take a dog that has had a traumatic experience of their own (PTSD if I may) and place them with someone with PTSD unless that person is undergoing treatment and has the condition pretty much under control that is the Veteran is stabilized. The addition of such a companion may serve as a compliment to any other therapy the Veteran receives.
I have 'stabilized' type 2 bipolar meaning not only is it under control enough for me to live a normal [for me] life, but I never have required hospitalization for Mental Illness (MI). Shiba pictured here is my companion dog that I trained myself and love very much. She had been abused and battered before I got her to include having her tail cut off by the previous owner and tied to a tree with no shelter year round in Ohio including the dead of winter. It was a miracle Shiba survived; when decent neighbors reported the abuse. She looked nothing like this photo and was near starvation, fearing human contact. I intend ensuring all those demons in her experience go away, and she never suffers again for the rest of her days.
Lastly, it must be noted and clear that there is a vast difference between companion dogs like mine for people with MI and Service Dogs for people with physical combined with MI or Cognitive Impairment Disorders.
Robert L. Hanafin, Major, U.S. Air Force-Retired, VT News
(THE PETS FOR VETS LOGO IS COPYRIGHT OF THE PETS FOR VETS PROGRAM LINKED BELOW)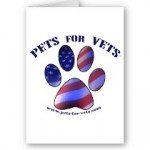 The Pets for Vets program is dedicated to providing a second chance for shelter pets by rescuing, training and pairing them with America's veterans who want a companion animal.
This is a win-win way to give back to our troops who have given so much to us. They fought hard for our country and made us proud. Pets for Vets are a concrete way to say thank you and to benefit our returning veterans.
Many of our Operation Iraqi Freedom and Operation Enduring Freedom veterans suffer from physical and emotional injuries making it difficult to transition back to civilian life. Pets for Vets can help! Our goal is to heal their wounds by bringing together man's best friend and our returning soldiers while showing them both that we have not forgotten.
Every veteran who is able to care for an animal is eligible to receive a Pets for Vets companion animal.
The Pets for Vets program is dedicated to providing a second chance for shelter pets by rescuing, training and pairing them with America's veterans who want a companion animal.
3 to 4 million dogs and cats are euthanized each year. These dogs can make excellent companion animals but never have that chance. Our dedicated animal trainer will evaluate and rescue the shelter animals and provide additional training to ensure that they are able to assimilate into a home, which is quite different from a shelter environment.
Sadly, there are alarming statistics of suicide, family abuse and Post Traumatic Stress Disorder facing Veterans returning to civilian life after military duty. This can cause a downward spiral of apathy, unemployment, broken relationships, addiction and depression. It is believed, as I believe, that companion animals can be the life saving therapy or friend that many returning service men and women need.
Medical studies have shown that companion animals significantly improve mental and physical health, including reducing stress, depression and anxiety, symptoms experienced by many serving in the military.
Pets for Vets goal is to match rescued companion dogs (or pets) with American veteran owners providing a second chance for both the Veteran and the dog (or pet).
The Pets for Vets team interviews each Veteran to ascertain exactly what he or she is looking for in a companion animal; they pair this with his or her personality and lifestyle to make the perfect pet/veteran match. Once the perfect pet is selected for the Veteran, he/she then spends time in the home of a trainer who teaches him/her basic obedience and other valuable behaviors needed to live with his/her new owner. This can include becoming comfortable with wheel chairs or behaviors needed to help with PTSD and TBI.
Your support helps groups such as Pets for Vets match a rescued companion dog (or pet) with an American veteran who would benefit from having a companion. In accomplishing this mission, a decent effort like Pets for Vets does not want to create an additional burden on the Veteran; with each dog/Veteran match they provide all of the necessary equipment for them to start their new life together.
VT Editor's note: It is the responsibility of each Veteran and Military Family to check out the credentials and what an organization like Pets for Vets offers, because the focus and provisions of equipment and support may vary. In addition, a good non-profit like Pets for Vets will provide a pet that is healthy and up to date on all vaccinations.
Your donations helps to ensure these non-profits have everything they need.
In the case of Pets for Vets, in order to not create an additional burden on us Veterans, with each dog /Veteran they match they provide all of the necessary equipment for us to start our new life together.
Your help is needed to ensure that they have everything they require. Please donate any of the items from their wish list to:
Address for equipment donations:
Long Beach VA Medical Center
5901 east 7th Street Building 50 (03/135)
Long Beach, CA 90822
Crates (all sizes),  Beds (all sizes), Towels,  Metal food bowls
Kong chew toys (all sizes),  Stuffed dog toys,  6 foot leashes
Dog Collars (all sizes),  No slip collars EZ walk harness,
Dog food, Dog treats, Grooming equipment (brushes, nail clippers).
Baby gates
(It is the policy of VT to help promote groups like Pets for Vets, but we do not endorse nor solicit funds on their behalf. Major Hanafin says)
My wife and I are in the process of moving, and Shiba is house and yard  broken, but given her traumatic experience tied to a tree, Shiba will remain a house dog and part of our family for a lifetime.  If I may add another bit of advice, please time the age of the dog to fit your age. I'd advise against getting a puppy, trying to train it, enjoy its company, then the dog outlives you or me. I was 55 when we got Shiba four years ago, she was two years old at the time, and I plan on outliving her so that she is not left behind in another shelter experience in her older years. I'd say that of course this is a personal and individual choice, but had I been let's say 70 years old and desired such a companion, I would have gone with an older more mature dog possibly already trained for they are also the hardest for a shelter to find adoptions for.
Robert L. Hanafin, Major, U.S. Air Force-Retired, VT News
Similar Efforts: Click on logo to visit their site.
THIS LISTING IS NOT ALL INCLUSIVE ONLY A SAMPLING. IF YOU WISH A LINK TO YOUR ORGANIZATION POSTED – OR REMOVED – PLEASE REQUEST IN THE COMMENTS SECTION.               Major Hanafin
Readers are more than welcome to use the articles I've posted on Veterans Today, I've had to take a break from VT as Veterans Issues and Peace Activism Editor and staff writer due to personal medical reasons in our military family that take away too much time needed to properly express future stories or respond to readers in a timely manner.
My association with VT since its founding in 2004 has been a very rewarding experience for me.
Retired from both the Air Force and Civil Service. Went in the regular Army at 17 during Vietnam (1968), stayed in the Army Reserve to complete my eight year commitment in 1976. Served in Air Defense Artillery, and a Mechanized Infantry Division (4MID) at Fort Carson, Co. Used the GI Bill to go to college, worked full time at the VA, and non-scholarship Air Force 2-Year ROTC program for prior service military. Commissioned in the Air Force in 1977. Served as a Military Intelligence Officer from 1977 to 1994. Upon retirement I entered retail drugstore management training with Safeway Drugs Stores in California. Retail Sales Management was not my cup of tea, so I applied my former U.S. Civil Service status with the VA to get my foot in the door at the Justice Department, and later Department of the Navy retiring with disability from the Civil Service in 2000.
I've been with Veterans Today since the site originated. I'm now on the Editorial Board. I was also on the Editorial Board of Our Troops News Ladder another progressive leaning Veterans and Military Family news clearing house.
I remain married for over 45 years. I am both a Vietnam Era and Gulf War Veteran. I served on Okinawa and Fort Carson, Colorado during Vietnam and in the Office of the Air Force Inspector General at Norton AFB, CA during Desert Storm. I retired from the Air Force in 1994 having worked on the Air Staff and Defense Intelligence Agency at the Pentagon.
ATTENTION READERS
We See The World From All Sides and Want YOU To Be Fully Informed
In fact, intentional disinformation is a disgraceful scourge in media today. So to assuage any possible errant incorrect information posted herein, we strongly encourage you to seek corroboration from other non-VT sources before forming an educated opinion.
About VT
-
Policies & Disclosures
-
Comment Policy
Due to the nature of uncensored content posted by VT's fully independent international writers, VT cannot guarantee absolute validity. All content is owned by the author exclusively. Expressed opinions are NOT necessarily the views of VT, other authors, affiliates, advertisers, sponsors, partners, or technicians. Some content may be satirical in nature. All images are the full responsibility of the article author and NOT VT.