STOLEN PROPERTY
Land! Precious Land! America has fought over it, and rewarded those with it who waged the battle in victory of it. That was when America truly appreciated those who defended our freedom and independence.
Thus, after the Revolutionary War, the U.S. government awarded "Bounty Land Warrants," which was the exchange of free land for those fought for our new Nation.
Subsequently, the Land Warrants were given to Veterans or their survivors for War-time Military service performed between 1775 and 1855. This included Veterans who had served in the American Revolution, the War of 1812, and the Mexican War.
An Act of Charity
After the Civil War, the federal government set forth a different plan, which would provide a place of permanent residency for those who sustained lifetime physical, mental and emotional injuries while serving in the Union forces.
On March 3, 1865, the day before Abraham Lincoln's second Inaugural Address, he signed the final bill passed by Congress to establish the National Asylum for Disabled Volunteer Soldiers, an agency that would provide Veterans with a safe and quiet haven with medical treatment and hospital care.
This was a small token of public gratitude and would become known as a National Sacred Trust and a Monument of Charity to those who wore the Uniform of the United States Military and were Disabled from War.
As the Great Emancipator summed up his Inaugural Address, he promised on behalf of We, the People, "To care for him who shall have borne the battle, and for his widow and his orphan.
In January 1873, the name was changed from Asylum to the National Home for Disabled Volunteer Soldiers. They had the compassion and good sense to make sure that there would never be a "homeless Veteran," a term unheard of back then.

An Act of Congress
At the Forty-Ninth Congress, on March 2, 1887, an Act was approved …
"To locate, establish, construct, and permanently maintain a branch of said National Home for Disabled Volunteer Soldiers to be located at such place in the States west of the Rocky Mountains … to appear most desirable and advantageous."
Section 2 of the Act Declared:
"That all honorably discharged soldiers and sailors who served in the regular and volunteer forces of the United States, and who are disabled by disease, wounds, or otherwise, and who have no adequate means of support, and by reason of such disability are incapable of earning their living, shall be entitled to be admitted to said home for disabled volunteer soldiers."
It is evidence by the language of this 1887 Act of Congress that the public servants who authored and mandated that America should never have a "homeless Veteran" because this would serve as their rightful Home.
An Act of Kindness
One year and one day after the Act was signed, landowners Senator John P. Jones and Arcadia B. de Baker had the foresight and wisdom to understand that America would always require a strong and vigilant Military to protect our many freedoms and unparalleled way of life.
Like Plato, (c. 429 – c. 347 BC) they understood that "Only the dead have seen the end of war." Correspondingly, they intuitively knew that protecting America without human casualties, particularly the infliction of physical and psychological harm to its brave defenders, would virtually be impossible.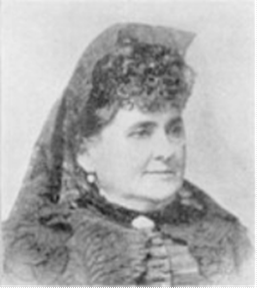 ——————(1829 -1912)—————————————————————–(1825 -1912)————————-
With a patriotic vision centuries into the future, Senator Jones and Ms. de Baker eventually gave more than 600 acres of pristine land that was most desirable and advantageous to the United States Government with the resolute purpose and sacred promise that essentially guaranteed those who Dutifully and Honorably defended our Country, would always have a permanent place to call "Home." In fact, their Deed signed on March 3, 1888 states no less than six different times that this land is:

"To be permanently maintained as a National Home for Disabled Volunteer Soldiers."
Equivalently, our government's token of gratitude, on behalf of "We the People," was the explicit promise to provide America's Military Veterans with the very best of medical care and rehabilitative services.
The "Promised Land"
Disabled Veterans from afar came to this remote haven of quietude and privacy to heal from the travesty of war. At the beginning, they lived in makeshift shelter and worked in construction building their new "Home.'
Within a year after the Land Grant was deeded for the National Soldier's Home, construction was competed on the first of many elegant, Victorian-style residence and dining halls, with large verandas that overlooked beautifully landscaped gardens.
This land was established and built as a permanent "Home" for all honorably discharged Veterans who served in the regular or volunteer forces of the United States Military who were Disabled, who had no adequate means of support, and were incapable of earning a living.
The Veterans became self-sufficient at their new Home by growing fresh vegetables and raising cattle, chickens and other livestock.


"Democracy does not build Blenheims, and create vast estates for the General or Admiral, but it is just, and it cannot help being just to the soldier and the sailor."
– Goldwin Smith – "Three English Statesmen" (1882)
<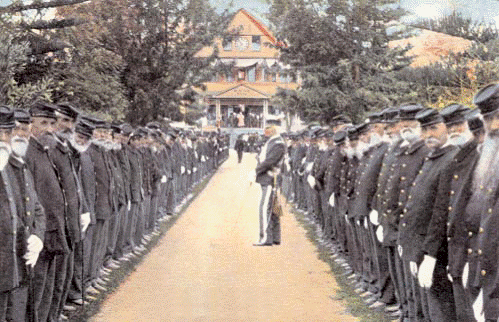 The Grand Army of the Republic
America's first Military Veterans Organization that was instrumental in the influence and creation of the Old Soldiers' Homes of the late 19th century.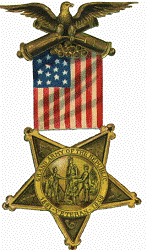 Broken Promises
Unfortunately, the sacred promises of yore have not always been honored, particularly over recent years where this hallowed land has been leased, shared and essentially given away, sometimes rent-free, at the shameful expense of the thousands of Veterans in Los Angeles who suffer from a multitude of disabilities.
Over the years, Veterans sacred land has been dissected and disseminated for non-Veteran use including Wilshire Boulevard that cut a swath through the ground from east to west. This is one of the busiest boulevards in the nation, if not the world. Sepulveda Boulevard cut through from north to south and land-loss was seriously compounded by the 405 Freeway taking a gigantic cut. This is one of the most heavily traveled freeways in the nation, if not the world.
A 10-acre chunk of Veterans land was given to the U.S. Army for the Reserve and National Guard. Another huge parcel was given to the General Services Administration for a "Federal Building" that is dominated by the FBI.
Little by little, big by big, the land transfers reduced more than 600 acres to less than 400, while homeless the Veteran population continued to increase. Today, it is estimated that there are 388 remaining acres of Veterans' land, but no accurate accounting has ever been documented in recent years.
Tragically, the land is being leased away with the blessings of VA bureaucrats and local politicians who have subverted the Land Grant Deed and Congressional Act in order to appease special interest groups that covet Veterans property for their own benefit and enjoyment.
The old Victorian buildings were demolished and replaced in the 1930's, and a majority of those buildings are still standing, even though many are obsolete. It's been officially reported that 11 of these buildings are empty and that number could climb to more than 20.
Never mind that there are 20,000 Veterans in Los Angeles who are without shelter.
No Good Deed Goes Unpunished
What was once a proud and revered National Home for Veterans to heal from war, has now become a playground and entertainment center for the neighboring aristocrats and denying homeless Veterans access to their rightful Home.
A Deed for pristine land that was gifted by two benevolent Patriots has now become a disgraceful display of greed and disrespect as these hallowed grounds have been pillaged, plundered and prostituted away for non-Veteran use.
When is a Home No Longer a Home?

When Greedy Neighbors Take Over and Turn It Into a Public Park
It is beyond words to describe what it's like to homeless Veterans sleeping outside the chained and locked gates of their rightful Home, under bronzed plaques that say "National Veterans Park." The homeowner group that finagled $1 million to build this pretentious fence and facade boast that they did it to "Honor Our Veterans."

The Grass is Greener on the Other Side, Particularly When It's Your Own Land.
Another "mission" of the wealthy homeowner group is "to preserve the historic green space" on Veterans property in order to beautify the entryway into their own community. Why would these aristocrats want to keep homeless Veterans on the outside of their Home in order to preserve open green space on the inside? These mega-fat-cats certainly have a perverted way of expressing their vision of "beauty."
A Homeless Veteran and his Wife Park Their Luxury Vehicles Outside the Gates of their Home in Fashionable Brentwood
A Veteran Down and Out in Brentwood
How can we ask an individual to pledge his or her life for our country and be prepared to suffer life-long physical and mental wounds, and also be prepared to survive if they are held as a "Prisoner of War" or become "Missing in Action" in a foreign country?
Yet, none of these Patriots are trained or prepared to be a "Prisoner of Neglect" and "Missing in Action" within the same country they defended after their tours of duty are over.
How can we ask our Military men and women to go to war and pledge their lives to defend the Constitution of the United States when our government will not even defend their Land Grant Deed of 1888 after they come home as Veterans of the war?
Shamelessly, our country treats thug-terrorist prisoners at Guantanamo Bay far better than we treat our Veterans here in the United States who fought against these malicious evil-doers. Even dogs are treated better.
A Dollar a Year for Dogs, Zero for Veterans
While our government spends over a million dollars per soldier to fight in the two ongoing wars, dogs are given more consideration than returning Veterans of war.
The VA leased 12 acres of Veterans' land to the City of Los Angeles Recreation and Parks Department for $1 a year for a couple of baseball diamonds, and the City carved out two acres for an off-leash dog park that is overseen by the so-called "Friends of Barrington Dog Park."
"Give Not That Which Is Holy Unto the Dogs"
– Matthew 7:6
Pardon Me While I Poop!
While homeless Veterans are sleeping on the outside of the National Home, carefree dogs are running around defecating and urinating on their sacred land on the inside while the dog owners arrogantly demand this to be a privileged entitlement, including a free parking lot that is off limits to Veterans who sleep in their car, van, or camper.
As though having dogs freely cavorting around on Veterans property is not insulting enough, they are taken home to multi-million dollar mansions and pampered with luxuries we could only wish for.
By the way, did I mention there are 20,000 homeless Veterans in Los Angeles?
It's a Dog's Life on Veterans' Property
A neighboring resident walks his dogs "off leash" on the sacred grounds of the "Grand Lawn" where Veterans from the Civil War once walked. Today, a Veteran will be cited by the VA police for "loitering" if he or she were to walk on their own property without bureaucratic permission.
"A Young Girl Rides Her Bicycle on Veterans' Property
Neighbors Jogging and Walking on Veterans' Property is "Legal."
The Have's and Have-Not's
How low and insensitive has our society become to allow a group of wealthy snobs and complicit politicians to overreach and do what is best for them selves but not for those who have defended their freedom and prosperity?
How much colder and more ungrateful can the have's become at the expense of the have-not's, particularly those who made it possible for the haves to have what they have?
Consider the change of times and compare today's greedy neighbors and shallow politicians to 120 ago when land owners Arcadia de Baker, a wealthy widow living in neighboring Santa Monica, and John P. Jones, a U.S. Senator from Nevada, had human compassion and patriotic gratitude to give their land for the benefit of those who served our country on their behalf.
"Robbing Veterans of Pensions Money"
"Hungry Sharks Lie in Wait At Very Gates of Soldiers' Home"
On March 15, 1904, the" Los Angeles Daily Times" featured a story with the story's lead sentence declaring:
""With wolfish eagerness, a horde of thugs, gamblers, prostitutes and sellers of evil liquors lay in wait yesterday at the very gates of the Soldiers' Home, for the pension money paid in large amounts to the old veterans last Saturday."
Today, 106 years later, the political whores and VA property pimps are inside the gates of the Home prostituting away Veterans' land and gambling with their disability and pension money, while disabled Veterans remain homeless on the outside the very gates of their lawfully deeded Home.
Home Away From Home
A homeless Veterans takes refuge on the outside of the Los Angeles National Veterans Home next to the ostentatious multi-million dollar Gateway Landmark Plaza and majestic wrought iron fence that was built with Veterans healthcare money to beautify the entryway into Brentwood, one of the wealthiest ZIP codes in the nation.
Thank You For Your Service to Our Country!
A Veteran Sleeps in the Daytime So That He is Wide Awake During the Nighttime to Defend Himself.
Distress Call: "Stranded & Disabled Vet … Spare Food and / or Drink Greatly Appreciated"
A Disabled homeless Veteran whose life is in danger, raises his own "Distress" flag outside the largest VA in the nation.
The Veterans' Chapel in the background is the oldest building on Wilshire Boulevard and has been closed by the for decades. It has fallen into serious disrepair because of neglect by the local VA, and it continues to be run down to a point of shameful disgrace.
Bettina Michaels, an 82 year-old Veteran widow has tried diligently to save the Chapel and have it restored to its revered legacy but "some others" have "other" ideas.
The "some others" are the wealthy homeowner clan that do not refer to this as the Veterans' Chapel, but an "Historic 19th Century Victorian Chapel." The renegade cult has grandiose designs as they boast about having "plans to transform the facility into a non-denominational Chapel for weddings, memorial services, and community events."
Is it at all possible that someone could tell this self-serving crowd that there are 20,000 homeless Veterans in Los Angeles and to stop worshipping Veterans land and buildings for their own use?
A Sign of the Time!
Blending In With the Brentwood Beautification Project
A Brentwood Resident
The Great Wall of Brentwood
While some homeless Veterans sleep outside the front gate, others take up residency alongside the multi-million dollar wrought iron fence to "beautify" the entryway into Brentwood.
The VA gave the already flushed homeowner group a million dollars of Veterans healthcare money to build this shameless wall. This is just another example of VA bureaucrats stupidly spending money to benefit sanctimonious special interest groups at the painful expense of America's Military Veterans.
When Sue Doyle, staff writer for the Los Angeles Daily News" reported on the first Sunday Rally to "Save Our Veterans Land" on March 9, 2008, she wrote:
"Outside the facility some veterans who don't call it home live in campers parked on San Vicente, while other sleep in grungy, urine-smelling blankets on the sidewalk."
Two years later, and sidewalk homeless has increased but the campers are gone because the neighboring aristocrats considered the old campers an "eyesore and distraction from the beauty of their majestic wrought iron fence."
Another Ugly Reminder
The front gate to the Los Angeles National Veterans Home is chained and padlocked, an ugly reminder that Veterans are not welcome on their own property.
On the Wrong Side of the Fence:James Miller is a Disabled Homeless Veteran
The "open space" behind the front gate to the Los Angeles National Veterans Home is the 16 acres that Sue Young's homeowner group controls, rent-free, and plans to build a public community park on it. Disabled Veterans 120 years ago used to live on the other side of the fence.
Veterans Arrested For "Loitering" on Their Own Property
James Miller, a homeless, Disabled Vietnam War Veteran, was recently given a criminal citation by the VA police for "sleeping" when he was caught sitting upright in a chair and resting his tired body in the lobby of the Los Angeles VA Wadsworth Hospital.
James must now appear in U.S. Court to answer these trumped-up criminal charges, even though this land was promised "to be permanently maintained as a National Home for Disabled Volunteer Soldiers."
ames shouldn't be homeless, nor should any Veteran in Los Angeles when they already have a "Home."
A homeless Veteran sleeping at the National Veterans Home is not a crime. The real crime is that he is being denied residency at the Home and a wealthy homeowner group plans on turning Veterans' land into a public park.
It's a crime is to issue homeless Veterans a criminal citation for sleeping on their own property.
Checkers and Camaraderie
Healing from War
In an 1890 photo, Disabled Veterans from the Civil War engage in a friendly game of checkers as they try to heal on the hallowed grounds at the National Home in Los Angeles.
These Veterans shared a camaraderie that was exclusive to them and their honorable duty to their country as Soldiers.
Before the VA came into existence in 1930, Veterans talked things out amongst themselves and didn't need a bureaucratic "case manager" who never served in the Military, let alone served in combat, to probe into their non-military personal lives and fill them up with brain-numbing drugs.
In the "good old days," Veterans could sit alone under a tree in quietude and privacy or be with fellow Veterans to rehabilitate and transcend the devastation of combat … they worked things out on their own terms and not the governments.
The Real Criminals!
Today, neighbors who never served in the military are allowed to let their dogs run loose, go for a stroll, jog, ride bicycles, and whatnot on this sacred land.
The only restrictions are against homeless or Disabled Veterans wanting to sit under a tree to catch up on a little sleep. This is considered "loitering" by the overly zealous VA police, and if Veterans want to get together for a friendly game of checkers, that would an "unauthorized assembly."
Make no mistake: We have some very, very sick people running the VA and it is they who are the criminals, not homeless Disabled Veterans on their own property.
It is the VA bureaucrats and wealthy neighbors who are trespassing on Veterans land!
Veterans have one word for all of you: Vamoose !
Meanest City in the Nation for the Homeless
While homeless Veterans are cited for loitering inside the largest VA in the nation, on the outside they try to survive on the dangerous streets of Los Angeles, which is considered the "meanest city in the nation for the homeless," according to the National Law Center on Homelessness & Poverty and the National Coalition for the Homeless.
According to VA estimates, roughly 131,000 of the nation's 24 million veterans may be homeless on any given night, and about twice as many are homeless each year.
VA Secretary Shinseki has declared: "No one who has served this nation as veterans should ever be living on the streets."
Thank you Mr. Secretary, but apparently the West LA VA bureaucrats didn't get your Memo, because Veterans are considered to be loitering or trespassing on their own property and are forced to live on the streets.
Not only is Los Angeles the meanest city in the nation for homeless Veterans, but it is also the meanest VA in the nation for abusing and harassing homeless Veterans on their own property.
And when fellow Veterans protest against this dastardly treatment and abuse, the bureaucrats send the VA police outside to issue false arrest citations.
The Beauty of a Tent City
During a recent trip to Hawaii, it was interesting to see the homeless sleeping in tents on public parks and nobody seemed to mind or be bothered by it.
Even if having homeless living in tents is considered unacceptable in a public park, it would certainly be acceptable for Veterans to live in tents on their own property.
A Temporary Home in Waikiki With an Oceanfront View
It's imperative that the so-called "sharing agreement" the VA has with a wealthy homeowner group for a public park on Veterans property be rescinded in its entirety, and those 16 acres used for a Veterans "Tent City" until more reasonable shelter can be arranged.
If Ralph Tillman can lease out Veterans land and make a mockery of their Honorable Duty to our Country with Carnivals and a vast array of tents that were put up within a day or two, then surely he can put up a host of tents as temporary shelter for homeless Veterans.
Making a Mockery of Homeless Veterans
The temporary installation of numerous large tents for a recent "Celebrity Carnival Fundraiser" on Veterans land was simply disgraceful – and the proceeds of the fundraiser did not go to Veterans
Something stinks here! The absurd notion that a "Tent City" for Veterans on their very own property would be an "eyesore" to the wealthy neighbors is a crock of manure, particularly when the wealthy neighbors created this ugly carnival eyesore while Veterans remain homeless on the outside.
Stealing Veterans' land and turning it into a carnival is stealing the Valor of every man and woman who has worn the Uniform!
Less Means More
There's been a proliferation of non-Veteran, non-profit organizations that are weaseling their way into controlling more and more of Veterans land at both the Los Angeles VA and the Sepulveda VA in LA's San Fernando Valley, including numerous other VA's all across America.
These so-called "enhanced use" or "enhanced sharing" lease agreements with long-term privileged deals are nothing more than an illegal scam to steal from Veterans.
There is absolutely nothing in any of these land-heist deals that benefit America's Veterans and everything is for the benefit of non-Veteran special interest groups. Nonetheless, they are facilitated by VA bureaucrats and powerful politicians, and it is always done under the insulting guise of "honoring our veterans."
Make no mistake; there's a distinct parallel with the loss of Veterans land and the increase of homeless Veterans.
In brief, less Veterans' land means more homeless Veterans.
This ruthless and treasonous style of governance must end, posthaste!
There's Only One True "Sharing Agreement"
The predatory "sharing agreements" that VA bureaucrat Tillman has egregiously used as a vehicle to satisfy the "wants" of the greedy fat-cats at the expense of Veterans' needs … are CRIMINAL.
There's only one true "Sharing Agreement," and it's jointly called the 1887 Act of Congress and the Land Grant Deed of 1888, and the rent is not free. There has been a terrible price paid for this land and some have paid an arm and a leg to be a Member of this exclusive Club.
If you want to share this land, then you must pay the price in Honorable Duty to our Country. Sometimes the payment is non-ending and compounded through serious pain, misery and heartache. Some have paid the ultimate price and buried on these sacred grounds.
Nothing is free on this land!
This is the Veterans' "Promised Land," guaranteed "to be permanently maintained as a National Home for Disabled Volunteer Soldiers."
This noble Sharing Agreement has been passed down and shared generation-to-generation with Veterans for more than 120 years, until recent years.
Tragically and shamelessly, this sacred Promise has been broken and violated over and over by smug elitists who claim this land is an entitlement to be used for their own benefit, at the expense of America's Veterans.
This wealthy cult needs to be educated: This is a "Home" for Veterans to heal from war, as deeded on March 3, 1888, preceded and reinforced by an Act of Congress dated March 2, 1887.
Make no mistake: This is not a public park, a carnival, a private school playground, a dog park, used car storage lot, a bus lot, a community cultural center, open or green space, or anything else that the public wants to use for their personal benefit.
This is a HOME!
Never forget: There are 20,000 homeless Veterans in Los Angeles County.
To those who have aided and abetted in this most criminal of crimes, your crime spree is coming to an abrupt halt.
The Old Veterans Guard has drawn a line and boldly announced: "No more broken Promises! No more stolen land! No more stolen valor! And no more violating our Civil Rights!"
For nearly two years, we've stood at the busiest intersection in West Los Angeles with our 15 foot Banner that says: "Save Our Veterans' Land."
Now we're marching forward!
Our message is concise and precise:
Get off our land voluntarily or face legal eviction!
Our Deed is the "Law of the Land," not your wealth and power!
Fighting the Domestic Enemy
The magnitude of General MacArthur's "Duty, Honor, Country" speech cannot be refuted in the slightest by anyone who understands where our freedoms and independence really come from, and that is the brave and selfless men and women who raise their right hand and take an Oath to pledge their lives to defend our U.S. Constitution against all enemies, foreign and domestic.
As Veterans know, the Military Oath is an open-ended "sharing agreement" with no expiration date and no guaranteed price that you will have to pay..
Accordingly, there are Veterans in their 60s, 70s and 80s who are now fighting the domestic enemy that has slandered and denigrated their honorable duty to our country.
Moreover, the domestic enemy has used their wealth and power to force unprecedented compromises at the highest levels of government to expropriate and confiscate Veterans sacred land while more than 20,000 of our fellow Veterans remain homeless on the dangerous streets of Los Angeles.
No Veteran Left Behind
he Land Grant Deed to the Veterans property is as sacred as the United States Constitution they pledged to protect and defend when they raised their right hand and solemnly swore: "I am prepared to give my life for my country."
Like all those who serve in the Military, they pledged to make the ultimate sacrifice for the benefit of their fellow citizens. So, instead of building a public park that benefits neighboring homeowners while homeless Veterans are left behind on the streets, let's open the front gates to their rightful Home and give them a chance at starting anew. That's certainly a very small sacrifice to make for the very big debt that is owed for our freedom and independence.
General Omar Bradley, a World War II hero, reminded all Americans that "Sacrifice, not selfishness, must be the eternal price of liberty."
U.S. Army, 1965-67, Schofield Barracks, Hqs., U.S Army, Hawaii. Director, The Veterans Revolution, Captain, the Old Veterans Guard, and Director, We the Veterans.
ATTENTION READERS
Due to the nature of independent content, VT cannot guarantee content validity.
We ask you to
Read Our Content Policy
so a clear comprehension of VT's independent non-censored media is understood and given its proper place in the world of news, opinion and media.
All content is owned by author exclusively. Expressed opinions are NOT necessarily the views of VT, other authors, affiliates, advertisers, sponsors, partners or technicians. Some content may be satirical in nature. All images within are full responsibility of author and NOT VT.
About VT
-
Read Full Policy Notice
-
Comment Policy