"MILITARY TRASH, NEGROES, INJUNS, MESSICANS AND QUEERS, RAPID CITY HATES EM' ALL"
By Gordon Duff STAFF WRITER/Senior Editor
Rapid City, South Dakota has a long history of racial discrimination against African American Airmen, dating back to the 1940s.  "Negroes, Messicans, Red Skins," Rapid City hates them all, especially if they are serving their country.
Police Chief Steve Alexander of Rapid City says his officers spied the "gay marriage license" of a 9 year Air Force veteran by looking thru a window.  Nobody believes this, especially not the American Civil Liberties Union which filed suit against the department this week.  It seems officers looking for Air Force Sergeant Jene Newsome's "partner" for an alleged warrant in Alaska saw the mysterious document "on a kitchen table through a window" and reported it to Chief Alexander who called Newsome's base commander.  Alexander's management style and the quality of the Rapid City police have long been in question.  A bent license plate could always buy a bashed in head or a night in jail in Rapid City, especially if you are the wrong color.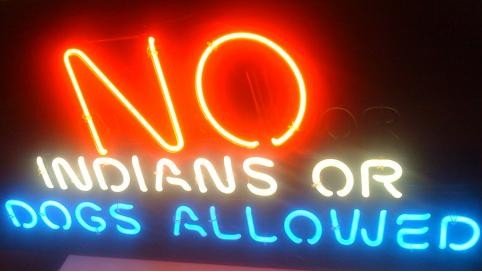 Newsome, a valued and highly trained veteran with an excellent record was forced to resign under "don't ask, don't tell."  However, there are some inconsistencies to the police account.
Police forces don't serve misdemeanor warrants for jurisdictions out of state or thousands of miles away.  As a matter of economics, it is hard to extradite an armed robber from Ohio to Michigan.  Something else is going on here, something fishy.  A look into the history of Rapid City made it clear, this is a town that wants the Air Force to only assign "whites only,"  nobody else is welcomed, a history well recorded, well verified and brutally attested to.
"In plain sight" searches are only covered in automobiles and for drugs, weapons or stolen goods, not "marriage licences."  The simple fact that the police cover story involves, not only an illegal search but stalking, harassment and, technically, 4th degree criminal sexual conduct, better known as "window peeping," is also at issue.
Of course, we all know nothing was seen, certainly not a document in a drawer or closet.  Imagine the qualifications needed to be a patrol officer in "Rabid City." 
Minimal vision:  20/03 both eyes

Able to read, not only upside down but through doors, walls and in the dark

Own step-ladder for "window peeping" needed

No education, morals or background checks required
Chief Alexander explained to reporters that he felt duty bound to report homosexual conduct to the Air Force.  He claimed he had an obligation to pass on "privileged information" to the Air Force, no matter if it was illegally gotten.  We have yet to hear an explanation as to why an Air Force officer would accept information from such a source, much less act on it.  There is clear culpability on the part of the Air Force command at Ellsworth Air Force Base in this travesty also.

The ACLU claims this is a simple case of police misconduct.  There is also an additional issue with the Air Force.  Airman Adam Grant, public information spokesman for Ellworth Air Force Base said Sergeant Newsome was discharged in accordance with DOD procedures set down by Secretary of Defense Robert Gates.   It is a certainty that Secretary Gates will be "redirecting" a career or two over this issue.
TARGETING THE MILITARY AS A PATTERN OF HARASSMENT.
There is no known provision for police agencies to search the homes of military personnel for information regarding their sexual orientation.  In fact, singling out members of the military for illegal searches or harassment has an unpleasant unpatriotic aspect to it.  Some would go as far as to call it treason.  This is where more of Rapid City's history of discrimination comes in.  This kind of behavior is nothing new in Rapid City, in fact it dates back to as early as 1942 and has been addressed by two American Presidents personally, Harry S. Truman and John F. Kennedy.  Rapid City has been this big a stain on America.
Suggestions have been made that all businesses inside the corporation limits of Rapid City, South Dakota be declared "off limits" to service personnel until members of the military can be guaranteed full citizenship rights regardless of race or sexual orientation.  We also request that all veterans consider "steering clear" of Rapid City and her business community until this problem is addressed and proper support for our armed services can be reestablished with proper rule of law.
The unwillingness of the city and their Chief of Police to abide by America's Constitution and her laws is a good reason for the Department of Defense and the United States Air Force to begin defending their own.  Any of the commands currently at Ellsworth could be easily moved to the Selfridge facility outside Detroit.  The Michigan economy could use the boost and it might just avoid the continual need for "commissions" to investigate areas of the country that don't seem to be able to get "with the program."
Rapid City has a long history of anti-Indian/Native American racism with a history of literally thousands of complaints over the years.  Discrimination in housing and employment are common and Federal commissions are regularly engaged in attempts to bring the Rapid City community into compliance with laws that apply to the rest of the country.
Rapid City's hatred of "Negroes" dates back nearly as long and was the subject of a major investigation headed by Supreme Court Justice Thurgood Marshall in 1963.  In fact, Rapid City is infamous for being one of the most racist cities in the United States.  Here are some excerpts from that earlier report:
Statement by President Harry S. Truman:
Statement by President John F. Kennedy:
Findings: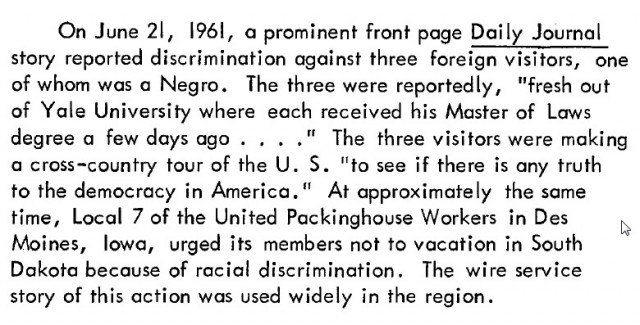 Listed were numerous incidents of open discrimination, statistics and a description of Rapid City as an island of intolerance.  "Hate" is the appropriate word. 
 The rest of the United States has moved forward, falling in behind our laws, our tradition and our loyalty to our men and women in uniform.  This is not an issue of sexual orientation, though such things should have been behind us long ago.  Were the Airman Liz Cheney, media darling, instead of an African American, we wouldn't be reading about it now.  The issue is race, the issue is anti-military feeling and the issue is ignorance.
It is also an issue of law and respect.
Gordon Duff is a Marine combat veteran of the Vietnam War. He is a disabled veteran and has worked on veterans and POW issues for decades. Gordon is an accredited diplomat and is generally accepted as one of the top global intelligence specialists. He manages the world's largest private intelligence organization and regularly consults with governments challenged by security issues.
Duff has traveled extensively, is published around the world, and is a regular guest on TV and radio in more than "several" countries. He is also a trained chef, wine enthusiast, avid motorcyclist, and gunsmith specializing in historical weapons and restoration. Business experience and interests are in energy and defense technology.
ATTENTION READERS
Due to the nature of independent content, VT cannot guarantee content validity.
We ask you to
Read Our Content Policy
so a clear comprehension of VT's independent non-censored media is understood and given its proper place in the world of news, opinion and media.
All content is owned by author exclusively. Expressed opinions are NOT necessarily the views of VT, other authors, affiliates, advertisers, sponsors, partners or technicians. Some content may be satirical in nature. All images within are full responsibility of author and NOT VT.
About VT
-
Read Full Policy Notice
-
Comment Policy