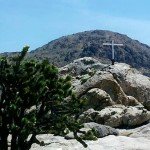 HOUSING FOR HOMELESS VETS THREATENED BY CROSS CONTROVERSY
"ITS ABOUT HOMELESS VETS, STUPID!"
By Gordon Duff STAFF WRITER/Senior Editor
Southern California with its balmy climes is a haven for veterans.  You can sleep on any sidewalk, in any culvert or even outside the million dollar fence keeping vets out of property dedicated as a National Veterans Home well over a hundred years ago.  The disaster is, of course, that America is at war and has been for many years but the wounded, physically and psychologically, are being shoved aside because those designated, sworn and even paid to care for them are at each others throats.  Everything is remembered, every slight, every word, everything but the damaged heroes.
Of the controversies, the "Mojave Cross" affair is the saddest and, perhaps the most insane of all.  In 1934, a small wooden cross was put on federal land.  Some time later it was replaced with what looks to be an old clothesline device in the shape of a cross, like we had in our back yard.  For nearly a decade, some groups of veterans and the ACLU with members of Congress and the Supreme Court involved have spent hundreds of thousands, perhaps millions, fighting over 20 dollars of painted pipe.  Is the cross an important symbol?  Of course not, it was placed illegally in the first place and is certainly not a suitable veterans monument if it was meant to be that, which I am not so sure of.  Is it hurting anyone?  Not really except that the groups that are defending it claim it is a veterans memorial, which the ACLU says is wrong:
WHAT'S THE PROBLEM THEN?
The charter of the ACLU requires it to take unpopular stands.  The ACLU kept Oliver North out of prison on a technicality.  It did the same to keep Rush Limbaugh out of jail.  The ACLU often defends the worst and most despicable.  Enemies of democracy and free speech go after "low hanging fruit," in order to chip away at our freedoms.  This makes many conservatives rail at the ACLU, rail at them until they find themselves in trouble.  I say, "This is what the ACLU does, deal with it and move on with life."
The ACLU is also representing veterans protesting what they believe to be the theft of land dedicated to homeless veterans.  This has been a long battle with confrontations between aging veterans working to build a housing and treatment complex, called the "Grand Plan" and powerful local groups who want to use the veterans land for private functions, prep school playgrounds and, most of all, keep the sick and homeless as far as possible away from their multimillion dollar homes.  These are powerful people who walk in and out of any office in Washington DC like Texas oil barons.
Even though the California American Legion had passed a resolution supporting the efforts of the veterans, the Legion has not actively supported the vets.   The proposed "Grand Plan" will require, not only the clout of the American Legion and the DVA in Washington who seems to favor the idea, but general cooperation between all veterans groups in the area.  Veteran's homelessness in Southern California is a massive problem with over 6000 homeless vets in the immediate area and up to 25,000 within the area to be served by the proposed project.
ARE THE AMERICAN LEGION AND ACLU AT WAR?
I have received dozens of email broadcasts from the American Legion in the region attacking the ACLU on the issue of the Mojave Cross.  Not one word about veterans housing, suicides, PTSD or processing the 900,000 aging disability claims was mentioned.  It was all venom against the ACLU over an issue that has almost nothing whatsoever to do with veterans, much less considering the massive problems that plague the region. 
The ACLU says it supports homeless veterans.  The American Legion certainly does.  In fact, everyone does except for a local homeowners group and a very small group of regional VA employees who appear to have an agenda tied to giving away veterans land to anyone but veterans themselves.  Thus for two years veterans have protested, 104 consecutive Sundays filled with confrontations with VA security personnel, citations written and now a lawsuit by the ACLU against the same VA employees for violations of the United States Constitution's provision guaranteeing free speech.
TIME TO END ALL PERSONAL AGENDAS
If it will provide housing for a single veteran, I will get a baseball bat and defend the Mojave Cross myself.  To me, none of it is worth it.  I am sick of hearing about it.  I am also sick of our phony "homeowners group" and their projects which are quite transparent attempts to keep "undesirables" out of their neighborhood.  The idea that soldiers belong in either battlefields or cemeteries is not a new one but the Hollywood liberal crowd has learned to put an attractive face on bigotry.
Any agenda other than to provide needed services to our heroes needs to be put aside.  When we have a new facility built and running properly as mandated by VA Secretary Shensiki and Congress, I don't care what one group wants to do with another. 
FIRST STEP
Veterans Affairs should immediately establish a working group of veterans organizations including the Rosebrock group that has championed the project all along.  The land for an immediate pilot project is there and bulldozers can pull down the dilapidated WW2 era buildings immediately.  Temporary housing is needed today.  While this is going on, the "Grand Plan" can be put in motion, funding is already in place, all we need is to establish a target, how many vets, which vets, which services and how quickly and move forward.
No personal agendas, no "band aid" fixes and no more private use of veteran land while our homeless heroes suffer.  I don't care if we have to call it the Henry Waxman Veterans Center, build it today.
Gordon Duff posted articles on VT from 2008 to 2022. He is a Marine combat veteran of the Vietnam War. A disabled veteran, he worked on veterans and POW issues for decades.
Gordon is an accredited diplomat and is generally accepted as one of the top global intelligence specialists. He manages the world's largest private intelligence organization and regularly consults with governments challenged by security issues.
Duff has traveled extensively, is published around the world, and is a regular guest on TV and radio in more than "several" countries. He is also a trained chef, wine enthusiast, avid motorcyclist, and gunsmith specializing in historical weapons and restoration. Business experience and interests are in energy and defense technology.
ATTENTION READERS
Due to the nature of independent content, VT cannot guarantee content validity.
We ask you to
Read Our Content Policy
so a clear comprehension of VT's independent non-censored media is understood and given its proper place in the world of news, opinion and media.
All content is owned by author exclusively. Expressed opinions are NOT necessarily the views of VT, other authors, affiliates, advertisers, sponsors, partners or technicians. Some content may be satirical in nature. All images within are full responsibility of author and NOT VT.
About VT
-
Read Full Policy Notice
-
Comment Policy