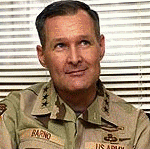 GENERAL BARNO, THE MAN WHO LED THE HUNT FOR LONG DEAD BIN LADEN NOW IN HOT WATER
By Josh Rogin  for The Cable (thecable.foreignpolicy.com)
Retired Lt. Gen. David Barno, the former top U.S. military commander in Afghanistan, has been under investigation for over a year amid allegations he grossly mismanaged a Pentagon-funded research center.
Barno currently runs the National Defense University's Near East South Asia Center for Strategic Studies, which was established in 2000 and brings together thinkers from 25 countries across the broader Middle East for dialogue and education. NESA is the youngest of five such regional centers at NDU, and lists 21 faculty members and four senior leaders on its website.
According to four current and former NESA Center employees, all of whom asked for anonymity for fear of retribution, Barno has been investigated by a special unit of the Defense Department's Inspector General's office that focuses on senior officials. The allegations are that he created an office that misspent taxpayer funds, abused contractor employees under threat of termination, awarded jobs based on favoritism rather than merit, and created an overall atmosphere of fear and intimidation at the center.
"I've never seen a situation in which such a small agency is mismanaged so badly," said one NESA employee with decades of government experience, who lamented that no official action has yet been taken. "It is to me incredible that you can have, on one hand, such mismanagement and that no one is prepared, evidently, to do anything about it."
In one example cited by all four employees, a senior staffer close to Barno discouraged the use of Arabic at the center, despite its mandate to engage people from Arabic-speaking countries. In a 2008 email sent to the center's lone Arabic-speaking contractor at the time, obtained by The Cable, Barno's chief of operations Rosaline Cardarelli wrote the following:
"I often hear you speaking in languages other than English on the phone in the office. Are these conversations official in nature and can English be used instead?"
That contractor was fired shortly thereafter without explanation after only four months on the job. A Muslim, she was let go just as the Ramadan celebration was beginning.
Cardarelli and another top NDU staffer, Wendie White, were the subject of many of the investigator's questions, said the employees, who told The Cable that the DOD inspector general's office conducted multiple rounds of interviews over the last year with several NESA employees. It's not clear if the investigation is still active, although no public report has been issued and Barno remains in his post.
One focus of the investigator, according to the employees, was Barno's appointment of Cardarelli's husband, John Ballard, a former professor of strategic studies at the National War College, as the center's academic dean. An independent committee had recommended another candidate, NESA professor William Olson, but Barno ignored that recommendation and chose Ballard, in what some saw as favoritism. He was then compelled to rework the organizational chart at the center to avoid a conflict of interest whereby Cardarelli would be directly supervising her own husband.
Another focus of the investigation was the NESA Center's 2008 alumni symposium, which was held in Prague. The employees estimated that more than $250,000 of NESA funds were spent on the trip, but few alumni attended and the reasons for choosing the Czech capital to host alumni from the Near East and South Asia were never clear. Moreover, the employees said last-minute changes to the schedule and general disorganization resulted in tens of thousands of dollars being wasted.
"No one had been to Prague before so they picked Prague," one employee explained. "People tried to say 'Well wait a minute, maybe this is not the best place to have this,' and then they couldn't get many alumni to come."
Overall, all four employees reported an atmosphere at the center that was intimidating and unfriendly, where contractors were unable to collect money for overtime hours worked and feared termination if they complained, and where Barno's top staffers monitored email and phone calls of employees to the point of harassment.
Before joining NDU, Barno had been rumored to be seeking a more prominent position in the Bush administration, and was said to be lobbying for the job of ambassador to Afghanistan. After being part of Obama's transition team, sources said, Barno was offered a deputy assistant secretary-level position in the Pentagon, but viewed that as below his station and so turned it down.
A military source told The Cable that the current custom of appointing military officials to lead academic centers at NDU is fairly recent phenomenon, put in place during the waning years of George W. Bush's administration by Pentagon officials who wanted to reassert control over the centers and give out plush assignments to their three- and four-star friends.
"The idea of the regional centers was to have an academic, non-military focus for outreach to foreign military," one former employee said. "But what Barno did was turn it into an Army outpost, populated with ex-colonels who didn't have a whole lot of respect for the civilians who'd been there and just made it a hostile work environment."
A spokesman for the DOD inspector general's office said that they don't comment on ongoing investigations. Barno, after initially telling The Cable that he wanted to discuss the allegations, stopped returning emails late last week.
Barno is slated to move to the Center for a New American Security in May. The NESA Center is funded and controlled by the Office of the Under Secretary of Defense for Policy, led by Michèle Flournoy. Before joining the administration, Flournoy was the founding president of CNAS.
"CNAS was unaware this investigation was taking place," said current CEO Nathaniel Fick, who added that Flournoy had no involvement whatsoever in the announced movement of Barno from NDU to CNAS.
Ballard, Cardarelli, and White also did not respond to requests for comment. Flournoy's office also declined to comment.
Former Top U.S. Afghan Commander Investigated For Mismanagement
Gordon Duff is a Marine combat veteran of the Vietnam War. He is a disabled veteran and has worked on veterans and POW issues for decades. Gordon is an accredited diplomat and is generally accepted as one of the top global intelligence specialists. He manages the world's largest private intelligence organization and regularly consults with governments challenged by security issues.
Duff has traveled extensively, is published around the world and is a regular guest on TV and radio in more than "several" countries. He is also a trained chef, wine enthusiast, avid motorcyclist and gunsmith specializing in historical weapons and restoration. Business experience and interests are in energy and defense technology.
ATTENTION READERS
Due to the nature of independent content, VT cannot guarantee content validity.
We ask you to
Read Our Content Policy
so a clear comprehension of VT's independent non-censored media is understood and given its proper place in the world of news, opinion and media.
All content is owned by author exclusively. Expressed opinions are NOT necessarily the views of VT, other authors, affiliates, advertisers, sponsors, partners or technicians. Some content may be satirical in nature. All images within are full responsibility of author and NOT VT.
About VT
-
Read Full Policy Notice
-
Comment Policy