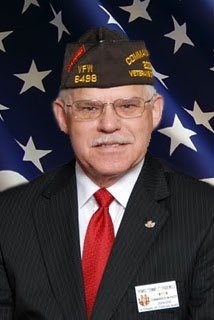 By Tom Philpott, Special to Stars and Stripes

Republican lawmakers raised the specter of military families and survivors of veterans seeing health care costs rise as a result of the national health reform law that President Obama signed March 23.
But the threat was never more than a notion and it is fading away. That's the consensus among most military associations and veterans groups, as reinforced by statements from the secretaries of defense and veterans affairs, the White House and chairmen of key congressional committees.
White House officials were angered, and some veterans groups perplexed, by press releases issued last Sunday from Republicans on the House armed services and veterans' affairs committees, and by the Veterans of Foreign Wars, hours before the House voted to approve the landmark Patient Protection and Affordable Care Act of 2010.
The VFW said "the president and the Democratic leadership are betraying veterans" by not adopting a Republican amendment that explicitly would list Tricare and VA survivor health benefits as meeting the health reform bill's minimum essential coverage standard.
Without that status, ranking committee Republicans Howard "Buck" McKeon (Calif.) on armed services and Steve Buyer (Ind.) on veterans' affairs, argued these beneficiaries and even some veterans' children could be forced to pay a penalty or buy extra health insurance.
The chances of that occurring were between nil and infinitesimal, according to Democrats. They saw the Republican rhetoric as a last attempt to derail the health reform bill by angering veterans enough that they would persuade wavering Democrats to vote no.
To calm any such fears, the chairmen of five House committees, including Veterans Affairs Chair Bob Filner, D-Calif., and Armed Services Chairman Ike Skelton, D-Mo., issued a joint letter reaffirming that the health reform legislation, as written, would protect those receiving care using Tricare or the Department of Veterans Affairs.
In addition, a day before the critical vote, the House unanimously passed a bill from Skelton that would amend the tax code so that all Tricare plans, and even health plans for Defense non-appropriated fund employees, met the health reform bill's minimum essential coverage.
Vietnam Veterans of America praised the House for swift passage of Skelton's bill and criticized politicians who would play on veterans' fears.
"It is unfortunate that some continue to raise what now is even more clearly a false alarm that is apparently meant to frighten veterans and their families in order to prompt them to oppose the pending legislation," said John Rowan, VVA's national president, in a press release. "Last summer there was a similar incident, also involving partisans in the health care reform debate that VVA soundly condemned."
But Buyer, in an interview, said Skelton's bill still isn't enough. He tried to amend it so it would protect all veterans' widows and orphans but was rebuffed.
In the Senate, Sen. Jim Webb, D-Va., introduced a bill identical to Skelton's. Buyer said that Senate bill, before passage, should be amended to close the gaps that he found for veterans' families.
VA committee chairman Filner countered that Buyer has relied on a "false interpretation" of health reform legislation and "somehow the VFW bought into it." His committee, Filner said, watched progress on health reform carefully and was in constant contact with veterans' groups.
"We knew from the beginning to make sure we watched everything so no benefits are touched or affected," he said.
It is true, Filner conceded, that the Senate health reform legislation as enacted does list only some military and veterans programs as specifically meeting the new law's minimum essential coverage standards.
"But we think the intent is clear in other parts" of the new law that no veterans' and military health programs are to be changed. He said lawyers at VA and the White House had confirmed this view.
"And, if it turns out there are unintended things in there, we would fix them immediately," Filner said. With all of that, Filner characterized the VFW release of March 21, hours before the critical House vote, as "very offensive."
In his four years as chairman, Filner said, "that's the first time this kind of partisan attack occurred."
The quote about Obama and Democrats "betraying" veterans was attributed to VFW National Commander Thomas J. Tradewell Sr. Reached a few days later, Tradewell did not sound angry, even though the House passed health reform without the McKeon-Buyer amendment.
ATTENTION READERS
Due to the nature of independent content, VT cannot guarantee content validity.
We ask you to
Read Our Content Policy
so a clear comprehension of VT's independent non-censored media is understood and given its proper place in the world of news, opinion and media.
All content is owned by author exclusively. Expressed opinions are NOT necessarily the views of VT, other authors, affiliates, advertisers, sponsors, partners or technicians. Some content may be satirical in nature. All images within are full responsibility of author and NOT VT.
About VT
-
Read Full Policy Notice
-
Comment Policy