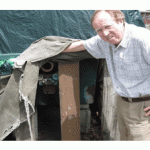 MEMORIAL SLATED FOR NEW VAMC AT RISK
CONFUSION AND MASSIVE FINANCIAL IRREGULARITIES UNCOVERED
By Gordon Duff STAFF WRITER/Senior Editor
Rep. Marcy Kaptur (Dem. OH) approached local vet activist Nick Haupricht months ago, to set up a committee to build a veteran's memorial which would include some unknown piece of the WW2 Memorial she helped bring about in Washington.  As a result of her efforts, Rep. Kaptur was given a part of the memorial, "spare parts,"  as it turns out, a 12 foot long section with an inscription of a quote from the famous D-Day speech by General Eisenhower.
Then everything began falling apart.
With the memorial, it was suggested a small "museum" display be considered for inside the new medical center.  I was approached to help locate artifacts for this.  I worked with Nick, local attorney Vesper Williams II and Dan Foote, legislative aide to Kapture and Vietnam veteran.  What we found shocked us.  Over a period of months, famous paintings, weapons, uniforms, statues and other items that were supposedly in storage, insured and meant to be kept by law, for a new museum, were almost all gone.  We found one 75mm cannon behind a garage and some items displayed locally in a schoolhouse but since that time, we have heard stories, gathered statements and records of the largest "looting" of an areas military history on record.
UNHOLY TOLEDO, FAMOUS MOB HANGOUT

Toledo, Ohio has a long history of bootlegging, prostitution and as an "open city" for mobsters of all kinds.  This was the past.  However, when checking on the missing museum items, hundreds of weapons, uniforms and so much else, one of the largest museums of its kind in the country, even the building had disappeared.  Records show this massive building had been appraised during the 1920s for 1 million dollars but it was sold in 1952 for $150,000 in an "insider trade" involving local political groups.
Dozens of local politicians and veterans group leaders are mentioned in page after page of documents describing Civil War muskets being sold for a few dollars each, Medal's of Honor being peddled on Ebay and uniforms, known to be worth more than a million dollars, "thrown away" but actually carted off to dealers around the country.  100 years of local history went from a museum, into storage and then evaporated.
Museum curators from around the country worked to track some of it down, complaining that looting museums is a common racket for political insiders.  This is just another case of it, albeit maybe the largest  with up to $10 million dollars of veteran's history disappearing into the hands of private collectors.  The story behind this turned a project to build a new memorial for our current and past veterans into a "political football" that has involved an investigation by the Ohio Attorney Generals office.  However, some of those involved in the mysterious disappearances are tied to that office also, thus, nothing will be done.
MAJOR "SCREWUP" OVER THE MEMORIAL
This region of Ohio sits on limestone.  Everything locally is built of this stone, some of the finest in the country.  However, the local memorial has been pushed, if we want to use that word, to buy expensive Georgia granite from a Rhode Island contractor with strong government ties.
In a letter from Steve Katish, Chief of Staff for Kaptur, he supports the contractor's input on memorial design. 
"The quarry owner whose stone it is has stated in order to give the mock up stones the reverence they deserve, he has offered the stones to communities which either already have a memorial or are currently building one."
There are strings attached, including buying everything for the memorial from this same contractor.  The problem with Katish's statement, however, is that the quarry owners doesn't own the stones in the first place.  They had been paid for by the American people.  This has been months of who owns what, is it a stone or a wall and continual confusion, unreturned calls and a member of congress who has gotten the facts wrong so many times it is impossible to count. 
Haupricht, a 100% disabled vet has spent thousand of dollars, nearly everything he has, organizing events, inviting celebrities to Toledo, organizing trucking companies to move the stone and arranging storage until the memorial could be built.  Most of the information he has received has been confused, wrong or oddly inaccurate.
The concerns are several:
Is the project being held up because of the scandal involving prominent local politicians who may have taken part in what Haupricht calls "the rape of local history?"
Are the endless conflicting stories simple incompetence?
Two events, one scheduled with thousands to attend, have been cancelled due to poor communication and organization, all at Kapturs office
Kaptur's office has been sitting on evidence of wrongdoing and has repeatedly promised to call for an investigation but has, month after month, done nothing at all
Blueprints have been drawn up, Dr. St. Florian, designer of the WW2 memorial consulted and hundreds of hours of design, planning and organization done but Kaptur's participation in her own project has been negligible, less than that.
Haupricht, a PTSD vet, has devoted his life to this and has been treated shamefully in the process.  A non-profit corporation was established by Haupricht some time ago and 501c3 status is pending.
Toledo has a history of ignoring veterans.  A few local fatcats give each other awards, "veteran of the year" and such, but have, in actuality, done little but block progress, stifle projects to help veterans and get paid as much as possible for doing near to nothing at all, worse than nothing when you look at the massive and documented history of the looted museum, soon to be the subject of, not only a book but a film as well.
Kaptur's office has always had all the information necessary to plan this properly.  They had been told long ago that the quarry owners didn't own the stones and that there was something a bit shady going on.  They had been advised on what was required and assisted every step of the way but the project, not just the memorial, but the veterans medical center itself, if subjected to so much "Unholy Toledo" and may also be at tremendous risk.
Veterans in Toledo have been at risk for a long time, this is nothing new.
Gordon Duff is a Marine combat veteran of the Vietnam War. He is a disabled veteran and has worked on veterans and POW issues for decades. Gordon is an accredited diplomat and is generally accepted as one of the top global intelligence specialists. He manages the world's largest private intelligence organization and regularly consults with governments challenged by security issues.
Duff has traveled extensively, is published around the world and is a regular guest on TV and radio in more than "several" countries. He is also a trained chef, wine enthusiast, avid motorcyclist and gunsmith specializing in historical weapons and restoration. Business experience and interests are in energy and defense technology.
ATTENTION READERS
Due to the nature of independent content, VT cannot guarantee content validity.
We ask you to
Read Our Content Policy
so a clear comprehension of VT's independent non-censored media is understood and given its proper place in the world of news, opinion and media.
All content is owned by author exclusively. Expressed opinions are NOT necessarily the views of VT, other authors, affiliates, advertisers, sponsors, partners or technicians. Some content may be satirical in nature. All images within are full responsibility of author and NOT VT.
About VT
-
Read Full Policy Notice
-
Comment Policy