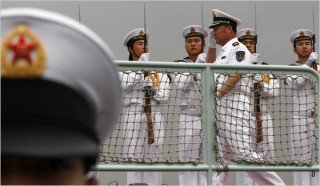 By EDWARD WONG
YALONG BAY, China — The Chinese military is seeking to project naval power well beyond the Chinese coast, from the oil ports of the Middle East to the shipping lanes of the Pacific, where the United States Navy has long reigned as the dominant force, military officials and analysts say.
China calls the new strategy "far sea defense," and the speed with which it is building long-range capabilities has surprised foreign military officials.
The strategy is a sharp break from the traditional, narrower doctrine of preparing for war over the self-governing island of Taiwan or defending the Chinese coast. Now, Chinese admirals say they want warships to escort commercial vessels that are crucial to the country's economy, from as far as the Persian Gulf to the Strait of Malacca, in Southeast Asia, and to help secure Chinese interests in the resource-rich South and East China Seas.
In late March, two Chinese warships docked in Abu Dhabi, the first time the modern Chinese Navy made a port visit in the Middle East.
The overall plan reflects China's growing sense of self-confidence and increasing willingness to assert its interests abroad. China's naval ambitions are being felt, too, in recent muscle flexing with the United States: in March, Chinese officials told senior American officials privately that China would brook no foreign interference in its territorial issues in the South China Sea, said a senior American official involved in China policy.
The naval expansion will not make China a serious rival to American naval hegemony in the near future, and there are few indications that China has aggressive intentions toward the United States or other countries.
But China, now the world's leading exporter and a giant buyer of oil and other natural resources, is also no longer content to trust the security of sea lanes to the Americans, and its definition of its own core interests has expanded along with its economic clout.
In late March, Adm. Robert F. Willard, the leader of the United States Pacific Command, said in Congressional testimony that recent Chinese military developments were "pretty dramatic." China has tested long-range ballistic missiles that could be used against aircraft carriers, he said. After years of denials, Chinese officials have confirmed that they intend to deploy an aircraft carrier group within a few years.

China is also developing a sophisticated submarine fleet that could try to prevent foreign naval vessels from entering its strategic waters if a conflict erupted in the region, said Admiral Willard and military analysts.
"Of particular concern is that elements of China's military modernization appear designed to challenge our freedom of action in the region," the admiral said.
Yalong Bay, on the southern coast of Hainan island in the South China Sea, is the site of a new underground submarine base not far from five-star beach resorts. The base allows submarines to reach deep water within 20 minutes and roam the South China Sea, which has some of the world's busiest shipping lanes and areas rich in oil and natural gas that are the focus of territorial disputes between China and other Asian nations.
That has caused concern not only among American commanders, but also among officials in Southeast Asian nations, which have been quietly acquiring more submarines, missiles and other weapons. "Regional officials have been surprised," said Huang Jing, a scholar of the Chinese military at the National University of Singapore. "We were in a blinded situation. We thought the Chinese military was 20 years behind us, but we suddenly realized China is catching up."
China is also pressing the United States to heed its claims in the region. In March, Chinese officials told two visiting senior Obama administration officials, Jeffrey A. Bader and James B. Steinberg, that China would not tolerate any interference in the South China Sea, now part of China's "core interest" of sovereignty, said an American official involved in China policy. It was the first time the Chinese labeled the South China Sea a core interest, on par with Taiwan and Tibet, the official said.
ATTENTION READERS
Due to the nature of independent content, VT cannot guarantee content validity.
We ask you to
Read Our Content Policy
so a clear comprehension of VT's independent non-censored media is understood and given its proper place in the world of news, opinion and media.
All content is owned by author exclusively. Expressed opinions are NOT necessarily the views of VT, other authors, affiliates, advertisers, sponsors, partners or technicians. Some content may be satirical in nature. All images within are full responsibility of author and NOT VT.
About VT
-
Read Full Policy Notice
-
Comment Policy