Veterans disabled by environmental hazards are routinely denied compensation and medical care by the Department of Veterans Affairs. 
(WASHINGTON, DC)  – The Department of Veterans Affairs' mantra of "Deny, deny, deny until the die" is familiar to many veterans. It is also a national disgrace to those who served honorably and are now disabled from their service. 
Military service incurs many risks that men and women willingly accept to serve their country, and most Americans agree that medical care, disability coverage, survivor benefits and other benefits are necessary when they are harmed. Our government often takes a different view. 
The long-standing practices of the Department of Veterans Affairs is to routinely deny or unnecessarily delay essential benefits for those harmed as a result of their military service.  Whether it's driven by budget concerns or a "way of doing business" passed from one generation of bureaucrats to another, I don't know.  I do know from emails from many veterans and horror stories in the media that this happens more often than not.   
The current wars in Afghanistan and Iraq support the need for substantially improved trauma-related services.  This is a critically important issue that has been addressed in numerous reports and is the subject of intense scrutiny and ongoing effort, although the care and services still require substantial improvement. The need for medical care for those injured from environmental hazards does not make the same kind of media headlines but nevertheless the injuries are serious and often result in early death. 
With 130 military bases on the National Priority List (NPL or Superfund list), there's a pressing need for veterans exposed and injured from environmental hazards. These veterans need medical care, disability coverage and other services due to harm caused by numerous hazardous agents.
Former MCAS El Toro, California, is just of the bases on the NPL. Thousands of Marines served at this base over its 56 years of operations.  Closed in July '99, most of the land was sold at a public auction in '05. 
Emails from veterans continue to pour into Salem-News and my website (www.mwsg37.com) describing the cancers and other serious illnesses of veterans stationed at El Toro. Only a few filed claims with the VA; most not even aware that this base is an EPA Superfund and their exposure to environmental hazards the possible cause of their illnesses or in VA speak, "medical conditions.
Our government does not require the Defense Department or the VA to notify veterans of their possible exposure to environmental hazards, expect for Camp Lejeune where legislation required the Navy and the Marine Corps to notify veterans of their possible exposure to organic solvents in the well water.  Don't remember seeing any public service announcements about Camp Lejeune?  You're not alone.  Efforts were made to inform Lejeune veterans but they could have done a better job.   
Trichloroethylene (TCE) was used as a degreaser at El Toro for decades without regard to sound environmental disposal practices or protection clothing.  The Air Force identified over 1,400 military sites contaminated with this toxic chemical alone.  TCE is a known carcinogen and is just one of the contaminants found in the soil and groundwater under El Toro.  The TCE plume cut a path through the base wells into Orange County, posing a threat to the local water supply. Orange County demanded corrective action; the Marine Corps denied the TCE came from the base.  Years passed and finally the government accepted responsibility for the TCE plume. If you think this may be a pattern typical of our government's response to contaminants, you're in good company.
The Navy, the Marine Corps and EPA deny any contamination of El Toro's base wells and the drinking water, citing the purchase of municipal water as "proof" that the base's drinking water was good. There's no question about the quality of municipal water. However, there's no official explanation of why expensive municipal water was purchased or confirmation of the dates the base wells were abandoned. 
The government's response is the municipal water was purchased in '51, the wells abandoned.  We found that original well construction drawings are missing showing the critical location of the wells screen intervals (water first enters the wells via the wells screens) and the actual dates the wells abandoned unnoted. 
Orange County records show that the very first well sealed by the Navy requested the consultant to locate and video tape the well screen interval.  After the consultant reported that 50 feet of the interval in the contaminated aquifer, the Navy sealed the remaining wells without looking for any more well screens. If this wasn't a cover-up, it sure looks like one. 
The Navy knew that if the well screens were in the contaminated aquifer, then the drinking water was at a high risk of contamination.  A number of these wells were former agricultural wells previously owned by the Irvine Company.  Even though all of the base wells went deep into the uncontaminated principal aquifer, there's a good chance that like the only well inspected, the other well screens started in the shallow aquifer and went right to the bottom of the well.  With the TCE plume on base cutting a path right through the base wells, this would put everyone drinking well water at risk for disease.  The bureaucratic response was don't inspect the remaining base wells before sealing them.  The Navy can spout all the PR they can think of, but the fact is the base wells were not sealed until the late 90s. The final two wells were sealed in 2006.  Plenty of time to do a thorough inspection. Too late now.  They are all "wearing concrete shoes." 
Discovered off base during a routine inspection by Orange County Water District personnel in the '80s, TCE was one of the reasons leading to the base's closure. 
Medical experts note that it's not unusual to expect a lengthy latency period between the onset of exposure to environmental hazards like TCE and disease.
In some cases, exposure to chemical, radiological or other agents caused immediate harm that required medical care.  However, health damage is incurred as a result of exposure to hazardous agents over time, often not causing immediately obvious damage. 
The harm can impose far greater health risks in the near or distant future, including neurological damage, infertility, cancer, heart disease, and other conditions that require substantial medical care, cause disability, and in some cases cause premature death. 
While the Agent Orange story is well known, other hazardous agents, many now highly controlled or banned, have been and continue to be used at military bases and in military actions.
Veterans suffering from hazard-related diseases and disabilities require rapid response from the federal government, rather than the delayed actions experienced by too many veterans today.  
Those who chose to serve their country through military service must be provided essential services and benefits to address service-related harm, and policies must be established to give them the benefit of the doubt in cases where the hazards are life-threatening and well established, as is often the case.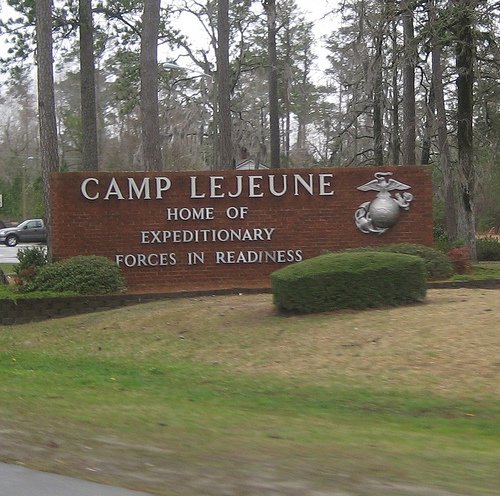 The estimated 500,000 veterans and dependents exposed to toxic organic solvents at Marine Corps Base Camp Lejeune, North Carolina is just one example of the failure of the Federal government to provide essential medical services to those injured. 
The Navy and Marine Corps continue to deny any connection and responsibility for the veterans with male breast cancer victims who were stationed at Camp Lejeune. 
This disease is very rare (males are only 1.7% of breast cancer patients).  Yet, the government's PR machine continues to deny responsibility, despite the common threat that all 55 male breast cancer Marines and at least one dependent were stationed at Camp Lejeune when the drinking water was contaminated with organic solvents like TCE, PCE, benzene and a long list of other toxic contaminants. 
For many of us, the first thought that comes to mind is "Cancer Cluster."  Even though none of these men or any other veteran can sue the government for injuries on active duty, the government's response is to deny any responsibility and refuse needed compensation and medical care for the injured.
Congress has taken some action this year to address veterans and dependents injured by environmental hazards.  This is not a "Wall Street" bailout.  No veteran or dependent can retire on the benefits proposed in the legislation but at least, it's a start. 
Senator Daniel Akaka (D, HI) introduced legislation this January to provide medical care for both veterans and dependents injured by environmental hazards while on active duty.  The Senate Veterans Affairs Committee approved the legislation along party lines.  No action can be taken until a Committee report and bill number is assigned. 
Others may disagree, but the good news is that Senator Akaka's bill provides for an independent board of scientists to review the exposures to environmental hazards for military bases and make recommendations to the Defense Department for appropriate compensation and health care.
Another bill in the House, "The Janey Ensminger Bill, H.R. 4555," would provide medical health care by the VA for Camp Lejeune veterans and dependents.  
If you agree that those who served our country loyally and were injured by environmental hazards deserve compensation and medical care, take a few minutes to call or write your Congressional representatives asking them to support this legislation.  The differences between the two bills can be resolved.  The veterans deserve no less.
Robert O'Dowd served in the 1st, 3rd and 4th Marine Aircraft Wings during 52 months of active duty in the 1960s. While at MCAS El Toro for two years, O'Dowd worked and slept in a Radium 226 contaminated work space in Hangar 296 in MWSG-37, the most industrialized and contaminated acreage on the base.
Robert is a two time cancer survivor and disabled veteran. Robert graduated from Temple University in 1973 with a bachelor's of business administration, majoring in accounting, and worked with a number of federal agencies, including the EPA Office of Inspector General and the Defense Logistics Agency.
After retiring from the Department of Defense, he teamed up with Tim King of Salem-News.com to write about the environmental contamination at two Marine Corps bases (MCAS El Toro and MCB Camp Lejeune), the use of El Toro to ship weapons to the Contras and cocaine into the US on CIA proprietary aircraft, and the murder of Marine Colonel James E. Sabow and others who were a threat to blow the whistle on the illegal narcotrafficking activity. O'Dowd and King co-authored BETRAYAL: Toxic Exposure of U.S. Marines, Murder and Government Cover-Up. The book is available as a soft cover copy and eBook from Amazon.com. See: http://www.amazon.com/Betrayal-Exposure-Marines-Government-Cover-Up/dp/1502340003.
ATTENTION READERS
We See The World From All Sides and Want YOU To Be Fully Informed
In fact, intentional disinformation is a disgraceful scourge in media today. So to assuage any possible errant incorrect information posted herein, we strongly encourage you to seek corroboration from other non-VT sources before forming an educated opinion.
About VT
-
Policies & Disclosures
-
Comment Policy
Due to the nature of uncensored content posted by VT's fully independent international writers, VT cannot guarantee absolute validity. All content is owned by the author exclusively. Expressed opinions are NOT necessarily the views of VT, other authors, affiliates, advertisers, sponsors, partners, or technicians. Some content may be satirical in nature. All images are the full responsibility of the article author and NOT VT.