We recently posted Memorial Day messages from several Veterans and Military Family groups that not only Honor the Warrior, Not the War, but call for an end to the wars in Iraq and Afghanistan in order to well simply put Honor the Fallen.
These messages inspired me to try writing a Memorial Day message from VT News Network, or at least our Editorial Board, but my apologies readers – I failed.
However, my research, insight, and putting it mildly what I learned about Memorial Day in the words of our government leaders simply got too depressing to read on. I made it from the Presidential proclamations of Benjamin Harrison way back shortly after the Civil War to Jimmy Carter then got burned out.
This is what I found, the links to my research, and what inspired me to write on Memorial Day at all. These are only my views and quite possibly those of the Editorial Board of VT.
Robert L. Hanafin, Major, U.S. Air Force-Retired, VT News Network
Don't Let Them Take Prayer for PEACE Out of Memorial Day!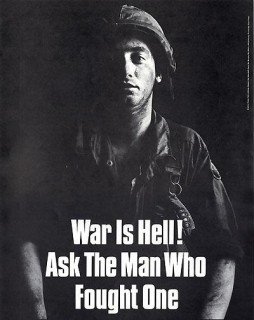 OK, so some of our readers may have a problem with prayer given the separation of church and state among other issues, but hear me out. I'm not talking about prayer in a strictly Christian centric way, but however it is you worship or simply exist. If you have no belief in divinity period, what I'm about to say is a mute point anyway, so simple don't read or delete this message.
Inspiration from our friends at VetSpeak more specifically passed by Brother Wayne Beverly words by Dave Lindorff for we don't accept views from anonymous people at VT or at least I don't.
"Memorial Day should be a day to demand peace, a day to demand an end to a military-industrial complex that claims nearly half of the nation's general funds, a day to focus on the real threats to American's "cherished ideals," most of which are purely domestic, and a day to celebrate what those ideals are: equality before the law, freedom of speech and assembly, freedom from government intrusion in our lives, the right to be considered innocent until proven guilty by a jury of our peers, and the right to stand up and say that our political leaders are, for the most part, crooks, charlatans and even war criminals."

Major Hanafin's Response
In line with the sentiment above, I tried helplessly to do a Memorial Day Message from the Editorial Board at VT but failed. Suffice it to say that I'm a history buff [my favorite being a civil war buff] and student of political science with a BA and Masters Degree in both AND don't know a damn thing. I'm not a Presidential scholar or historian like that guy Doug Brinkley, but I can do no better or worse Doug wrote a bio on John Kerry thinking Kerry would be President. Well he almost was but almost doesn't count for much anything including victory in war.
Anyway, I went through the search terms Memorial Day FROM 1789 to 2010 on the scholarly website the American Presidency Project.
This is what I got: http://www.presidency.ucsb.edu/ws/index.php
Don't take my word for it check it out yourselves. If you do not get the listing of links to Presidential statements and proclamations on Memorial Day then by all means type Memorial Day in the search engine and all related papers on file will come up.
From President Benjamin Harrison wayyyyy back on May 30, 1891 to President Obama today.
I made it from Ben Harrison to Jimmy Carter and got burned out or should I say DEPRESSED!!!
Yep, my Bi-Polar kicked in, and I could read no more, nor did I want to learn or really have to know anymore.
That said, several trends hit me up side the head as a former intelligence officer:
1. With the exception of Nixon who made no pretense about praying for permanent Peace in the World, every President since the civil war has tied Memorial Day to several themes (a) those who died during the civil war, then all America's wars (b) uniting the nation and praying for permanent Peace, (c) when Memorial Day fell during wartime it was used and exploited to promote YOU GOT IT – the War being fought, and lastly (4) the focus of the Commander-In-Chief went from praying for permanent world Peace to fighting and dying to achieve permanent world peace.
2. Then I focused on the so-called War Presidents. Ironically, nothing significant is noted from FDR and Memorial Day, and beside Abe Lincoln, FDR is remembered as one of our most prominent war Presidents.
Woodrow Wilson who led us into WW1 tied Memorial Day to the first ever Presidential call for the nation to 'pray for a permanent Peace' after WWI. Have to tie this to Wilson's failed attempt at an international League of Nations to prevent future wars. However, this call for national prayer originated out of the White House not Congress thus was not yet law of the land.
Harry Truman the President who had to make the hard, and to me, evil decision to drop THE BOMB on Hiroshima (experimenting on the massive killing of oriental civilians) also tended to highlight a cry for the American people to 'pray for a permanent Peace' in the world after WWII. In fact, when one reads his proclamations for Memorial Day, one can't but see a feeling of guilt in the man who gave the order to commit an American Holocaust against a people of color using war as an excuse.
The theme that 'we must fight for permanent Peace overtook praying for it.'
As WWII ended in 1945 until American troops were committed to the Korean Peninsula, Truman would switch from a guilt felt tone of praying for permanent Peace to being the first President to exploit Memorial Day for War. American troops were now dying in Korea.
The theme that 'we must fight for permanent Peace overtook praying for it.' This would be a never ending pendulum swinging theme from praying, which the American people evidently did not do a decent job of to fighting for Peace something we have been doing since what the American Revolution.
How many Churches, Synagogues, Temples, or sweat lodges today will be given much thought or discussion to Iraq or Afghanistan let alone praying for world peace this Memorial Day?
Nothing much came out of Ike. He already knew the military-industrial complex was a threat more evil than anything the Bush administration could dream up, so why even mention Memorial Day. Seriously, Ike must have had plenty to say on Memorial Day given he was Supreme Commander during WWII. What he said is just not documented on the academic site I checked out.
JFK would continue the trend of not only honoring our war dead, but the focus was now off the civil war dead, and onto the WWII and Korean War dead.  Ironically given how well John Kennedy could speak [almost as talented as Barack Obama] most all his proclamations were 'canned' or written by his press secretary, so much for sincerity. That said Kennedy is not the only President to use canned statements or speeches to exploit Memorial Day for political yardage.

Then came Lyndon Johnson using Memorial Day to promote the Vietnam War. If you read through each successive proclamation by Johnson, one gets a hint of just how depressed and desperate Johnson was to keep the American people committed to his war using not only the fallen of WWII (Korea was the forgotten war even before Vietnam was a nightmare), but also the fallen of Vietnam to try asking the American people to hang in there. Ironically, the harder Johnson tried the more he lost the support of the American people and more troops died.
Then came Richard Nixon. I was amazed given Tricky Dick's well earned reputation for being a crook and liar that his Memorial Day proclamations took a turn toward frankly being the shortest and most honest on record. Nixon made no bones about exploiting the fallen troops to continue promoting a war he was trying desperately to get out of (sound familiar, if not it will).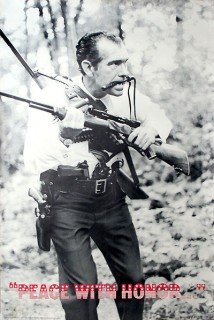 His historic Peace with Honor still rings true today as an illusion. However, this much I give Nixon credit for. He never asked the American people to Pray for Permanent Peace. Not in any of his Memorial Day proclamations did Nixon even mention the word Peace or Pray.
It was the end of the Vietnam War (well almost the end) and Gerald Ford was now President. Ford picked up where Johnson left off asking the American people to Pray for Permanent world peace.
I must assume that since Congress passed a resolution in 1950 making Memorial Day not only a day set aside to honor the fallen of all America's wars but also to pray for permanent world peace that every President since Ford has included the word 'Peace' in their Memorial Day declaration, even G. W. Bush.
The problem is the the American people, and our political leaders, evidently are better at making war and exploiting Memorial Day to do so [well shopping on Memorial Day since at least the end of the Vietnam War]than we are at praying to achieve world Peace. At least the atheist among us have an excuse.
Those of us who want to end the wars in Iraq and Afghanistan are under no illusions that ending these wars will achieve world peace. However, those who promote war will want to silence our dissent by claiming ownership over the word PEACE by praying for it. Heck they even want to control the meaning of what prayer is. They will tell us that Memorial Day is not the day to be protesting wars that the fallen have died for to keep us free or give us the freedoms to express our opinions against the war.
Simply put thank anyone who wants to stop us from achieving world peace, and for God's sake don't let anyone take the true meaning of world PEACE out of Memorial Day.
Bobby Hanafin, Major, U.S. Air Force-Retired, VT News Network
Life Member, VVA
Life Member, DAV
Member, VVAW
Member, VFP
Member, MFSO
Supporter of IAVA and IVAW
Readers are more than welcome to use the articles I've posted on Veterans Today, I've had to take a break from VT as Veterans Issues and Peace Activism Editor and staff writer due to personal medical reasons in our military family that take away too much time needed to properly express future stories or respond to readers in a timely manner.
My association with VT since its founding in 2004 has been a very rewarding experience for me.
Retired from both the Air Force and Civil Service. Went in the regular Army at 17 during Vietnam (1968), stayed in the Army Reserve to complete my eight year commitment in 1976. Served in Air Defense Artillery, and a Mechanized Infantry Division (4MID) at Fort Carson, Co. Used the GI Bill to go to college, worked full time at the VA, and non-scholarship Air Force 2-Year ROTC program for prior service military. Commissioned in the Air Force in 1977. Served as a Military Intelligence Officer from 1977 to 1994. Upon retirement I entered retail drugstore management training with Safeway Drugs Stores in California. Retail Sales Management was not my cup of tea, so I applied my former U.S. Civil Service status with the VA to get my foot in the door at the Justice Department, and later Department of the Navy retiring with disability from the Civil Service in 2000.
I've been with Veterans Today since the site originated. I'm now on the Editorial Board. I was also on the Editorial Board of Our Troops News Ladder another progressive leaning Veterans and Military Family news clearing house.
I remain married for over 45 years. I am both a Vietnam Era and Gulf War Veteran. I served on Okinawa and Fort Carson, Colorado during Vietnam and in the Office of the Air Force Inspector General at Norton AFB, CA during Desert Storm. I retired from the Air Force in 1994 having worked on the Air Staff and Defense Intelligence Agency at the Pentagon.
ATTENTION READERS
Due to the nature of independent content, VT cannot guarantee content validity.
We ask you to
Read Our Content Policy
so a clear comprehension of VT's independent non-censored media is understood and given its proper place in the world of news, opinion and media.
All content is owned by author exclusively. Expressed opinions are NOT necessarily the views of VT, other authors, affiliates, advertisers, sponsors, partners or technicians. Some content may be satirical in nature. All images within are full responsibility of author and NOT VT.
About VT
-
Read Full Policy Notice
-
Comment Policy