Israeli forces have attacked a flotilla carrying aid and hundreds of pro-Palestinian activists to the blockaded Gaza Strip.
At least 19 people were killed and dozens injured when troops intercepted the convoy of ships dubbed the Freedom Flotilla early on Monday pre dawn.The flotilla was attacked in international waters, 65km off the Gaza coast.
The Israeli military statement
Avital Leibovich, an Israeli military spokeswoman, confirmed that the attack took place in international waters, saying: "This happened in waters outside of Israeli territory, but we have the right to defend ourselves."
Defend themselves..!!, the Israeli military cliché – statement made it sound as if the Israeli troops were engaged in combat with an eligible enemy, who posed a direct and clear threat to the security of Israel. Those people on the ships were innocent civilians, activists from all over the world, but only Israel recognized them as militants, worthy of being labeled evil-doers rather than bold humanitarians.
The free Gaza movement
The Gaza aid flotilla is organized by The Free Gaza Movement, which is an international human rights organization formed by a coalition of pro-Palestinian human rights organizations and activists for the purpose of publicizing the Israeli blockade imposed on the Gaza Strip after the election of Hamas by sailing ships from Greece and Cyprus to Gaza.
The group has more than 70 endorsers, including Desmond Tutu and Noam Chomsky.
The organizations participating in the Free Gaza Movement include the International Solidarity Movement.
The activists participating in the effort include Jeff Halper, Hedy Epstein, Lauren Booth, and members of various Christian, Jewish, and Muslim religious organizations.
This was not the first sailing to Gaza by The free Gaza movement, they have done it several times before, the first was in august 2008, then another one inoctober 2008 and in January 2010, and in those sailings they managed to port in Gaza and deliver their cargo of aid supplies to the Palestinians.
What went wrong this time?
So, why is the sailing of may 2010 any different from the previous sailings to Gaza? First let us take a quick look at the number and the description of the activists aboard this time, as rendered in a statement by the organizing movement itself …"The Free Gaza Movement and the Humanitarian Relief Foundation (IHH) are partnering to send multiple ships to the Gaza Strip in May 2010.
Under the coordination of the Free Gaza Movement, numerous human rights organizations, including the Turkish Relief Foundation (IHH), the Perdana Global Peace Organization from Malaysia, the European Campaign to End the Siege of Gaza, and the Swedish and Greek Boat to Gaza initiatives will send three cargo ships loaded with reconstruction, medical and educational supplies.
Multiple passenger boats with over 600 people on board will accompany the cargo ships. These passengers include members of Parliament from around the world, U.N., human rights and trade union activists, as well as journalists who will document the largest coordinated effort to directly confront Israel's blockade of Gaza and take in basic supplies"…well,it seems like the whole international society has been delegated on this convoy, a sort of international consensus and united front targeted towards breaking the siege on Gaza and defying the military arrogance of a Zionist regime.
That's why this aid flotilla was recognized as a danger to Israel, the convoy of ships was not equipped with nuclear heads, nor any kind of heavy artillery, but carried what is known to be the most obstinate and defiant weapon, in other words " believers in human rights "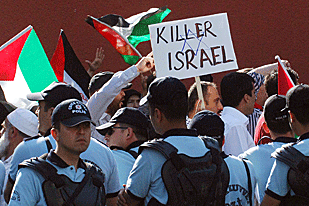 Israel's tough response triggered widespread condemnation across Europe; and left the united states looking guilty once again, for most analysts argue that Israel wouldn't have done such an outrageous operation without letting the Americans know about it beforehand.
The raid also strained already tense relations with Israel's longtime Muslim ally Turkey, the unofficial sponsor of the mission, and drew more attention to the plight of Gaza's 1.5 million people.
The only party that was not surprised by this act of military piracy was the Arabs who got used to this kind of the Israeli madness, only this time the world took notice.
Mission accomplished
The freedom flotilla sailed towards Gaza with a mission of breaking through the Israeli siege to what is considered today to be the biggest and most cruel concentration camps on earth; in accomplishing this noble and brave mission innocent human lives were sacrificed, but not in vain, for tomorrow the sun will rise on a more conscientiuos and hopefully more righteous world.
Ashraf Ezzat is an Egyptian born in Cairo and based in Alexandria. He graduated from the faculty of Medicine at Alexandria University.
Keen not to be entirely consumed by the medical profession, Dr. Ezzat invests a lot of his time in research and writing. History of the ancient Near East and of Ancient Egypt has long been an area of special interest to him.
In his writings, he approaches ancient history not as some tales from the remote times but as a causative factor in our existing life; and to him, it's as relevant and vibrant as the current moment.
In his research and writings, Dr. Ezzat is always on a quest trying to find out why the ancient wisdom had been obstructed and ancient spirituality diminished whereas the Judeo-Christian teachings and faith took hold and prospered.
Dr. Ezzat has written extensively in Arabic tackling many issues and topics in the field of Egyptology and comparative religion. He is the author of Egypt knew no Pharaohs nor Israelites.
He writes regularly at many well-known online websites such as Dissident Voice and What Really Happened.
Dr. Ezzat is also an independent filmmaker. His debut film was back in 2011 The Annals of Egypt Revolution and in 2012 he made Tale of Osiris a short animation for children.
In 2013 his short The Pyramids: story of creation was screened at many international film festivals in Europe. And he is working now on his first documentary "Egypt knew no Pharaohs nor Israelites".
ATTENTION READERS
Due to the nature of independent content, VT cannot guarantee content validity.
We ask you to
Read Our Content Policy
so a clear comprehension of VT's independent non-censored media is understood and given its proper place in the world of news, opinion and media.
All content is owned by author exclusively. Expressed opinions are NOT necessarily the views of VT, other authors, affiliates, advertisers, sponsors, partners or technicians. Some content may be satirical in nature. All images within are full responsibility of author and NOT VT.
About VT
-
Read Full Policy Notice
-
Comment Policy