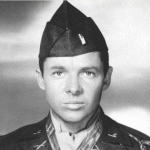 WHAT WOULD AUDIE MURPHY SAY IF VETERANS TREATMENT WERE CONSIDERED POLITICAL "PORK?"
By Joe "Ragman" Tarnovsky for Veteran Today
For years Vietnam Veterans had to listen to SOME World War 2 Veterans say, "I was in WW2, the big one, and I do not have any problems from my war." Well, that was simply not true and many times those making such a statement saw very little combat if any combat at all. For combat soldiers from any war, the horrendous sight and smell of death and having to participate in the taking of human lives, will leave mental and emotional wounds known as PTSD, and if not treated will lead to chronic PTSD and the combat veteran living with the aftermath of war for the rest of his/her life. If a veteran/victim has a good support system before, during and after war/traumatic event, the aftermath of the PTSD can be diminished. PTSD from war or any traumatic experience in life has been recognized as a legitimate psychiatric disorder since 1980 but the military has been aware of the condition long before that time.
Hori, an Egyptian combat veteran wrote about what he felt before he was to go into battle. He spoke of shuddering and the hair on his head standing on end and he felt as though his soul was in his hand. Greeks, Romans and Egyptian soldiers broke and ran during combat and were just as scared of dying as young American soldiers are today and those of us that have fought in this nation's past wars. No one wants to die for their country, as General Patton said,

"No bastard ever won a war by dying for his country. He won it by making the other poor dumb bastard die for his country."
The Spartans at Thermopylae experienced PTSD and I could go on and on but my point being, Vietnam Veterans did not invent PTSD nor did we use the condition to get money on a fraudulent basis from our government, but we were the first generation of combat veterans from the United States to admit to having problems from being in war. We, and our supporters, were ridiculed by society and veterans from previous conflicts, made to feel as though we had premorbid dispositions by the Veterans Administration, that we hated our mothers and had bad childhoods, but through it all we stood tall, took the abuse and made the government and society recognize PTSD!
We, Vietnam Veterans and our supporters, paved the way to make it easier for future combat veterans and victims of trauma to come forward and admit to having problems and to get the professional help that is needed and available. Even though decades have passed since the issue of Vietnam Veterans and PTSD went to the forefront of society, many returning combat veterans from Afghanistan and Iraq are not receiving the help that they so desperately needed.
It has been stated, see newspaper article attached, that returning combat veterans from Afghanistan and Iraq are not being treated fairly by the legal system when facing criminal charges. Now I am not saying that anybody that commits a crime and has PTSD should get a "free pass" but their time in the military should be taken into consideration, especially if they have been in combat. One thing is for sure, they should not be penalized for having had the courage to go to war when so many others in our country enjoy the freedoms we have and do nothing but sit at home and enjoy the good life in the United States.
This seems to be happening now when Afghanistan and Iraq combat veterans face the legal system at the present time. These men and women seem to be penalized for having worn the military uniform of the United States. It seems progress is being made to help combat veterans that suffer from PTSD in some areas of the country and in the United States Army, but this help should be nationwide for all  veterans that have gone to war and made to deal with life and death on a daily basis and had to grow up way before their time.
I never knew Audie Murphy, the most decorated American soldier during World War 2, went public and admitted to having PTSD in hopes that Korean and Vietnam War Veterans would get more help (see attachment).  Murphy's exploits during World War 2 were brought to the big screen in the movie, "To Hell And Back" where he played himself in the movie. A recipient of the Medal of Honor and numerous other medals for valor, Murphy suffered in silence for many years after he came home. Watching the Biography Channel about his life one day, I never realized that he went through what he did as a civilian with PTSD because it was never made public information. I was just a young kid back in the 60's but I do not remember any news about Audie Murphy coming "out of the closet" so to speak, about his PTSD and the emotional upheavals that he was experiencing because of his combat experiences in World War 2. Matter of fact, I do not remember anything about Audie Murphy speaking out when going for treatment to the Wade Park VA Hospital in Cleveland, Ohio for my treatment of PTSD.
If that information had been available and disseminated, it would have been so much easier for Korean and Vietnam War Veterans at that time to get the help needed, and it would have definitely made it easier for men like Dr. Knake who was constantly fighting the system at Wade Park to give us the treatment we needed. If Audie Murphy's woes from PTSD had been made public to Dr. Knake in the 80's, maybe that would have made it easier for him and all the men and women he was treating at that time to deal with the effects of combat and war. To know that the most decorated American soldier had once faced a murder charge, he was acquitted, slept with a loaded gun by his bed and once held his first wife at gun point, maybe those of us with PTSD would have felt we were not crazy and even heroes can be affected by their combat experiences.
In closing, the wars in Afghanistan and Iraq will not last forever, and when our brave troops come home and our country is at peace for awhile, veterans had better be aware of potential cuts in veteran's entitlements by politicians and bureaucrats looking to make a name for themselves with the non-veteran populace voting block. It has been proven time and time again by those in power in Washington, DC, that after veterans give their all and are guaranteed certain entitlements when signing their enlistment contract with the United States government, when the last shot of the war is fired it is then those on capitol hill that never served like to start slashing what has been promised to veterans in the form of entitlements.
The gutless politicians and bureaucrats that talk so much about patriotism and wrap themselves in the American flag but failed to go down and enlist when their country needed them and they were of military age, will start to carve up what has been promised to veterans and change the rules after they have used us for the dirty work of killing. When we are 18, 19, 20 and 21 years of age and can don the military uniform and do the filthy work of war, we are an asset, when we are older and making the government compensate us for disabilities and a loss of our quality of life, we are a liability. In our local paper out of Elizabethtown, KY, the following article was written and published today, June 13, 2010 by Dave Jarrett a veteran service officer for the Disabled American Veterans (see second attachment).
I did not read the original letter to the editor on June 1st calling the badly needed veteran's nursing home in our area a "pork-barrel" project but it is this type of attitude all veterans will be fighting sooner than we think. Don't forget, this anti-veteran letter to the editor about a veteran's nursing home being a "pork-barrel" project came from a town that is next to Fort Knox and home to many active duty military and veterans and their families. In closing, do not forget one thing fellow veterans, we get nothing for nothing and we served our country when so many others chose not to and in times of peace, those that did not serve want to diminish our service and sacrifices by trying to take away what we have earned! Be prepared when the current wars end to take up the fight for what we have earned by not allowing non-veterans to "sucker punch" us and steal what has been promised and paid for by us on the battlefields for America!
In-country 28 August 68 to 22 Oct 70

Joe is a Vietnam Combat Veteran, having served 26 months in the Republic Of South Vietnam, 10 months with Company A, 27th Combat Engineers, 28 August 1968 to June 1969, and 16 months as a crewchief/doorgunner with the 240th Assault Helicopter company on UH-1C Hueys, the Mad Dog Gunship Platoon from July 1969 to 22 October 1970.
Joe graduated from Cuyahoga Community College in 1982 with a Associate Of Arts Degree and from Cleveland State University in 1986 with a Bachelor's Degree in Psychology; he also accumulated 12 hours of graduate work at Cleveland State. He lives with his best friend, his wife, and they have 34 rescued cats, 7 rescued dogs.
Joe has spoken at high schools and colleges for 25 years about PTSD, war and how not to treat returning veterans when they come home to America after fighting for their country.
ATTENTION READERS
We See The World From All Sides and Want YOU To Be Fully Informed
In fact, intentional disinformation is a disgraceful scourge in media today. So to assuage any possible errant incorrect information posted herein, we strongly encourage you to seek corroboration from other non-VT sources before forming an educated opinion.
About VT
-
Policies & Disclosures
-
Comment Policy
Due to the nature of uncensored content posted by VT's fully independent international writers, VT cannot guarantee absolute validity. All content is owned by the author exclusively. Expressed opinions are NOT necessarily the views of VT, other authors, affiliates, advertisers, sponsors, partners, or technicians. Some content may be satirical in nature. All images are the full responsibility of the article author and NOT VT.