Veterans and dependents are holding a series of informational meetings to spread the word to others on Camp Lejeune's water well contamination.  The Marine base's water system was contaminated with organic solvents.  Exposure to organic solvents has been linked to cancer and other serious diseases.
(CAMP LEJEUNE, NC) – Veterans and dependents affiliated with "The Few The Proud The Forgotten" (see http://www.tftptf.com/),  a Camp Lejeune website, have held two informational meetings in Virginia and Florida to provide critical information to veterans and dependents on the water well contamination at Camp Lejeune. Additional meetings are planned in July and August in Roanoke, Virginia Beach, Charlotte, Syracuse, and Pittsburgh.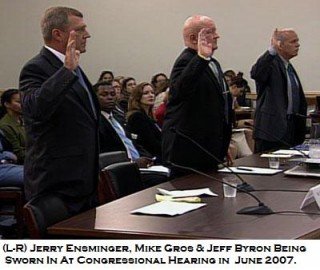 The Bell Legal Group sponsored two informational meetings for Camp Lejeune. Jerry Ensminger, a retired Marine Master Sergeant, spoke at the first meeting in NC and Mike Partain, a former Camp Lejeune dependent and male breast cancer survivor, spoke at second meeting here in Florida.
According to Mike Partain, they were not really sure what to expect with these meetings or who would show. Based on their experiences at the two meetings, it is quite apparent that our Camp Lejeune community is in the dark as to what happened at the base. Partain and Ensminger plan to hold future meetings to spread the word to others. 
The water provided by the Tarawa Terrace and Hadnot Point distribution systems was highly contaminated with various chemicals, including the VOCs (volatile organic compounds) known as PCE (Tetrachloroethylene aka Perchloroethylene), TCE (Trichloroethylene), DCE (Dichloroethylene), Vinyl Chloride and BTEX (Benzene, Toluene, Ethylbenzene, and Xylene).These chemicals are either known or suspected human carcinogens.
Many Marines, Sailors, their families and civilian employees have been affected by the contamination in various ways including, but not limited to: liver cancer, kidney cancer, breast cancer, bladder cancer, ovarian cancer, prostate cancer, cervical cancer, lung cancer, leukemia, non Hodgkins lymphoma, liver disease, miscarriages, birth defects (cleft palate, heart defects, Choanal atresia, neural tube defects, low birth weight, and small for gestational age),etc. Unfortunately, many of these families still have not been notified by the USMC of the danger from their exposure. In 1987 Camp Lejeune was recommended for listing as a Superfund site on the National Priorities List (NPL) by the Environmental Protection Agency (EPA). Camp Lejeune was officially listed as a Superfund site in 1989.
Partain told us that the meetings are being held to provide critical information to the affected community, to spread the word and inform ourselves as to what really happened at Camp Lejeune.
During the two previous meetings, Partain and Ensminger showed some of the key documents, explained what contaminated the water and where the contamination was found. They also discussed what the USMC knew about the contamination, when they knew it, and what they have reported/not reported to the affected community. 
According to Partain, The Bell Legal Group has been very gracious by bearing the costs for the food and meeting space and more importantly, for allowing them to talk about Camp Lejeune without making anyone sit through a sales pitch. They were available for questions during lunch but otherwise, the focus was on information and not to sign people up. Without their support, this would not be possible. 

The next meeting will be Saturday July 10th in Roanoke Virginia. Partian said they will need at least 100 people to hold the meeting. Jerry Ensminger or Mike Partain will be in attendance…or both of them. Partain said they will present the facts, what is known, where we are going, and as many questions as we can. 
The next meeting about the  CAMP LEJEUNE WATER CONTAMINATION effects will be held July 10, 2010 from 11 a.m. – 3 p.m. at the Roanoke Higher Education Center, Room 212, located at 108 N. Jefferson Street, Roanoke, VA. (This location is handicap accessible.)  If you believe your health or the health of a loved one has been compromised from exposure to Camp Lejeune water, you are encouraged you to attend this free informational seminar. For further information and to reserve your space, please contact Vanessa Bertka at 843-546-2408, ext. 757. Please RSVP by July 8th. There is no charge or obligation to attend. 
Additional meeting dates are listed below. The informational meetings will be held from 11-3 p.m. each date. Please be advised these dates are subject to change if the minimum amount of attendees are not met. Partain asked that interested parties RSVP to receive updated information.
July 17th                Virginia Beach, VA           RSVP by July 15th
July 31st                Charlotte , NC                  RSVP by July 29th
August 7th             Syracuse , NY                  RSVP by August 5th
August 21st           Pittsburgh , PA                RSVP by August 19th 
Robert O'Dowd served in the 1st, 3rd and 4th Marine Aircraft Wings during 52 months of active duty in the 1960s. While at MCAS El Toro for two years, O'Dowd worked and slept in a Radium 226 contaminated work space in Hangar 296 in MWSG-37, the most industrialized and contaminated acreage on the base.
Robert is a two time cancer survivor and disabled veteran. Robert graduated from Temple University in 1973 with a bachelor's of business administration, majoring in accounting, and worked with a number of federal agencies, including the EPA Office of Inspector General and the Defense Logistics Agency.
After retiring from the Department of Defense, he teamed up with Tim King of Salem-News.com to write about the environmental contamination at two Marine Corps bases (MCAS El Toro and MCB Camp Lejeune), the use of El Toro to ship weapons to the Contras and cocaine into the US on CIA proprietary aircraft, and the murder of Marine Colonel James E. Sabow and others who were a threat to blow the whistle on the illegal narcotrafficking activity. O'Dowd and King co-authored BETRAYAL: Toxic Exposure of U.S. Marines, Murder and Government Cover-Up. The book is available as a soft cover copy and eBook from Amazon.com. See: http://www.amazon.com/Betrayal-Exposure-Marines-Government-Cover-Up/dp/1502340003.
ATTENTION READERS
Due to the nature of independent content, VT cannot guarantee content validity.
We ask you to
Read Our Content Policy
so a clear comprehension of VT's independent non-censored media is understood and given its proper place in the world of news, opinion and media.
All content is owned by author exclusively. Expressed opinions are NOT necessarily the views of VT, other authors, affiliates, advertisers, sponsors, partners or technicians. Some content may be satirical in nature. All images within are full responsibility of author and NOT VT.
About VT
-
Read Full Policy Notice
-
Comment Policy