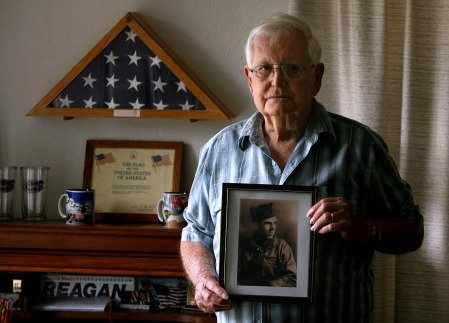 By William R. Levesque  in the St. Petersburg Times
It was 1945 when Tampa native Marty Redding Jr. first asked the Veterans Administration for a pension and treatment for the psychological trauma he suffered fighting in World War II.
He was 20 years old.
On Sunday, Redding will celebrate his 85th birthday — and he's still seeking benefits. "Kind of hard to believe, isn't it?" he says.
In what might be one of the longest-running benefits cases at what is now the Department of Veterans Affairs, Redding has enjoyed some measure of victory in his on-again, off-again battle. After half a century, the VA agreed to pay him a pension for post-traumatic stress starting in 1997. With other ailments, that brings his total monthly pension today to $2,800.
Now the contest is over retroactive benefits dating to 1947.
The Lakeland resident's struggle has outlasted four of his marriages and 11 U.S. presidents. VA Secretary Eric Shinseki was just 3 years old when Redding first filed a VA claim.
Delayed or improperly rejected claims at the VA "are a catastrophic problem," says Paul Sullivan, executive director of Veterans for Common Sense. "Marty should be labeled a hero for never giving up."
The VA acknowledges that its understanding of the mental stress produced by combat has changed markedly since World War II.
Because the VA has a greater understanding today of the devastating effects that war can have on a combat veteran, it "uses a much broader interpretation of the evidence available when we evaluate claims," the agency said in a written statement.
Redding, who has prostate cancer, said he figures the only way his fight will end is with his death.
"I've retired two generations of employees at the VA, and now I'm on my third," he says. "I don't think there are too many people like me who have been fighting the VA for 65 years. … This is no way to treat a veteran."
• • •
Redding said he always thought that having a July Fourth birthday made him more patriotic. When drafted in 1943, the Army private went off to war willingly, hooked by a young man's perception of the romance of battle.
Redding's discharge papers show that he spent more than 10 months in combat from 1944 to 1945 in Italy. He earned a Bronze Star for meritorious service.
He found that war held no romance. Forty of the 200 men in his company were killed in action, and another 45 were severely wounded, military records show.
Redding recalls the time his squad mistakenly wandered into a mine field and came under German sniper fire. The man on Redding's right was killed, then the man on his left.
Redding ran to a foxhole across the minefield, crawling under a dead man for cover.
But his worst memory is the way melting snows in the mountains would sometimes reveal by degrees the frozen hand of a U.S. soldier reaching lifelessly skyward.
It still makes Redding cry.
• • •
The day of his discharge on Nov. 7, 1945, Redding filed a claim for his "nerves" and other ailments with the VA. He still has a copy of the Jan. 14, 1946, confirmation of the receipt of his claim at the VA office in St. Petersburg.
When Redding got home to Tampa, his younger brother, Fred, noticed the change in him.
"He would not discuss the war," Fred Redding wrote to the VA years later. "No one could get close to him. … (He) was changed from Dr. Jekyll to Mr. Hyde."
Redding could no longer enjoy his beloved pastime of roller skating. He became depressed. One time, he paused outside a store, too scared to walk inside to buy cigarettes. He had nightmares.
A VA doctor examined him in July 1947 and wrote, "Mental examination shows anxiety, emotional instability, worriment and nervousness still in evidence."
Diagnosis: psychoneurosis, anxiety type. Decades later, doctors would call it post-traumatic stress disorder.
In the years to come, the VA would say that Redding did not report any psychological problems during the war. It would point out that the doctor's 1947 diagnosis relied on self-reported symptoms.
The VA refused to provide Redding with benefits based on that 1947 mental diagnosis.
• • •
Redding said he took correspondence classes in engineering because he couldn't stand being in class with other students. He earned an engineering degree and worked for the state, Polk County and then in his own consulting firm.
In 1964, Redding said, he suffered a nervous breakdown and was admitted to a hospital in Lakeland. A doctor there would note, "The patient is (a) very anxious, frightened man who appears older than the stated age. Hair is gray."
Redding was 38 years old.
A "psychoneurotic disorder" was diagnosed, and Redding was medicated and released.
Redding said he reopened his VA claim after his breakdown, and it was again denied. But the VA said it had no record of the case being reopened at that time.
"I just gave up," Redding says. "I had to get on with life."
He married and divorced four times through the years. He had few close friends. He became estranged from his two children.
"He kept isolated from everything and everybody," says son Bryan Redding, 50.
• • •
Marty Redding said he was working in his yard in 1997 when he heard a radio announcement by the American Legion urging veterans to apply for post-traumatic stress disorder benefits.
Redding contacted the legion, which assigned a representative to help him with the case. A VA doctor examined him and diagnosed PTSD. Nearly 50 years to the day of his first "psychoneurosis" diagnosis, Redding was granted a partial PTSD pension on June 25, 1997.
His PTSD pension eventually was rated at 70 percent disability. The higher the percentage, the bigger the pension a veteran receives.
Redding was pleased but not satisfied.
Because the VA first diagnosed him with psychoneurosis in 1947, he thought the benefit should be retroactive. But by 2005, the VA rejected that claim, noting in part that PTSD was only accepted as a psychological diagnosis in 1980.
His doctors told the VA what Redding thought was obvious — back then PTSD might have been called battle fatigue or shell shock, or even psychoneurosis, but troops still suffered from it.
On Dec. 15, 2009, a Board of Veterans' Appeal judge ruled that the decision by the VA regional office in St. Petersburg to deny Redding retroactive benefits was "undebatably erroneous."
Then Redding learned that his PTSD disability from 1947 to 1997 was rated at just 10 percent, worth a grand total of $21,000.
That, Redding said, didn't even cover his medical costs for the past half century. He said he was owed up to $400,000. A hearing to reconsider the issue is scheduled for Aug. 25.
• • •
Redding said he deals with war memories as best he can. Since 1997 or 1998, he has received psychiatric care at the VA. He said he is learning to cope.
Still, he fights on. He said it's more about defending his rights and forcing the VA to acknowledge that it made an error than it is about the money.
"I still love my country," Redding says. "Even with what those people at the VA in their ivory towers have done to me, I'd take up arms for my country today."
ATTENTION READERS
Due to the nature of independent content, VT cannot guarantee content validity.
We ask you to
Read Our Content Policy
so a clear comprehension of VT's independent non-censored media is understood and given its proper place in the world of news, opinion and media.
All content is owned by author exclusively. Expressed opinions are NOT necessarily the views of VT, other authors, affiliates, advertisers, sponsors, partners or technicians. Some content may be satirical in nature. All images within are full responsibility of author and NOT VT.
About VT
-
Read Full Policy Notice
-
Comment Policy