GOP Senate Still Blocking of Homelss Women Veterans' Bill
This outrage bears repeating.
Sen. Patti Murray calls bill up for unanimous consent on Senate floor, tells story of veteran who was homeless with her children in Washington state—legislation is blocked by Senate Republicans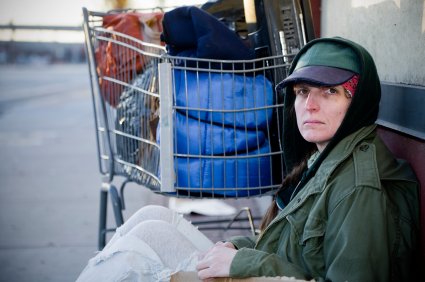 MURRAY'S HOMELESS WOMEN VETERANS BILL BLOCKED BY SENATE REPUBLICANS
(Washington, D.C.) – Today, U.S. Senator Patty Murray (D-WA) spoke on the Senate floor to request immediate passage of the Homeless Women Veterans and Homeless Veterans With Children Act. The bill was introduced in June of 2009 and passed the Senate Veterans' Affairs Committee on January 28, 2010 with strong bi-partisan support. Republican Senator Mitch McConnell objected to the legislation on the Senate floor on behalf of Senator Tom Coburn, preventing it from passing.
"I am deeply disappointed that Senate Republicans continued to put politics above people and blocked my bill that would provide support for homeless women veterans and their families," said Senator Patty Murray. "This is a bipartisan, common-sense bill that would support veterans in my home state of Washington and across the country. I am going to continue fighting for it to pass. And I urge Senate Republicans to end their obstruction and allow homeless women veterans across the country to get the support they have earned."
Last week Senator Murray met with Natalie, a former member of the Navy and single parent of two boys from Issaquah, Washington who became homeless in 2007. Natalie has since found support through transitional housing programs and is now in permanent housing in Washington state.
Senator Murray's bill, S.1237, would expand assistance for homeless women veterans and homeless veterans with children and would increase funding and extend federal grant programs to address the unique challenges faced by these veterans.
The full text of Senator Murray's speech placed into the record follows:
"Madam President, last week I spoke in support of S. 1237, the Homeless Veterans and Other Veterans Health Care Authorities Act of 2010. And I come to the floor once again to urge my colleagues to move quickly to allow this critical bill to pass.

"Last week I had the opportunity to meet with an amazing woman named Natalie and her two children.  Natalie is currently living in Issaquah in my home state of Washington—but she's been through some tough times over the past few years.  She is a Navy veteran and a single mom. But she became homeless in 2007 when she couldn't find work and had to move out of the house she was staying in.
"Natalie wanted nothing more than to provide her two children with the stable and loving home every family deserves—so she fought to secure transitional housing, and she was very fortunate to find a program called Hopelink in Washington state that gave her the support she needed to get back on her feet.
"Natalie is now back in stable housing, taking care of her children, and advancing in her nursing career—and she came to Washington, D.C last Tuesday to help make sure no other family has to face the challenges she overcame so bravely.
"Because unfortunately, Madam President, not every family gets the support that Natalie's did.
"Homeless women veterans and homeless veterans with children are two terribly vulnerable groups that are growing by the day.
"Back in my home state of Washington, Veterans Service Organizations and homeless providers have told me they are seeing more homeless veterans coming for help than ever before. And unfortunately, more and more of these veterans are women, have young children, or both.
"In fact, female veterans are between two and four times as likely to be homeless than their civilian counterparts—and they have unique needs and often require specialized services. 
"That's why I introduced the Homeless Women Veterans and Homeless Veterans with Children Act—and it's why it's so important that we move quickly to pass it.
"My bill would take three big steps forward toward tackling the serious problems facing this vulnerable group.
"First of all, it would make more front-line homeless service providers eligible to receive Special Needs Grants. This would help organizations in Washington state and across the country help support families like Natalie's.
"It would also expand Special Needs Grants to cover homeless male veterans with children, as well as the dependents of homeless veterans themselves.
"And it would extend the Department of Labor's Homeless Veterans Reintegration Program to provide: workforce training,  job counseling,  child care services,  and placement services  to homeless women veterans and homeless veterans with children.
"Because it is so important that we not just provide immediate support—but that we also make sure our veterans have the resources and support they need to get back on their feet.
"Madam President, this is a very personal issue for me.
"Growing up, I saw firsthand the many ways military service can affect both veterans and their families.
"My father served in World War II and was among the first soldiers to land on Okinawa. He came home as a disabled veteran and was awarded the Purple Heart.
"Like many soldiers of his generation, my father didn't talk about his experiences during the war. In fact, we only really learned about them by reading his journals after he passed away.
"And I think that experience offers a larger lesson about veterans in general. They are reluctant to call attention to their service, and they are reluctant to ask for help.
"That's why we've got to publicly recognize their sacrifices and contributions.
"It's up to us to make sure that they get the recognition they have earned. And it's up to us to guarantee they get the services and support they deserve.
"Madam President, this bill passed through the Senate Veterans Affairs Committee with strong bi-partisan support.
"Because supporting our veterans shouldn't be about politics—it should be about what kind of country we want the United States to be. And about what our priorities are as a nation.
"That's why, Madam President, I am proud to stand here today—for Natalie, her children, and families just like hers across the country—
"And I ask unanimous consent that S. 1237 be passed here today."
ATTENTION READERS
Due to the nature of independent content, VT cannot guarantee content validity.
We ask you to
Read Our Content Policy
so a clear comprehension of VT's independent non-censored media is understood and given its proper place in the world of news, opinion and media.
All content is owned by author exclusively. Expressed opinions are NOT necessarily the views of VT, other authors, affiliates, advertisers, sponsors, partners or technicians. Some content may be satirical in nature. All images within are full responsibility of author and NOT VT.
About VT
-
Read Full Policy Notice
-
Comment Policy