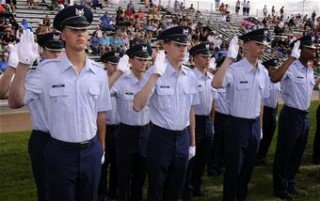 Via the Military Religious Freedom Foundation:
By (name, United States Air Force Academy (USAF) faculty position, USAF Academy faculty department withheld)
Today, I heard the most astonishing words from an Air Force Academy Superintendent that I have ever heard in my entire 16 years as an Academy professor.  Quoting from a well-known 1997 United States Air Force report, Lt Gen Mike Gould, Superintendent of the US Air Force Academy, actually said in a Commander's Call addressed to the entire permanent population of the base that "military officers shouldn't push their religious views on subordinates".  My jaw dropped in astonishment.  This man clearly "gets it".  My elation was tempered only by the sad fact that it took multiple Superintendents and several years of painful turmoil for us to finally get a top guy in here who clearly sensed that the environment was right to say something so blatantly obvious and true to every single person here at the Air Force Academy.

I sadden only when I realize that two years from now, this Air Force Academy Superintendent will retire, we will have a different USAF Chief of Staff, and the process of training yet another chain of command must begin anew.  Who knows what we will get.  That means, Mikey, that you and the MRFF must be vigilant.  You must be vigilant, and you must have staying power.  The forces you so appropriately and aggressively oppose here at the Air Force Academy, and indeed all over the Department of Defense, think in terms of eternity, so four years between Academy Superintendents is nothing to them.  Please, Mikey and MRFF, be there for an eternity too.

There is only one plausible explanation that can account for the dramatic sea change I have witnessed here at USAFA.  That explanation is you, Mikey, and the efforts of the Military Religious Freedom Foundation.  Without your unceasing and courageous refusal to stand by while good people do nothing, it would have been "religiously unconstitutional" business as usual.  The school I love that defends the country I love would have continued to be a happy hunting ground for fundamentalist Christian whack jobs, using their military rank or related seniority as a weapon and convinced that they were wandering in an unrestricted Elysian mission field of unchurched souls targeting as many vulnerable cadets and staff as possible for conversion.