Jeff Danziger gave Veterans Today permission to use any of his copyrighted political cartoons to make or reinforce points for our readers.
The point we wish to make using Jeff's toons on Afghanistan and Wikileaks is that instead of making a 22 year old kid a scape goat for an overall breakdown in National Security on a par with that which allowed a hand full of religious extremists to fly several jets into designated targets in New York, the Pentagon, and only one failed attempt due to the Let's Roll attitude of a few courageous passengers.
In each of the links below, our readers will note that instead of persecuting some young enlisted man (or woman) for a lax in U.S. National Security precautions, the Pentagon and mainstream media should instead be focusing on the numerous senior Pentagon officials who LEAK operational security information to the public.
In most all of the below links either an official Pentagon spokesperson has officially leaked the information to the public, be it propaganda or misinformation the Pentagon wants Al Queda or the Taliban to intercept, or as is the usual norm OPSEC is leaked to the public under conditions that the senior Pentagon source remain anonymous.
Danziger notes the stupidity on the part of our White House and Pentagon in relation to the kid who allegedly leaked thousands of Defense secrets.
Compare this to how Danziger also poked fun at Senior Military Officers and the White House for letting the Taliban know WE ARE COMING-GOING TO KANDAHAR, so the Taliban can be ready to welcome our troops. How many U.S. troops lives were put on the line by this bold and arrogant leak by our government?
Robert L. Hanafin
Obama's Afghan Strategy Faces Test in Kandahar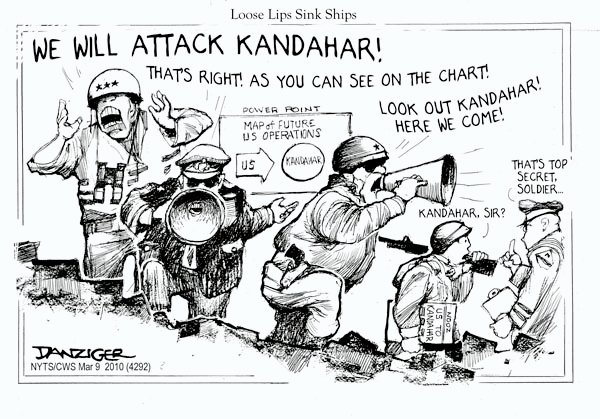 Kandahar braces itself for a bloody summer offensive
Afghanistan: The Test in Kandahar
General McChrystal: Kandahar operation will take longer
Kandahar Offensive To Begin In June
This Week at War: The Forgone Conclusion in Kandahar
Kandahar Offensive "Make-or-Break" for U.S.: Summer Onslaught on Afghan Taliban Stronghold Will Dwarf Fight in Marjah; Experts Say Entire War Hangs in the Balance
Date set for attack on Kandahar
Results of Kandahar offensive may affect future U.S. moves
Momentum shifts in Helmand, Pentagon spokesman says
Pentagon: Operations Under Way Against Taliban in Kandahar
http://www.america.gov/st/peacesec-english/2010/March/20100331150929ptellivremos0.2587963.html&distid=ucs

Pentagon Report on Progress Towards Security and Stability in Afghanistan (April 2010) Kandahar/Helmand is the COIN strategy.
Readers are more than welcome to use the articles I've posted on Veterans Today, I've had to take a break from VT as Veterans Issues and Peace Activism Editor and staff writer due to personal medical reasons in our military family that take away too much time needed to properly express future stories or respond to readers in a timely manner.
My association with VT since its founding in 2004 has been a very rewarding experience for me.
Retired from both the Air Force and Civil Service. Went in the regular Army at 17 during Vietnam (1968), stayed in the Army Reserve to complete my eight year commitment in 1976. Served in Air Defense Artillery, and a Mechanized Infantry Division (4MID) at Fort Carson, Co. Used the GI Bill to go to college, worked full time at the VA, and non-scholarship Air Force 2-Year ROTC program for prior service military. Commissioned in the Air Force in 1977. Served as a Military Intelligence Officer from 1977 to 1994. Upon retirement I entered retail drugstore management training with Safeway Drugs Stores in California. Retail Sales Management was not my cup of tea, so I applied my former U.S. Civil Service status with the VA to get my foot in the door at the Justice Department, and later Department of the Navy retiring with disability from the Civil Service in 2000.
I've been with Veterans Today since the site originated. I'm now on the Editorial Board. I was also on the Editorial Board of Our Troops News Ladder another progressive leaning Veterans and Military Family news clearing house.
I remain married for over 45 years. I am both a Vietnam Era and Gulf War Veteran. I served on Okinawa and Fort Carson, Colorado during Vietnam and in the Office of the Air Force Inspector General at Norton AFB, CA during Desert Storm. I retired from the Air Force in 1994 having worked on the Air Staff and Defense Intelligence Agency at the Pentagon.
ATTENTION READERS
Due to the nature of independent content, VT cannot guarantee content validity.
We ask you to
Read Our Content Policy
so a clear comprehension of VT's independent non-censored media is understood and given its proper place in the world of news, opinion and media.
All content is owned by author exclusively. Expressed opinions are NOT necessarily the views of VT, other authors, affiliates, advertisers, sponsors, partners or technicians. Some content may be satirical in nature. All images within are full responsibility of author and NOT VT.
About VT
-
Read Full Policy Notice
-
Comment Policy