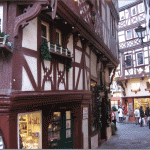 German Wines Basics, Yes, This is German Wines 101
By Gordon Duff STAFF WRITER/Senior Editor
GERMANY'S WINE REGIONS
AHR
The river Ahr is a tributary of the Rhine entering well north of Koblenz, where the Mosel comes in.  The best known
wines from this region are its Spatburgunders (Pinot Noir) which, at times, can bring a healthy price.  Few wines
from this area are exported and quality varies from newer outstanding reds to some unpleasant and near colorless
attempts.
The Ahr is the smallest wine producing area in Germany with only 500 hectares of vineyards.  Outside the Mosel,
the Ahr may be the best wine tourism area in Germany with its 35 kilometer Rotweinwanderweg (Red Wine
Walking Way) that features a variety of stop offs such as tasting rooms and taverns.  The scenery is impressive with
steep terraced hillsides and a relatively non-commercial atmosphere.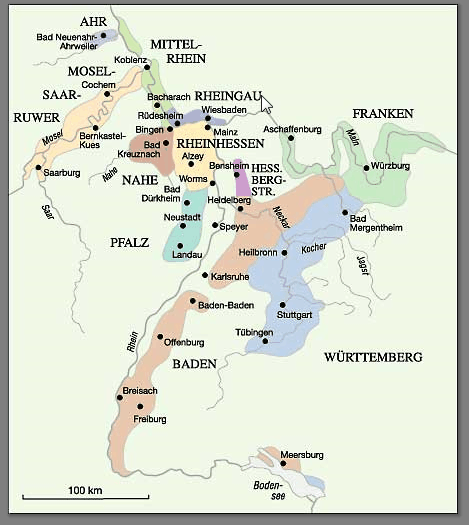 MittelRhein
This is the Germany of castles and small towns.  It is also the Germany of abandoned vineyards and only a few
surviving quality Riesling producers.  Centered around the village of Bacharach, (formerly the center of a Roman
wine growing Region and named for the god Bacchus) known as a boarding point for Rhine River cruises, the
Mittlerhein produces wines of high acidity from its clay and slate soils but seldom has production for export.
The region starts below Bonn and goes for 100 kilometers along the Rhine, including the areas of legend so vital to
Wagner's works.  The Mittelrhein has about 500 hectares under cultivation, largely phylloxera free.  Somewhat
colder than the Mosel or Rheingau, the Mittelrhein depends on warmth from the River and its dark soils for an
extended growing season, which is often interrupted by early frosts.
Mosel-Saar-Ruwer
Centered around the Riesling capital of Bernkastel, this has and continues to produce the most elegant Rieslings in
the world along with some of the most undrinkable swill known to man.  The Mosel, the epicenter of Germany's
wine tourism extends southward from Koblenz where it joins the Rhine.  Lined with producers most of its length,
the Mosel is one of the worlds great drives with guest facilities reasonably priced and lots of opportunities for hiking
or cycling.
Direct from producer prices are very reasonable and quality varies from world class, especially from the areas world
famous vineyards to mediocre or worse from farm grapes produced by the regions grain growers.  Still, the area
serves as the "holy grail" for the Riesling world and is known for its hospitality as much as for its wines.
The Saar and Ruwer valleys, tributaries of the Mosel, have much less production and some climate constraints but
produce some elegant wines.  Many quality vineyards are being abandoned along the Mosel because of high
production costs and ineffective distribution channels.  Quality wine is available for export but only of value from
select producers who maintain the regions high standards and reputation.
Rheingau
This region produces many of Germany's best Rieslings and often, its most overpriced.  On the other hand, the
Rheingau produces no Liebfraumilch or "Piesporter".  (which seldom actually comes from Piesport, which produces
excellent wines)  The first late harvest wines originated in this region with the development of Spatlese and the first
Botrytis Cinera (noble rot) dessert wines.  Hochheim is located in Rheingau, made famous by Queen Victoria,
whose love of the local "Hoch" wines began Britain's love affair with German wines.
The Rheingau is alternately flat and hilly with a variety of soils rich in minerals which imbue their wines with great
character.  The Rheingau VdP, a self ordained wine regulatory organization, has designated top regional vineyard as
Erste Lage, which does, however, provide a clear concept of quality origin.  Rheingau has wines available for export
which are seldom if ever at bargain basement prices.
Nahe
Nahe is a little known area between the Mosel and Rhine wine producing regions known for its incredible
array of soil types that give its wines distinction.  With a tremendous selection of minerals infusing the area,
once a center of volcanic activity, Nahe is a latecomer to the Riesling with the first plantings only a century
old.  Low rainfall requires production only from mature vines with the deepest root systems which benefit from
the mineral rich subsoils.
The regions is separated into two parts, upper and lower.  The lower Nahe enters the Rhine at Bingen after
flowing through gentle hilly areas of mixed granites and volcanic soils.  The upper Nahe is a region of scenic
beauty and incredible landscapes with south facing hillsides producing the finest wines.  The area is also noted
for its Eiswein.
Rheinhessen
Rheinhessen is famous for its Liebfraumilch.  However, vineyards in the area of Nierstein and Nackenheim are
more in league with the wines of Rheingau.  This area is called the Rheinfront or Rheinterasse.  The largest
wine growing region of Germany, Rhinehessen includes the cities of Mainz and Worms.  With its near
endless collection of microclimates, Rheinhessen is much more than the birthplace of Liebfraumilch.  Here, the
Portugieser, Dornfelder and Spatburgunder overshadow the Riesling to a large extent with full bodied reds
emerging from the region with regularity.  The region is also noted for its Sekt.
Pfalz
Also known as the Palatinate, the Pfalz is known for its "farm wine" production to many or for its famous
"Deutsche Weinstrasse" to others.  An area with a climate more Alsace than Germany, the Pfalz produces
great Rieslings but also a many other varieties including Scheurebe, Weissburgunder, Grauburgunder,
Chardonnay and Pinot Noir.  The best wines come from the scenic northern villages of Wachenheim, Forst,
Deidesheim and Ruppertsberg.  Known as the Tuscany of Germany, the climate in the Rheinpfalz is the most
gentle in Germany which, combined with some very differentiated soils produces wines both of distinction and
mediocrity.  The Pfalz has quality wines available for export.
Franken
A region known for its uneven climate and its very dry wines, Franconia is the source of very few wine exports.
With its distinctive Bocksbeutel, the very dry and distinctive Sylvaners or Rieslaner dessert wines are primarily
for local consumption where wines from other regions are looked upon as "invaders".
Baden
Baden is the southernmost wine producing region of Germany and, perhaps, one of its most scenic.  Set
between the Black Forest and Rhine, Baden produces some Rieslings and, around Kaiserstuhl, Germany's top
rated Spatburgunders.  Wines from Baden are unlike any other although Baden borders the Alsace and
Switzerland.
Wurttemburg
With 11,000 hectares of vineyards, mostly in reds, Wurttenburg puts out alot more than cars.  Heavily into
Schwarzriesling (not a Riesling at all), Trollenger, Lemberger and others, this region is beginning to improve
dramatically on the traditional pale reds it is known for.  Riesling and Kerner produce local white wines that are
seldom exported.
Hessische Bergstrasse
With only 500 hectares of vineyards, half in Riesling, there are no exports from Hessiche Bernstrasse.  Climate
and soil would indicate that excellent wines could be produced here for anyone willing to go there personally.
Salle-Unstrut
Made up of Thuringia and Schloss Neuenburg, this northernmost of Germany's wine growing regions suffered
under Communist domination until reunification.  Although Sekt production went on under the Communist
regime, the thousand year history of wine making in the region has yet to be successfully reinstilled. Too far
north for Auslese or Spatlese wines, the region produces Kabinett and QbA wines only.
Sachsen
Germany's smallest and most easterly wine growing region, with vineyards between Dresden and Diesbar-
Seusslitz, small amounts of select wines for local consumption are produced.  With a climate stabilized
somewhat by the Elbe River, the region also produces some excellent Dornfelder and Spatburgunder.
Copyright Gordon Duff 2005
Gordon Duff posted articles on VT from 2008 to 2022. He is a Marine combat veteran of the Vietnam War. A disabled veteran, he worked on veterans and POW issues for decades.
Gordon is an accredited diplomat and is generally accepted as one of the top global intelligence specialists. He manages the world's largest private intelligence organization and regularly consults with governments challenged by security issues.
Duff has traveled extensively, is published around the world, and is a regular guest on TV and radio in more than "several" countries. He is also a trained chef, wine enthusiast, avid motorcyclist, and gunsmith specializing in historical weapons and restoration. Business experience and interests are in energy and defense technology.
ATTENTION READERS
We See The World From All Sides and Want YOU To Be Fully Informed
In fact, intentional disinformation is a disgraceful scourge in media today. So to assuage any possible errant incorrect information posted herein, we strongly encourage you to seek corroboration from other non-VT sources before forming an educated opinion.
About VT
-
Policies & Disclosures
-
Comment Policy
Due to the nature of uncensored content posted by VT's fully independent international writers, VT cannot guarantee absolute validity. All content is owned by the author exclusively. Expressed opinions are NOT necessarily the views of VT, other authors, affiliates, advertisers, sponsors, partners, or technicians. Some content may be satirical in nature. All images are the full responsibility of the article author and NOT VT.