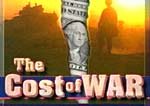 Just as mainstream media is finally figuring out that the Global War on Terror has divided the Obama administration on issues surrounding Afghanistan Woodward Book Exposes Obama Team's Internal Afghanistan, Veterans for Common Sense (VCS) is preparing to give testimony to Congress on the Cost of Wars, next Thursday, 30 Sep 2010.
Robert L. Hanafin, Major, U.S. Air Force-Retired, GS-14, U.S. Civil Service-Retired, Veterans Issues Editor, VT News Network
VCS Seeks Your Input  This Week
On September 30, VCS testifies before Congress about the human cost of war.  Under the law, the Iraq and Afghanistan wars are actually part of the original Gulf War that began on August 2, 1990.   Since the Gulf War began 20 years ago, VA has treated 248,000 veterans from the 1990 – 1991 conflict, plus another 565,000 Iraq War and Afghanistan War patients.  That's more than 800,000 total patients from our longest war in U.S. history.
What other facts do Congress and America need to know about the human costs of this endless war?  What should VCS recommend to Congress so all of our veterans receive the healthcare and benefits they need when they come home?  Please send VCS your thoughts this week:
VCS in the Headlines – September remains a very busy month for VCS advocacy !    The major news remains the expanding scandal involving how Prudential stole hundreds of millions of dollars in profits from grieving families by delaying payments of government benefits, in some cases for years.  Some families may have lost as much as $40,000 while Prudential sat on money that belongs to families.

Sept. 14: VCS quoted by Bloomberg News.

Sept. 14: VCS TV interview on CBS Evening News .

Sept. 18: Associated Press reports on the million-dollar-a-month lobbying blitz by Prudential.

VCS believes that when a surviving family member checks the box on VA's life insurance payment form requesting a "lump sum" benefit payment, then Prudential must send a single direct-deposit payment or wire transfer within a few days.  VCS…looks forward to Congressional oversight hearings so families are protected from greedy for-profit corporations.  There should be better laws, regulations and oversight of VA life insurance benefits.  VCS urges Congress to order Prudential to payback the ill-gotten gains taken from families.
More VCS Advocacy in Action –
Sept. 11: VCS and the Houston Chronicle uncover the growing backlog of disability claims at the Veterans Benefits Administration's Regional Office in Houston.
Sept. 15: VCS testified before Congress demanding the military stop improper discharges.  Read our nine VCS policy suggestions for fixing DoD's mess that costs veterans and families billions of dollars.
Sept. 19: The Los Angeles Times reports on how some employers won't hire some of our veterans diagnosed with PTSD and/or TBI.  That's a disgrace, and Congress needs to fix this now by passing Rep. Lloyd Doggett's HR 466.  This bill passed in the House last year. The bill now awaits a vote in the Senate.  VCS endorses HR 466, and VCS thanks Rep. Doggett for standing with our veterans.
Sept. 23: VCS strongly supports laws and regulations that establish what are called "presumptives," as this means long-awaited benefits for our Vietnam War veterans sick due to Agent Orange poisoning.   This will be the subject of a major Senate hearing this Thursday.  The facts show DoD failed to monitor who was exposed to how much Agent Orange and for how long during the Vietnam War.  Then DoD blocked medical research to avoid providing healthcare or disability benefits in what can only be called shocking and callous behavior.
After 40 years, the scientific evidence now clearly associates serious and fatal conditions (such a prostate cancer) with Agent Orange exposure.  The failure of the military to keep track of what happened to our troops in Vietnam is not an excuse to deny payments to our veterans today, even when a few veterans may have contracted the condition due to age.
VCS thanks VA Secretary Shinseki for moving forward with presumptives for Vietnam War veterans.  We hope he further clarifies the rules for Blue Water Navy veterans, too. Presumptives should also be used for the 250,000 sick Gulf War veterans remaining ill from exposure to dozens of toxins as well as for our new Iraq and Afghanistan war veterans sick after exposure to poisons at toxic burn pits.
Posted by: Bobby Hanafin
Readers are more than welcome to use the articles I've posted on Veterans Today, I've had to take a break from VT as Veterans Issues and Peace Activism Editor and staff writer due to personal medical reasons in our military family that take away too much time needed to properly express future stories or respond to readers in a timely manner.
My association with VT since its founding in 2004 has been a very rewarding experience for me.
Retired from both the Air Force and Civil Service. Went in the regular Army at 17 during Vietnam (1968), stayed in the Army Reserve to complete my eight year commitment in 1976. Served in Air Defense Artillery, and a Mechanized Infantry Division (4MID) at Fort Carson, Co. Used the GI Bill to go to college, worked full time at the VA, and non-scholarship Air Force 2-Year ROTC program for prior service military. Commissioned in the Air Force in 1977. Served as a Military Intelligence Officer from 1977 to 1994. Upon retirement I entered retail drugstore management training with Safeway Drugs Stores in California. Retail Sales Management was not my cup of tea, so I applied my former U.S. Civil Service status with the VA to get my foot in the door at the Justice Department, and later Department of the Navy retiring with disability from the Civil Service in 2000.
I've been with Veterans Today since the site originated. I'm now on the Editorial Board. I was also on the Editorial Board of Our Troops News Ladder another progressive leaning Veterans and Military Family news clearing house.
I remain married for over 45 years. I am both a Vietnam Era and Gulf War Veteran. I served on Okinawa and Fort Carson, Colorado during Vietnam and in the Office of the Air Force Inspector General at Norton AFB, CA during Desert Storm. I retired from the Air Force in 1994 having worked on the Air Staff and Defense Intelligence Agency at the Pentagon.
ATTENTION READERS
We See The World From All Sides and Want YOU To Be Fully Informed
In fact, intentional disinformation is a disgraceful scourge in media today. So to assuage any possible errant incorrect information posted herein, we strongly encourage you to seek corroboration from other non-VT sources before forming educated opinion. In addition, to get a clear comprehension of VT's independent non-censored media, please read our
Policies and Disclosures
.
Due to the nature of uncensored content posted by VT's fully independent international writers, VT cannot guarantee absolute validity. All content is owned by the author exclusively. Expressed opinions are NOT necessarily the views of VT, other authors, affiliates, advertisers, sponsors, partners, or technicians. Some content may be satirical in nature. All images are the full responsibility of the article author and NOT VT.
About VT
-
Comment Policy