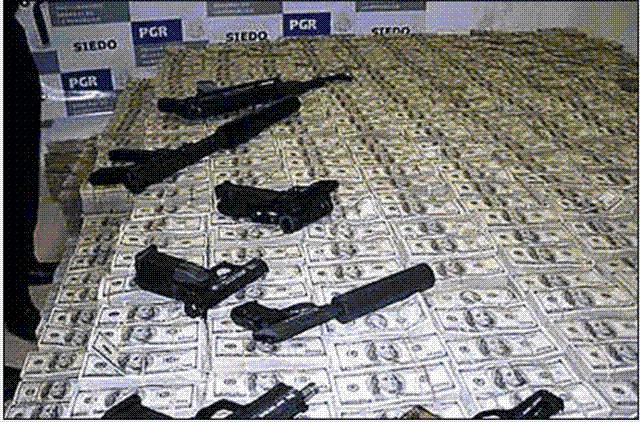 SUPREME COURT RULING A DRUG MONEY BARONS DREAM
By Gordon Duff STAFF WRITER/Senior Editor
Republicans and "Tea Party" candidates are expecting to take over congress in a very few days, a "big win" totally underwritten with drug money.  There is no secret about it.
By June, $200 million in "foreign" contributions had already come into the GOP and Tea Party and not one cent of it is accounted for.  It is "corporate" money, money that doesn't have to be American, doesn't have to be legal, money that would put any normal American in prison for years if they had one cent in their pockets.
The $200 million is laundered drug money, much from Afghanistan but much also from Mexico, those drug money cartels that are buying America's Southwest, the same cartels that did so well during the Bush years when the border with Mexico was open and totally unwatched.
You didn't know that?
Those photographs showing backpacks and trash, abandoned by drug money "mules" and other illegals, the massive flow across the border, you didn't know those photos were taken between 2001 and 2008?  You didn't know that, in 8 very long years, the 8 years of the "W" Bush presidency, the number of illegal aliens in the United States doubled?
Now you wonder why the Mexican drug cartels are sending millions into America, all legal and proper "corporate" contributions, nice and clean, laundered just the way the Supreme Court wants it, drug money to keep their business growing, reopen the border, money to guarantee them favorable courts, friendly "law enforcement" and a return to "business as usual."
The majority of the cash, however, originates from Afghanistan.  Not from the country itself, but from the $65 billion dollar a year heroin industry created from nothing after the US invasion of Iraq.  America joined with the drug money cartels of the Northern Alliance to remove the Taliban.  You remember the Taliban, the group that wanted too much of a percentage from the American oil companies who were planning a pipeline through Afghanistan, the same Taliban that eliminated opium production entirely?
Drug Money Made from American Fertilizer
Now the opium is being processed right there in Afghanistan, heroin made from opium grown with American fertilizer in fields protected by American soldiers, fields controlled by war lords working closely with the CIA and America's military commanders in the region who make sure Russia, Europe and America have that needle in the arm and stay hooked for another generation.
Vietnam was a drug war as were the Reagan era phony wars in Central America.  You can't turn on the TV without seeing it in a movie.  Movies aren't always right but whenever you see Stephen Seagal or Chuck Norris stomp a drug money baron, we only wish they were doing it for real.
What is this election going to create?  Never in American history has foreign money been allowed this freely into the United States.  Japan, Saudi Arabia, Germany and Israel have typically spent the most and bought the most power.  Then came China.  They began buying politicians too, a million here, a hundred thousand there.
There is a lot of reasons to invest in a new congress.  If the war in Afghanistan ends, drugs won't move freely.  If torture and rendition end, those planes that fly prisoners around won't be able to carry the tons of heroin around the world too.  Isn't part of the plan to make heroin so cheap that millions of Russians will be addicted?  Isn't this part of the secret CIA plan also?
Drug Money War Being Taken Over By Terrorists
Isn't all that drug money keeping Afghanistan from being taken over by terrorists?  This is what Ambassador Richard Holbrooke keeps telling us, keep the drugs flowing and America will be safe, safe except for that addict who just kicked down your door.
Over $1.2 billion will be spent on the upcoming election, over a billion to fund the jobs of 200 legislators whose income wouldn't cover two days interest on that money.  Can you smell that smell, that rotten "government" smell?  Money used to come from big oil, crooked banks, pharma and nutty billionaires with names like Buffett and Scaife or perhaps DeVos.
Now the money is from drug cartels, mercenary armies and huge drug money laundering banks, brought in by the carload, open and free, no laws can control it.  All that is needed is a corporation, and that can be done in some states for 15 bucks.  Corporations can take foreign assets, send them to the United States, assets from any source, legal or illegal, and transfer those assets to a political party.
This year 90% of the drug money is going to the Republicans.  I wonder what is is buying?  I suspect Americans will eventually find out.
Gordon Duff is a Marine combat veteran of the Vietnam War. He is a disabled veteran and has worked on veterans and POW issues for decades. Gordon is an accredited diplomat and is generally accepted as one of the top global intelligence specialists. He manages the world's largest private intelligence organization and regularly consults with governments challenged by security issues.
Duff has traveled extensively, is published around the world and is a regular guest on TV and radio in more than "several" countries. He is also a trained chef, wine enthusiast, avid motorcyclist and gunsmith specializing in historical weapons and restoration. Business experience and interests are in energy and defense technology.
ATTENTION READERS
Due to the nature of independent content, VT cannot guarantee content validity.
We ask you to
Read Our Content Policy
so a clear comprehension of VT's independent non-censored media is understood and given its proper place in the world of news, opinion and media.
All content is owned by author exclusively. Expressed opinions are NOT necessarily the views of VT, other authors, affiliates, advertisers, sponsors, partners or technicians. Some content may be satirical in nature. All images within are full responsibility of author and NOT VT.
About VT
-
Read Full Policy Notice
-
Comment Policy