Family criticises decision to allow soldier who drove bulldozer that killed daughter to give evidence from behind screen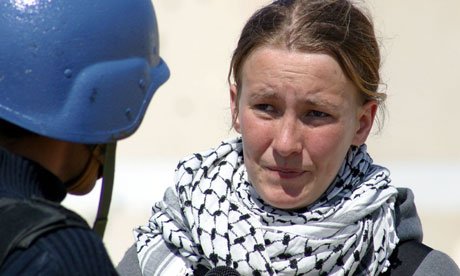 The Israeli soldier at the controls of a bulldozer that crushed to death 23-year-old Rachel Corrie in Gaza in March 2003 is due to give evidence tomorrow in the civil lawsuit brought by the American activist's family.
However the judge hearing the case in Haifa has ruled that, for security reasons, the soldier can testify anonymously from behind a screen, denying Cindy and Craig Corrie the opportunity to face the man who directly caused their daughter's death.
Israel's supreme court refused to hear an appeal by the family challenging the judge's ruling. However, the unit commander in charge that day will testify in full view of the court as his identity is already known.
"I'll be grateful at least to be able to hear [the bulldozer driver's] words but I won't get the complete picture and I'll be disappointed by that," Cindy Corrie said in an interview in Jerusalem last week.
"They've said it's the security of the witnesses they are trying to protect. I can understand it would be uncomfortable for the soldiers to have to see us, but I can't understand how our family is a threat to their security."
Corrie, from Olympia, Washington state, was killed while attempting to protect the home of a Palestinian family in the Rafah area of Gaza from being demolished by Israeli troops seven and a half years ago. A posthumous book and play based on the graphic and moving emails she wrote to friends and family made her an iconic figure.
An internal Israeli military investigation, which was never published nor released to the US government or the Corries, concluded that the bulldozer driver had not seen Rachel and that no charges would be brought. The case was closed.
The family brought a civil case – "absolutely our last resort" – against the state of Israel, which opened in March this year and is expected to conclude early next year. Among the early witnesses was a fellow activist, Briton Richard Purssell, who described how Corrie disappeared from view under the advancing bulldozer.
The driver's evidence will be a key moment in the case but the Corrie family has been careful not to invest too much in his evidence. "While the driver is very important, to me he is not the only person who has responsibility," said Cindy Corrie. "Responsibility is shared with a lot of people. My focus isn't entirely on the driver."
Sarah Corrie Simpson, Rachel's older sister, said: "Ultimately the individual had the ability to stop that act. However if you only hold responsible the individual, you're losing the broader context of what's going on. You have to look at the chain of command and what sort of orders were being given at that time."
The family, while wanting an acceptable end to their battle for justice, was wary of the concept of closure. "It's hard to conceive of that," said Craig Corrie. "People talk about it, but it's real hard to define what closure would be when you've lost a child, lost a little sister."
Corrie Simpson said closure was difficult to define: "I'm not sure how you ever get to a place where you even feel close to that when you know there are people out there on the other end of what happened to Rachel, and you've never even been able to see their faces. Mum talks about being able to see the humanity of the person that was on the other end – and now the majority of soldiers will get to testify behind a screen, and that takes that away from us."
At the very least, the family hoped their legal battle would shine a light on the Israeli Defence Force's (IDF) investigative process.
Cindy Corrie said if the IDF were, as it claimed, the most moral army in the world, "they should be willing to look at a system that is much more transparent than what exists right now".
Last month, a colonel responsible for writing operating manuals for military bulldozers, testified that there were no civilians in a war zone.
Cindy Corrie said: "It's a window, hearing that coming from these people, a real window into the mindset – and it's very, very concerning. And I think every Israeli should be really concerned."
http://www.guardian.co.uk/world/2010/oct/20/rachel-corrie-case-soldier-anonymous
Please visit rachelcorriefoundation.org/trial for trial updates, changes to the court schedule and related information.
For press related inquiries and further information, please contact:
Stacy Sullivan
stacy [at] rachelcorriefoundation.org
Phone (Israel): 972-54-280-7572
Rachel Corrie – Interview

[youtube O3JI-axaRF4]
Debbie Menon is an independent writer based in Dubai. Her main focus are the US-Mid- East Conflicts. Her writing has been featured in many print and online publications.
Her writing reflects the incredible resilience, almost superhuman steadfastness of the occupied and oppressed Palestinians, who are now facing the prospect of a final round of ethnic cleansing. She is committed to exposing Israel's Lobbies' control of 'U.S. Middle East Policy. Control' which amounts to treason by the Zionist lobbies in America and its stooges in Congress, and that guarantees there can never be a peaceful resolution of the Israeli-Palestinian conflict, only catastrophe for all, in the region and the world.
Her mission is to inform and educate internet viewers seeking unfiltered information about real events on issues of the US/Middle East conflicts that are unreported, underreported, or distorted in the American media. PS: For those of her detractors that think she is being selective and even "one-sided," tough, that is the point of her work, to present an alternative view and interpretation of the US-Israel-Middle East conflict, that has been completely ignored in mainstream discourse.
The purpose is to look at the current reality from a different and critical perspective, not to simply rehash the pro-US/Israel perspective, smoke and mirrors that has been allowed to utterly and completely dominate Mainstream discourse.
ATTENTION READERS
We See The World From All Sides and Want YOU To Be Fully Informed
In fact, intentional disinformation is a disgraceful scourge in media today. So to assuage any possible errant incorrect information posted herein, we strongly encourage you to seek corroboration from other non-VT sources before forming educated opinion. In addition, to get a clear comprehension of VT's independent non-censored media, please read our
Policies and Disclosures
.
Due to the nature of uncensored content posted by VT's fully independent international writers, VT cannot guarantee absolute validity. All content is owned by the author exclusively. Expressed opinions are NOT necessarily the views of VT, other authors, affiliates, advertisers, sponsors, partners, or technicians. Some content may be satirical in nature. All images are the full responsibility of the article author and NOT VT.
About VT
-
Comment Policy