EDITORS NOTE:  Read Chapter One from "The Oedipus Connection: Where Fiction and Fantasies Collide with the New World Order" a new upcoming book being written by Jack Williams. The book will be out in 2011. 
Chapter One
"In closing, I'd like to tell you a little bed-time story, that hopefully will keep you awake, tonight," said graduate assistant Rebecca Sarah Silverthorne to her Humanities class at the exclusive Williams College, in Williamstown, Massachusetts.
It was a late Fall afternoon, with over cast skies, that showed every promise of snow. And like the weather, young Ms. Silverthorne's face turned serious, pausing to let the gravity of her words sink into minds that were, on average, only about five or six years younger than hers.
"This story," continued Ms. Silverthorne, "is perhaps particularly appropriate since the big Williams verses Amherst football game is scheduled for tomorrow afternoon. It's a short story and to the point.
"And while I know all of you girls will be wearing your finest, and you young men will be sneaking in flasks of Irish whiskey, stop and consider my little story in between slugs of whiskey, cheers, and hugs.
"Once upon  time, there lived a rich and powerful English nobleman, who authorized the wholesale killing of thousands of innocent children, women, and men … much like what is going on in today's world … except not on today's grand scale.
"This early pioneer in germ-warfare was none other than Field Marshall Jeffery Amherst, 1st Baron of Amherst (1717-1797), who served as Commander-in-Chief of the British Army in the new world colonies in North America, from Virginia to parts of Northeast Canada.
"Amherst was also the first Governor General of British North America, during the French and Indian Wars.
"Now recall, if you will, some of your pre-Revolutionary War history, and, I'm sure you'll remember that those French and Indian Wars took place roughly between 1754 and 1763, well before our war of independence from England.
"The French never considered our native Americans to be their enemies, and gained their friendship with supplies of blankets, food, and even firearms.
"But Field Marshall Amherst implement a different strategy with our American Indians. It was a brutal subjugation of our native population, that included starvation, disease sickness, and death.
"The native populations of the North American continent lacked the white man's immunities to the infectious diseases – such as the deadly smallpox – that had long ravaged Asia, Eastern and Western Europe.
"Smallpox was more deadly than the white man to the American Indian … except when smallpox was purposely spread by the white man – like the English man, Lord Amherst.
"Jeffrey Amherst, as micro-film of his letters prove, pretended to become a benefactor to Indians by giving them hundreds of blankets, without ever telling them that those very same blankets had purposely been infected with smallpox.
"And yet, American and Canadian colonists named cities after this monster. I'm sure you've heard of Amherst, Massachusetts, it's just down the road. How about Amherst, New Hampshire, or Amherst, New York? Have you ever heard of Amherst County in Virginia, or Amherst, Nova Scotia?" 
They even named Amherst College after that beast …"
Suddenly, from the back of the classroom came a strong voice.
"Ah Madam Speaker," interrupted student Cooper Hampton Wentworth-Smith. "Amherst College was named after the city of Amherst. It was the city that was named after Lord Amherst. And,  let us not forget Amherstburg and Amherst Island, both in Ontario." 
Cooper, the school's star quarterback continued. "But more importantly, is there a shred of evidence that this awful plan was ever carried out?"
"Well of course there is," replied Ms. Silverthorne. "The exchange of letters between Amherst and Colonial Henry Bouquet …"
"Those letters may show intent," said Cooper, "but are they evidence of the crime ever being committed …"
At that very moment, Cooper's response was cut short by the bell that ended classes; but it did not deter Rebecca Sarah Silverthorne. "Intent to commit a crime is a crime in of itself," yelled the red-faced lecturer over the loudness of the bell.
"AND, WHAT'S MORE … THE  AMHERST FOOTBALL TEAM IS CALLED THE LORD JEFFS,  yelled Rebecca over the clamor of students making their way to the classroom door.
Cooper, or Coop, as his friends called him, kind of fancied the older graduate assistant, and he smiled at her frustration. It was a devilish smile, the kind Coop always got whenever he punctured some erudite windbag or got under the skin of a very pretty young woman.
But Cooper Hampton Wentworth-Smith was a gentleman, who always tried to play fair when amusing himself in playful amorousness with attractive young ladies, like Rebecca Silverthorne. After all, thought Coop, it's dishonest and unfair to trifle with a young lady's attentions by the use of flattering words, especially when you're not wholly serious about developing a relationship.
Still seated, Coop watched Ms. Silverthorne collect the papers at her desk, as all the other students filed out of the room.
Finally, the blond, handsome, young man unwound his lanky 6 foot – 3 inch body from his desk, and stood for a moment, still watching the seated Ms. Silverthorne.
Rebecca lifted her deep blue eyes and looked straight into Coop's dark blue ones, but only for a moment. Immediately, the professor in training broke her glance, and again began shuffling papers.
It was then that Coop walked up to the front of the room, and stood in front of the fidgety Rebecca Silverthorne, who then more intensely than ever made a fuss over her papers.
"Yeees?" inquired Rebecca, without looking up.
"Well, I just wanted you to know, that I was not questioning the validity of your premise …" said Coop, before he was interrupted.
"You're grandstand player, Mr. Smith-Wentworth or Wentworth-Smith … whether it's on a football field or class room. And please, spare me anymore of your feeble apologies," said Rebecca, without ever looking up.
"Ah … Okay," said Coop, as he slowly headed toward the door.
"One more thing, Mr. Wentworth-Smith," said Rebecca, now looking toward Coop. "Good luck, tomorrow."
"Thank you," said Coop, not turning around, fearful Ms. Silverthorne would see his old wicked, crooked grin return to his handsome features.
It has been said by someone, surely, that it's the homely ones who write about the beautiful ones; and, it's my privilege to tell you of a love story, that may go bad, involving two of our most beautiful people.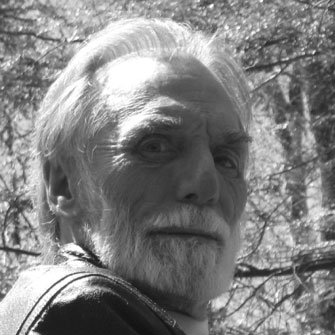 Former Hollywood producer of live stage shows that featured various movie and TV stars. In Los Angeles for almost a quarter of a century, Jack had a front-row seat in observing the disintegration of the foundations of American society before he retreated to the woods of New Hampshire.
A graduate of the University of Florida, where he studied economics, Jack was also a running back on the Gator scout team, a member of the ATO social fraternity, Cadet Commander of the school's ROTC unit, and president of the military honorary society, Scabbard, and Blade.
After serving honorably in the US Army, where Jack earned his paratrooper wings, he began to see the folly and crimes attendant to the unilateral wars of American aggression. It was then that Jack embarked on a spiritual path; one he has walked for over 40 years. Content with his sylvan seclusion, Jack began writing of how to spot media propaganda; something he meant to be his legacy to his three grown children.
Today, however, Jack invites all others to read his non-partisan observations of national and international events. According to Jack… Those of us stuck deeply into the engineered left-right paradigm have no desire to be objective, and are thus blinded to all truth that does not reinforce biased opinions.
Remedial work in geo-politics will not open the minds of such people, as they are badly in need of spiritual remedies; nevertheless, facts are facts, and some are available to truth-seekers, the subject matter of my writings."
ATTENTION READERS
We See The World From All Sides and Want YOU To Be Fully Informed
In fact, intentional disinformation is a disgraceful scourge in media today. So to assuage any possible errant incorrect information posted herein, we strongly encourage you to seek corroboration from other non-VT sources before forming an educated opinion.
About VT
-
Policies & Disclosures
-
Comment Policy
Due to the nature of uncensored content posted by VT's fully independent international writers, VT cannot guarantee absolute validity. All content is owned by the author exclusively. Expressed opinions are NOT necessarily the views of VT, other authors, affiliates, advertisers, sponsors, partners, or technicians. Some content may be satirical in nature. All images are the full responsibility of the article author and NOT VT.