PTSD is a very real condition, and it is also a very serious problem for our service members, veterans, and families. PTSD must be addressed immediately on a far larger scale now by top leaders at the Department of Defense and Department of Veterans Affairs.
Investigation Blames War and Leadership Failures for Most of Mental Health Crisis
Review by Paul Sullivan and Kristina Brown
Veterans for Common Sense – David Philipps' new book, Lethal Warriors: Uncovering the Tragic Reality of PTSD, is an essential and heartbreaking account of the failures in preparing our soldiers and our society for the transition more than 2.1 million from combat in Iraq and Afghanistan to civilian communities at home.
Our government's failure to recognize the signs and seriousness of mental health problems and then take the necessary precautions is no longer just having a devastating affect on our military population. The failures continue spreading into civilian life all across America.
PTSD is a very real condition, and it is also a very serious problem for our service members, veterans, and families. PTSD must be addressed immediately on a far larger scale now by top leaders at the Department of Defense and Department of Veterans Affairs.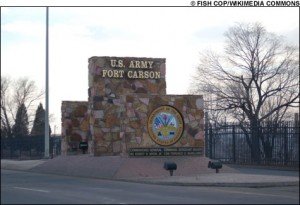 The tragic tales of several murders in Colorado Springs, Colorado led David Philipps on an investigative journey into one Band of Brothers stationed at Fort Carson. The common thread: many homicides involved recently returned Army soldiers who had deployed to the Iraq War, and many of the suspects were untreated PTSD patients.
Philipps guides his readers through the lives of soldiers who, tragically, become notoriously known as the "Lethal Warriors." He chronicles their childhood stories leading them to join the Army, their different attitudes and experiences during deployment, and the startling similar series of events leading to their psychological and criminal demise upon their return home.
His thorough examination of the military's failure to recognize and properly respond to the variety of warning signs of combat stress and PTSD and the military's improper efforts to remove soldiers experiencing such symptoms are important lessons for Congress, the Pentagon, VA, and cities near military installations.
Without a doubt, Philipps' highly commendable investigative journalism reveals our soldiers are not receiving proper mental healthcare. In many cases documented by Philipps, this is due to neglect of the military to recognize the crisis and quickly hire enough mental health professionals to provide prompt care. The failures also result from persistent and severe stigma as well as other obstacles, such as untrained noncommissioned officers, personality disorder discharges, and improper treatment which prevents too many of our soldiers from seeking and/or continuing the necessary treatment.
Philipps makes it abundantly obvious that PTSD is not being responded to in the proper manner as a result of limited resources and a "don't look don't find" attitude from higher command and at the Pentagon. For example, warning signs, such as anger, withdrawal, depression, outbursts, anxiety, sleeplessness, nightmares, and more, are being ignored or unnoticed. In another example, service members with PTSD are frequently and wrongly kicked out personality disorders that don't exist, often preventing the new veteran from obtaining post-military VA medical care.
Philipps cites an essential study, conducted at the recommendation of Fort Carson's General Mark Graham, by the U.S. Army Center for Health Promotion and Preventative Medicine in July 2009. The Army report observed that the trend of behavioral problems had little to do with individual backgrounds and everything to do with the intensity of combat observed during deployment.
Overall, investigators blame deployment (and repeated) to war, not the soldiers, who usually joined the military in good health. The investigation published its recommendations, listed by Philipps on page 241:
First, they noted, reintegration training must be overhauled and started before soldiers come back from overseas. Even soldiers who return early must get this enhanced training.

Second, units and individual soldiers who have been exposed to high levels of combat must be flagged by commanders so they can get better care. The days of letting soldiers lie their way through Post Deployment Health Assessment must end.

Third, the Army should reassess whether the entire command structures should change after each tour, which can interrupt the supervision of soldiers who need help.

Fourth, commanders have to ensure soldiers caught for drugs or drinking get substance abuse care and stick with it.

Fifth, make sure soldiers are not humiliated by peers or commanders by educating all tanks about Combat Stress Injuries. The prevailing attitude that legitimate stress injuries are a made-up disorder and a sin of weakness has to be broken.

Sixth, the Army needs to train sergeants and young officers to manage their troops so they don't instinctively punish soldiers who are acting out.
The vital takeaway message from David Philipps: Deployment- caused PTSD is not something that can be ignored and left untreated.
In July 2009, VCS reviewed the Army investigation and offered our own conclusion that deployment to war remains the main culprit, followed by repeated mistakes by military leaders.
Much of the book would not have been possible without the dedicated advocacy of Iraqi War veteran Andrew Pigoany.
Our soldiers have suffered long enough, especially since the Iraq War invasion was based on misleading information. Combat stress and PTSD need to start being recognized and recognized early so treatment and recovery have the greatest chance of success for our soldiers, our veterans, their families, and our communities.
If we don't, then the adverse impact of the war may flood into more and more lives of an unprepared civilian population. We can and must do the right thing now and make sure every soldier receives prompt mental health exams as well as any needed when they return – that's because a mental health wound is as serious as a physical wound.
Left untreated, both can be lethal.
ATTENTION READERS
Due to the nature of independent content, VT cannot guarantee content validity.
We ask you to
Read Our Content Policy
so a clear comprehension of VT's independent non-censored media is understood and given its proper place in the world of news, opinion and media.
All content is owned by author exclusively. Expressed opinions are NOT necessarily the views of VT, other authors, affiliates, advertisers, sponsors, partners or technicians. Some content may be satirical in nature. All images within are full responsibility of author and NOT VT.
About VT
-
Read Full Policy Notice
-
Comment Policy