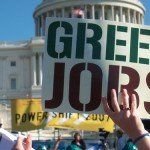 Combat missions in Iraq gave U.S. Marines veteran Jordan Latva a purpose — until an exploding rocket-propelled grenade took him out. He recovered from his physical wounds after eight surgeries.
By Bruce Finley in the Denver Post
But today, back in Colorado, he says he needs work that gives meaning. He tried construction, then mining. This year, he settled into a "green" job — weatherizing homes for low-income residents around Denver.
"I still, even to this day, don't know what I want. I loved the Marines," Latva, 27, said, poking his head up from a crawl space that lacked insulation. "I just want to get stuff done right and fast. There's a lot of guys that think like that, especially coming out of the military."
He's one of a growing number of Iraq and Afghanistan combat veterans turning to trades aimed at improving the environment as they struggle to adjust. Some say being outdoors helps their heads. Others say they just want to be able to see the result of their labor, team up with fellow soldiers again and help push the nation off its addiction to foreign oil.
A Denver-based organization called Veterans Green Jobs is trying to guide more war returnees nationwide — 1.9 million veterans have deployed since the 2001 terrorist attacks — into environmental work. Grants from Wal-Mart ($1.2 million), the Sierra Club ($400,000) and Gov. Bill Ritter's energy office ($11.8 million) support the effort. Run from a west Denver warehouse, the program has paid $300 to $500 a week to about 110 participants who underwent training, readying them for the anticipated well-paying "green" careers.
However, the lagging economy limits opportunities. Only about 50, including Latva, have converted training to full-time positions sufficient to support a family. The unemployment rate for young Iraq and Afghanistan war veterans has reached as high as 20 percent, more than double the rate for U.S. workers overall.
"What they want to do is get back
that feeling of camaraderie again. A lot do not want to be stuck behind a computer," said Garett Reppenhagen, a former Army sniper in Iraq who directs Veterans Green Jobs' programs in partnership with agencies such as the U.S. Forest Service. 
The Forest Service is trying to arrange for war veterans to work next summer restoring trails and campsites in forests ravaged by the beetle epidemic, said agency spokesman Steve Segin, an Army National Guard veteran.
"Their experiences in Iraq and Afghanistan have made them mentally and physically tough, and they bring this attitude to work," Segin said.
Some veterans hunting for work remain homeless. A $200,000 deal with Denver aims to put 35 homeless veterans to work planting trees — part of Denver's campaign to plant 1 million trees.
Men who did the government's heavy work in war "have earned the right to employment," said Bill Doe, Veterans Green Jobs' chief executive.
A tough search for jobs
The end of U.S.-led combat operations in Iraq is sending more and more veterans back to Denver and other cities.
Months of hunting for entry-level jobs "might leave them pretty lost and frustrated, if they feel anything like I did," said Josh Kemp, 30, another Iraq war veteran who has embraced the mission of weatherizing homes.
"It'd be nice to put them in employment so that they can help the country — instead of another country — and also help themselves instead of searching," Kemp said.
When he handled intelligence on raids and interrogations, "it was all- day, all-night, always somebody to chase," he said. Then, in 2006, his time was up. " 'OK. You're done. Bye.' It seemed that's all we got."
He figured finishing college would smooth his transition to civilian life, so he earned a degree in psychology. That led to $8-an-hour work in a mental health clinic — and then nearly a year of searching for something better. He was edgy, impatient after his combat. Training in the Denver led to certification as an energy auditor.
"This is a lot more laborious. I like this better (than the office job)," he said, adding that he sees energy efficiency as essential for the nation.
Still he wonders: Did his World War II veteran grandfather's "greatest generation" suffer so much when they tried to settle back home? And what about this war left him feeling so uneasy?
"We're overdependent on petroleum products, petroleum in general," said Navy warship veteran Derrick Charpentier, 34, who completed firefighter training in northwestern Colorado.
Lamenting the "bad connotation" of post-traumatic stress disorder, Charpentier said he aimed initially for wind and solar industry jobs that didn't exist. Now he's working as a ski instructor at Steamboat Springs while looking for work with a firefighting agency.
Working outdoors "helps to reorient me with the real world — not the military world," he said.
Healing in nature
Another of the Veterans Green Jobs trainees, Nick Morgan, 26, whose combat unit hunted for roadside bombs in Iraq, recently headed to California in hopes of hiring onto a federal Bureau of Land Management project at Fort Ord to restore California coastlands.
When Morgan came to Colorado, he was still healing from a 2008 anti- war rally outside a presidential campaign debate in New York. He and other veterans voiced their views. Nassau County horse-mounted police intervened. Morgan was knocked down and trampled. The litigation after that incident has seemed endless, he said, and work maintaining trails and thinning forests in southwestern Colorado helped him heal.
"I wanted to push away from an urban environment," he said. "Getting out into the wilderness offers that space to push back from society and stay in the present."
Civilians often can't understand, said Cornell University graduate Lew Sovocool, 29, who moved from his combat tours in Iraq directly into a year-long stint in Afghanistan. There, he managed a reconstruction budget of $200 million.
Now in Colorado, "the toughest thing is trying to somehow equate what you did in the service to civilian life."
A few months after returning, he was just sitting around, idling on the Internet, maybe watching television. Then he became a leader of a six-member Iraq veterans work crew doing forestry work near Durango.
"There's a camaraderie" among war veterans, Sovocool said.
Now he and others on his crew are looking for frontline positions fighting wildfires.
"I came to realize I can't just sit down and do nothing. I need to stay active, have a purpose," Sovocool said. "I know I need to find something to do."
ATTENTION READERS
Due to the nature of independent content, VT cannot guarantee content validity.
We ask you to
Read Our Content Policy
so a clear comprehension of VT's independent non-censored media is understood and given its proper place in the world of news, opinion and media.
All content is owned by author exclusively. Expressed opinions are NOT necessarily the views of VT, other authors, affiliates, advertisers, sponsors, partners or technicians. Some content may be satirical in nature. All images within are full responsibility of author and NOT VT.
About VT
-
Read Full Policy Notice
-
Comment Policy