… a long-overdue Christmas present for the imprisoned Christians and Muslims alike from a heroic Santa.
Fanciful thinking? Of course, given the international community's spineless leaders.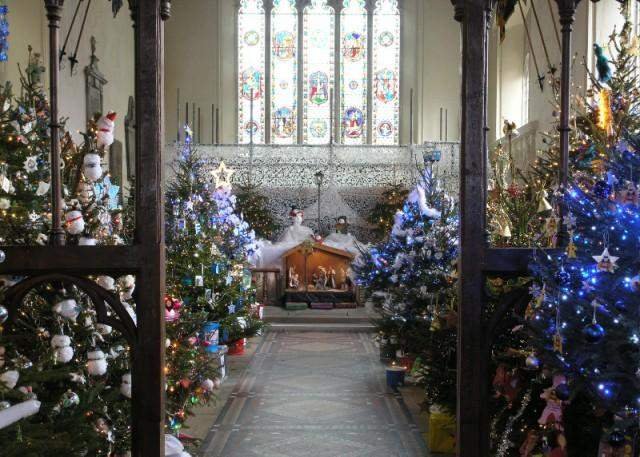 Rarely do I enter a church unless it's to admire the medieval architecture, a soaring testament to man's faith in a more dangerous and uncertain age.
One reason being that church leaders, by and large, ignore the fate of the Holy Land, which of course underpins the whole structure of their faith.  The performance of our bishops, who have a voice in the House of Lords but never use it, is beyond pathetic.
However, every year at this time I make a point of visiting the parish church in the small market town of Fakenham, in Norfolk, to enjoy their dazzling Christmas Tree Festival. The event has been going for 10 years and this year raised money for 78 local and national charities.
Each charity decorates a tree supplied by one of the festival's sponsors, a local garden centre, and under each tree is a collection box. The trees are displayed in the church for a week, then taken down in time to be used to good effect somewhere else in the run-up to Christmas. Last year 25,000 people visited the magical festival. This year the church was crowded and the admiring chatter was accompanied by a continual chink-chink of money falling into the boxes.
The charities taking part ranged from the Gurkha Welfare Trust and the East Anglican Air Ambulance to Chernobyl Children and numerous local nursery schools. Prayers are said every hour for the charities in turn. As usual I looked around hopefully for an appeal on behalf of the children of the brutally occupied Holy Land – and especially Gaza – who are always on my mind as Christmas approaches.
But no luck.
People are at their most generous about now, and there's perhaps an opening here for those who work to alleviate the awful suffering of young and old living amid the wreckage of homes and infrastructure in the Gaza Strip. The rector at Fakenham believes his church more or less pioneered the tree festival but he's aware that other churches are taking up the idea. Are any of the UK's 1500 mosques doing it? Is there an opportunity for inter-faith joint working?
I phoned the Islamic centre in the two nearest cities several times but they don't answer. I left voice and email messages but no-one got back to me. So much for their front-line communication…
Last Christmas I wrote that our then prime minister, Gordon Brown, wished the Jewish community a happy Chanuka from Number10.gov.uk and recalled how he celebrated Israel's 60th birthday with them.

But he had no festive greeting for the shivering and shattered Gazans who had been bombed and blasted by his 'friends' during their Christmas festival. And no word of cheer, either, for the Christian communities in Gaza and the West Bank endlessly persecuted by the Israelis.
One presumes that Brown, a staunch ally of Israel, knew about the hell that his friends were about to inflict on Gaza during the Christmas celebrations of 2008/9, just as Mr Abbas did according to leaked US cables. Christians living in the Strip were certainly aware of the invasion threat and abandoned plans to celebrate the midnight Christmas mass in protest. But they couldn't have imagined the enormity of the devastation and slaughter that was about to be unleashed on them and their children while Western leaders stayed shtum.
And Brown is the son of a Church of Scotland minister.
Many of the 1.5 million people packed into the ravaged Strip, I hear, have had to scavenge through rubbish tips for food to survive.
So what sort of Christmas is in store for their little ones this year while the criminals who inflicted such savagery and torment, and continue to deny them their human rights, have their snouts in the Yuletide trough and enjoy a warm bed?
This year The Jewish Chronicle reports that David Cameron, our new prime minister, has wished the Jewish community around the world "a happy and peaceful Chanukah".
He called the story of Chanukah "an inspiring message of the power of hope to sustain people through the toughest of times".
From his echo-chamber Foreign Secretary William Hague, in a Chanukah video message, added: "It's a great pleasure to send warm good wishes to the Jewish community in Britain and all over the world."
I wonder if either of them will have the good grace to send similar messages of hope to sustain the good people of Gaza "through the toughest of times".
The UN says that imports are only at 36 per cent of pre-siege levels, thanks to Cameron's friends, and exports are still not allowed (except a few strawberries), so the hardship must still be unimaginable.
Last week, here in England, we were treated to the spectacle of the Royal Navy's flagship, the aircraft carrier Ark Royal, returning to her home port for the last time, to be de-commissioned and turned into a museum or tourist attraction – or sold for scrap – after only 25 years' service. The original Ark Royal was Lord Howard's flagship in the naval actions to beat off the Spanish Armada's invasion force in those swashbuckling days of 1588.
Fighting for freedom, you see.
A pity the present Ark Royal couldn't have gone to her grave with a bang rather than a whimper… for example, by making a last voyage to the Eastern Med, perhaps with a multi-national crew, to bust the evil blockade and land supplies on Gaza's beach… a long-overdue Christmas present for the imprisoned Christians and Muslims alike from a heroic Santa.
Fanciful thinking? Of course, given the international community's spineless leaders.
Copyright @ Stuart Littlewood
Related Video:
Australians for Palestine and Women for Palestine offer a video that calls attention to the extreme humanitarian crisis in Gaza at a time when Christians are celebrating their most festive religious holiday – Christmas.
Gaza and the World – So this is Christmas?
Stuart Littlewood worked on jet fighters in the RAF then pursued a career in industrial marketing.
More recently he worked as a freelance and with innovation consultancies. Psychology degree Exeter University, Member of the Chartered Institute of Marketing. Served as a Cambridgeshire county councilor 1993-97 and on the Police Authority. Associate of the Royal Photographic Society. Since retiring has been a newspaper columnist and produced two photo-documentary books. He is a regular contributor to a number of internet news magazines.
Stuart's book Radio Free Palestine, with Foreword by Jeff Halper, tells the plight of the Palestinians under brutal occupation. It can now be read on the internet by visiting RadioFreePalestine.org.uk.
ATTENTION READERS
Due to the nature of independent content, VT cannot guarantee content validity.
We ask you to
Read Our Content Policy
so a clear comprehension of VT's independent non-censored media is understood and given its proper place in the world of news, opinion and media.
All content is owned by author exclusively. Expressed opinions are NOT necessarily the views of VT, other authors, affiliates, advertisers, sponsors, partners or technicians. Some content may be satirical in nature. All images within are full responsibility of author and NOT VT.
About VT
-
Read Full Policy Notice
-
Comment Policy