Veterans lead dramatic act of civil resistance at White House – Over 130 arrested protesting the wars.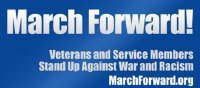 This statement was sent into VT via Facebook on December 21, 2010 from the young Iraq and Afghanistan Veterans' group March Forward and is closer to the reality of war than the sanitized versions of Happy Military Family Reunion promoted by mainstream media.
Posted on behalf of March Forward by Bobby Hanafin, Veterans Issues Editor, VT News Network
March Forward! Joins other Peace Veterans in 16 Dec Protest at the White House

On Dec. 16, President Barack Obama reported on the findings of intelligence analysis on the war in Afghanistan. Through all the rhetoric of "progress" in the country, one fact was made crystal clear: the war will rage on, with heavy combat and increasing casualties, for many years to come.
While inside the White House the politicians attempted to dress-up the grim findings, outside the White House the truth about the war was being told by hundreds of veterans and supporters who occupied the fence directly in front of the White House and refused orders by the police to disperse.
Organized by Veterans for Peace, March Forward!, the ANSWER Coalition (Act Now to Stop War and End Racism) and several other organizations, the action was the largest veterans-led civil disobedience since the wars began 10 years ago. Veterans of Afghanistan, Iraq, Vietnam, Korea, World War II and other conflicts were among those arrested.
Those arrested included Brian Becker, National Coordinator of the ANSWER Coalition; Mike Prysner and Ryan Endicott, both Iraq war veterans and March Forward! organizers; Mike Ferner, president of Veterans for Peace; and Daniel Ellsburg, who leaked the famous Pentagon Papers during the Vietnam War.

Drawing hundreds of veterans and anti-war activists, this dramatic act of civil resistance came at a time when the U.S. government has made the admission that it will not cease its war drive in Afghanistan, its frequent drone strikes in Pakistan or undertake any real withdrawal from Iraq.
The masses of people rejected U.S. foreign policy in the 2008 election, voting for President Obama with the misguided but well-meaning hope that his election would lead to real change. This hope has proven to be false. Left to its own devices, Washington will continue its war drive to carve up the globe in the interests of Wall Street. The only thing that will stop it is a dedicated and militant fight-back from veterans, GIs, youth, activists and working people who operate outside of the political establishment, who fight back in the only way history has shown that progressive change is made–as a united, independent people's movement in the streets, challenging the entire system.
March Forward! co-founder Mike Prysner spoke at the rally at Lafayette Park, joined on stage by nearly a dozen March Forward! veterans of Afghanistan and Iraq, including active-duty troops. He said: "This government isn't going to end these wars, because it's not our government. It's the government of the rich, of Wall Street, of the oil giants and defense contractors. It's their government. And the only language they understand is shutting down business as usual. That's what we're doing today, and what we will continue to do in the days ahead until we end these wars."
While being interviewed by the press at the action, Ryan Endicott, a March Forward! member who served as a Marine Corps infantryman in Ramadi in 2005, said: "The transformation I went through, from being on the front lines of the war to the front lines of the anti-war movement, is something that every GI can go through, because at bottom, these wars are not in our interests, and we have no reason to fight them. Actions like this one today, and the ones we will continue to carry out, will reach those GIs and veterans who have questioned the war and inspire them to join us in this fight to stop the crimes committed against our brothers and sisters in uniform, and our brothers and sisters in Iraq and Afghanistan."
In total, 135 veterans, community leaders, and anti-war activists were arrested for refusing to budge from the White House fence. Supporters braved the snow and freezing temperatures, and kept lively chants going for hours until the last veteran was dragged away by the police.
It took the police over four hours to clear the area of the civil disobedience action. In the spirit of a long, rich history of using civil resistance to advance the struggle for progress, this act of defiance marked a significant step in the re-invigoration of the anti-war movement, in this era of perpetual war that will rage on until halted in its tracks by the people themselves.
March Forward! will continue to organize civil resistance and mass actions to bring an end to these criminal wars. Join us!
Who is March Forward?
March Forward! is an affiliate of the ANSWER Coalition (Act Now to Stop War and End Racism). Along with others in the Coalition, March Forward!  organizes against the Iraq and Afghanistan war while fighting for social and economic justice at home—including the struggle against racism and all forms of discrimination and bigotry. March Forward! operates based on the belief that real change comes through struggle and mass action.
In 2008, veterans and active-duty service members who had been seasoned activists and leaders in the movement against the Iraq war joined together to form March Forward! Our aim is to unite all those who have served and who currently serve in the U.S. military, and who want to stand up for our rights and for that which is right!
March Forward! was formed because of the pressing issues facing veterans and service members: the forced participation in these horrible imperialist wars, as well as economic hardship, sexism, racism, homophobia, inadequate care, and a lack of access to resources before, during and after military service. These issues can only be resolved through grassroots organizing and unified action by veterans and service members in alliance with others across the country: unions, civil rights and anti-war organizations, and student and youth activists. These issues affect working-class veterans and service members, and all people in the United States who do not profit from the Pentagon's wars.
March Forward! members are also active supporters and/or members of other progressive veterans' organizations, including Veterans for Peace and Iraq Veterans Against the War. We are actively building a multinational, multigenerational group of veterans and service members who will stand up and fight back against the injustice perpetrated by the Pentagon against our sisters and brothers throughout the developing world, against working and poor people in the United States, and against those still serving in the U.S. military.
Readers are more than welcome to use the articles I've posted on Veterans Today, I've had to take a break from VT as Veterans Issues and Peace Activism Editor and staff writer due to personal medical reasons in our military family that take away too much time needed to properly express future stories or respond to readers in a timely manner.
My association with VT since its founding in 2004 has been a very rewarding experience for me.
Retired from both the Air Force and Civil Service. Went in the regular Army at 17 during Vietnam (1968), stayed in the Army Reserve to complete my eight year commitment in 1976. Served in Air Defense Artillery, and a Mechanized Infantry Division (4MID) at Fort Carson, Co. Used the GI Bill to go to college, worked full time at the VA, and non-scholarship Air Force 2-Year ROTC program for prior service military. Commissioned in the Air Force in 1977. Served as a Military Intelligence Officer from 1977 to 1994. Upon retirement I entered retail drugstore management training with Safeway Drugs Stores in California. Retail Sales Management was not my cup of tea, so I applied my former U.S. Civil Service status with the VA to get my foot in the door at the Justice Department, and later Department of the Navy retiring with disability from the Civil Service in 2000.
I've been with Veterans Today since the site originated. I'm now on the Editorial Board. I was also on the Editorial Board of Our Troops News Ladder another progressive leaning Veterans and Military Family news clearing house.
I remain married for over 45 years. I am both a Vietnam Era and Gulf War Veteran. I served on Okinawa and Fort Carson, Colorado during Vietnam and in the Office of the Air Force Inspector General at Norton AFB, CA during Desert Storm. I retired from the Air Force in 1994 having worked on the Air Staff and Defense Intelligence Agency at the Pentagon.
ATTENTION READERS
Due to the nature of independent content, VT cannot guarantee content validity.
We ask you to
Read Our Content Policy
so a clear comprehension of VT's independent non-censored media is understood and given its proper place in the world of news, opinion and media.
All content is owned by author exclusively. Expressed opinions are NOT necessarily the views of VT, other authors, affiliates, advertisers, sponsors, partners or technicians. Some content may be satirical in nature. All images within are full responsibility of author and NOT VT.
About VT
-
Read Full Policy Notice
-
Comment Policy