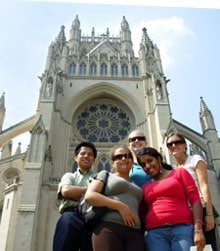 Washington, DC – Interfaith AlliancePresident Rev. Dr. C. Welton Gaddy sent a letter today to U.S. Air Force Academy Superintendent, Lt. Gen. Michael C. Gould, raising concerns about the upcoming Prayer Breakfast at the Academy and the choice of speakers. Rev. Gaddy has been an outspoken advocate for religious freedom in the military and participated in a conference on religious respect at the Academy this past November at Gen. Gould's invitation. 
Interfaith Alliance is working to build a constructive relationship with the military based on open and direct communication to ensure that religious freedom is respected. However, when Interfaith Alliance feels the military has fallen short, as in this case, it will speak out. Of particular concern is the Air Force Academy's selection of Lt. Clebe McClary to keynote a prayer breakfast that it is hosting.
McClary has a history of troubling rhetoric that inappropriately combines religious doctrine with military service. His invitation to speak is a step backward from the progress that was made at the religious respect conference. Of equal concern are questions about whether members of the military will feel compelled to attend.
Concerns about the prayer breakfast were first brought to the attention of Interfaith Alliance by Mikey Weinstein and the Military Religious Freedom Foundation, a long-time leader on these issues.
In his letter to Gen. Gould, Rev. Gaddy said "For me, the issues at the center of this controversy are not so much what is legal, but what is wise. Given the history of USAFA regarding religious respect, an issue which you discussed honestly and eloquently, making appropriate choices is as important as obeying laws… even without the context of the Academy's history as a factor, what I have heard of Lt. McClary is cause enough for concern over his invitation to speak at this event"
Prayer breakfasts involving government officials create dangerous entanglements between the institutions of religion and government and send a discouraging message to those whose beliefs fall outside the message of these events. This concern is amplified in the context of a prayer breakfast sponsored by the military in that soldiers and cadets may – rightly or wrongly – feel there is an implicit message that they should attend.
Interfaith Alliance remains committed to working with the Air Force Academy and the broader armed forces to put policies and procedures in place that protect the appropriate boundaries between religion and the Military.
A copy of the letter is available is republished below.
Interfaith Alliance celebrates religious freedom by championing individual rights, promoting policies that protect both religion and democracy, and uniting diverse voices to challenge extremism. Founded in 1994, Interfaith Alliance has 185,000 members across the country from 75 faith traditions as well as those without a faith tradition. For more information, visit the Interfaith Alliance.
January 28, 2011

Lt. Gen. Michael C. Gould
Superintendent, U.S. Air Force Academy
2346 Academy Drive
Colorado Springs, CO 80840

Dear. General Gould,

I am writing to address the controversy over the invitation extended to Lt. Clebe McClary to speak at the U.S. Air Force Academy Prayer Breakfast. The fact that I have not made a formal and public response on this matter until now should not be taken as a lack of interest and engagement. Instead, over the past few weeks I have been diligently making inquiries in an attempt to get the facts as straight as possible. At this point, I feel compelled to share some of my thoughts and concerns with you.

During the good days I shared with you in November, I made a promise to you and your colleagues that Interfaith Alliance would not speak publicly on an issue involving USAFA before coming to you directly for the facts. Staying true to that promise, as soon as I heard about the controversy related to the prayer breakfast, the Interfaith Alliance's Deputy Director for Public Policy, Arielle Gingold, spoke with Chaplain Dan Brantingham. The two of them, in turn, facilitated my direct communication with Chaplain Robert Bruno. Unfortunately, I have found a troubling disconnect, and in some instances outright contradictions, between what we heard from Chaplains Bruno and Brantingham and what we have heard from other concerned individuals — longtime supporters and critics of the Air Force Academy alike, with sources of their own. As I said several times during our time together, the key issue at stake here is not only religious freedom, but truth.

Mike, I took very seriously the commitments made by you and your team in our meeting in November and, as I stated at the time, I was genuinely impressed and heartened by what I saw of both the current climate and the training modules being set in motion. I must admit, though, that the current situation has caused me to wonder at the veracity of those promises.

In our recent telephone conversation, Chaplain Bruno stressed the point that the purpose of the prayer breakfast is to celebrate the role religion has played in the life of our nation. During the conference on religious respect, the leadership of the Air Force Academy expressed interest in demonstrating appreciation for religious diversity both in the Academy as well as across the nation. All of that background is what makes the invitation to Lt. McClary so puzzling and, frankly, troubling.

Furthermore, both Chaplains Bruno and Brantingham stressed that attendance is neither mandatory, nor necessarily encouraged—a sentiment challenged by others whose counsel I trust. In situations such as these, a subtle and implicit coercion to attend such an event and the stigma that accompanies not attending such events, are often abundantly clear to the would-be naysayer, thereby creating a de facto sense of forced attendance.

Inviting Lt. McClary appears to be a step backward in creating a climate of religious respect. He is a lightning rod, if not an exemplary embodiment, of the thought and image from which all of the USAFA personnel I encountered indicated you wanted to disassociate the Academy. From the way in which Lt. McClary promotes himself and from what we have learned of Lt. McClary, an invitation for him to speak at this event feels like a betrayal of what we heard from you and your team this past November.

As I shared with you at your house and with Chaplain Dan Brantingham as we sat together in two days of meetings, the religious liberty goal driving the work of Mikey Weinstein and the Military Religious Freedom Foundation (who initially brought this situation to my attention) is a goal I share–to see that our service members' religious freedoms are protected. Chaplain Bruno assured me that Lt. McClary knows what is and what is not appropriate to say at events like these. I sincerely hope that is the case and that he will not use this speech as an opportunity to illegally proselytize or to speak of Christian exclusivism or superiority on a military base. It is an understatement to indicate that Lt. McClary would not have been my choice for this event. Here was an opportunity to demonstrate the change of attitude and affirmation of religious diversity that you seemed to share with me so enthusiastically. With great unease, I watch to see if these reports hold true.

For me, the issues at the center of this controversy are not so much what is legal, but what is wise. Given the history of USAFA regarding religious respect, an issue which you discussed honestly and eloquently, making appropriate choices is as important as obeying laws. In November, we talked at great length about your frustration with the need for theAcademy to be able to move out from under the dark cloud of its past, and the importance of it doing so. The ill-advised decision to invite Lt. McClary to speak does not square with that reasoned intention and once again darkens the cloud over USAFA. I must stress, however, that even without the context of the Academy's history as a factor, what I have heard of Lt. McClary is cause enough for concern over his invitation to speak at this event.

Generally speaking, government-sponsored prayer breakfasts (much like the National Day of Prayer itself) are rife for entanglement between the institutions of religion and government and of great concern to Interfaith Alliance—concern which we have expressed regularly to the White House and been heard positively. While I fervently believe that calls to prayer are best left to religious leaders and should not be facilitated in any way by government entities, if events such as these take place, it is paramount that they be inclusive of all religions and of no specific religion. Even exceptional efforts should be made, if necessary, to assure both the substance and appearance of inclusion. In that regard I was pleased to hear from Chaplain Bruno that Chaplain Joshua Narrowe would speak as a representative of the Jewish faith and that representatives of the Muslim and Buddhist faiths would participate as well. I wish so much that the chosen representative of the Christian faith – my own faith – had been one with experience in inter-religious relations, an advocate for interfaith dialogue or an individual coming from more mainstream Christianity — someone who unites, instead of divides.

At this point I remain committed to the long-term goal of continually improving the climate of religious respect at USAFA, and doing so via direct dialogue and communication. But, honestly, I expect more from USAFA in lessening, rather than worsening, the degree of difficulty in that work.

As always, I will be glad to discuss this issue further with you.

Sincerely,
Welton Gaddy
ATTENTION READERS
Due to the nature of independent content, VT cannot guarantee content validity.
We ask you to
Read Our Content Policy
so a clear comprehension of VT's independent non-censored media is understood and given its proper place in the world of news, opinion and media.
All content is owned by author exclusively. Expressed opinions are NOT necessarily the views of VT, other authors, affiliates, advertisers, sponsors, partners or technicians. Some content may be satirical in nature. All images within are full responsibility of author and NOT VT.
About VT
-
Read Full Policy Notice
-
Comment Policy