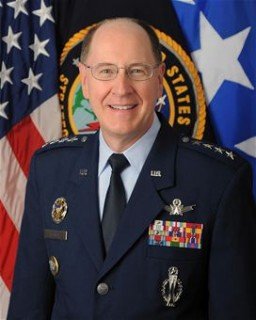 OFFUTT AIR FORCE BASE, Neb., Jan. 28, 2011 – Air Force Gen. Kevin P. Chilton passed the flag of U.S. Strategic Command to Air Force Gen. C. Robert Kehler today, giving the nation's nuclear deterrent mission a new commander.
Via the DoD

By Jim Garamone
Chilton, a pilot who served 10 years with NASA and flew three space shuttle missions, retired after 34 years of service. Kehler assumed command after serving as the commander of Air Force Space Command at Peterson Air Force Base, Colo.
Defense Secretary Robert M. Gates presided over the ceremony. Outside the hangar where the ceremony took place were aircraft important in the command. From B-52 and B-2 bombers, to F-15 Eagles, to U-2 reconnaissance planes, the aircraft served as a backdrop to honor Chilton's career from the Air Force Academy class of 1976 to orbit to today.
Navy Adm. Mike Mullen, the chairman of the Joint Chiefs of Staff, noted Chilton's "detour" to being a shuttle astronaut.
"Across the services, officers who take a detour around the 'standard career path' like General Chilton did rarely return to their home service, and when they do, they don't always get the chance to succeed," the chairman said. "It is difficult to compare their value relative to their peers, so rather than embracing their diversity of experience as a benefit, we thank them for their service and send them on to the next chapter in their lives.
"But the Air Force thankfully brought 'Chilli' … back into the fold," he continued, "and the Air Force, Stratcom and our nation are better for it."
Gates thanked Chilton and his family for their years of service and talked of his high expectations for Kehler. He also expressed his thanks to the men and women of U.S. Strategic Command.
"Our nation looks to the men and women of Stratcom to continue to provide the traditional strategic nuclear deterrent, while also taking on new strategic missions that reflect the technologies and threats of the 21st century, most notably in space and cyber," Gates said.
Chilton took over the command when it was facing challenges in control and accountability for America's strategic nuclear mission.
"Chilli has led the way in reforming the management of the nuclear enterprise –- overseeing the creation of the Air Force Global Strike Command, providing more training for our nuclear airmen and restoring the nuclear mission to its proper place of honor," the secretary said. "Chilli was also a tireless, principled and effective advocate for the New START treaty with Russia –- a service for which [President Barack Obama] and I are grateful."
The threats continue to grow, Gates said, and are coming from new quarters. He spoke of his recent visit to Northeast Asia and the dangers posed by the North Korean push to gain nuclear arms and the means to deliver them.
"Not only is North Korea determined to carry out nuclear tests and develop ICBMs that could potentially threaten the U.S., they have also proliferated these dangerous technologies in the past," he said. "And even as the United States pursues a more constructive relationship with China, we and our allies cannot ignore the Chinese military's recent advances in missile, space and cyber warfare."
The secretary expressed confidence that the command will not lose a step as Kehler takes the reins.
"A former leader of our ICBM force, General Kehler has spent the past three years leading Space Command and oversaw the standing up of the 24th Air Force, our nation's first true cyber command," he said.
Mullen echoed Gates' sentiments.
"We are at the dawn of a new age where the space and cyber domains present a strategic landscape that promises great opportunities, but sobering responsibilities," he said. "Where the click of a mouse can be as devastating as any kinetic attack ever could and an orbital trajectory can become more contested than any sea-lane ever was. So as we march into this new age, I have the highest confidence Bob is the right person to lead us."
The new commander called the security challenges facing the United States complex, unremitting and compelling, and said addressing those challenges requires the complete focus of all members of the command.
"From high-end strategic deterrence to confronting the diverse demands of hybrid and irregular warfare, our ability to respond when called depends on the skill and dedication of the great men and women serving in Stratcom," he said.
"Answering the call means that we must provide a safe, secure, effective and ready nuclear deterrent force," he continued. "Answering the call means we must work with the other combatant commanders to provide capabilities to support their on-going operations. Answering the call means we must ensure uninterrupted capabilities from space and improved awareness of objects and activities in space. And answering the call means we must enhance the nation's cybersecurity and ensure cyber support for operations."
Air Force Chief of Staff Gen. Norton A. Schwartz presided over Chilton's retirement from the service. He called the general an inspiration and effective leader, who through natural talent, perseverance and a little luck excelled in all aspects of his service.
Chilton thanked the men and women of Strategic Command and the surrounding community. He thanked his mentors through the years and friends from his hometown of Los Angeles, from his Air Force Academy class, the Air Force, NASA and beyond for gathering for his retirement. He thanked Gates and Mullen for their trust and confidence and support. He especially thanked his family for their sacrifices.
The secretary –- who spends an enormous amount of time flying internationally aboard Strategic Command's National Airborne Operations Center –- took the opportunity to thank those crews.
"They've had the unenviable task of flying 600,000 miles with me to over 100 countries over the past four years –- that's a lot of bacon cheeseburgers," Gates said. "I keep telling everyone the next secretary will be a vegetarian.
"Every time I fly," he continued, "I'm amazed at the impressive efficiency and dedication of the E4-B crew –- not to mention their ability to keep that aircraft in one piece and aloft even in its golden years."
Immediately following the ceremony, the secretary departed for Washington.
  
Biographies:
Air Force Gen. C. Robert Kehler
Related Sites:
U.S. Strategic Command
ATTENTION READERS
Due to the nature of independent content, VT cannot guarantee content validity.
We ask you to
Read Our Content Policy
so a clear comprehension of VT's independent non-censored media is understood and given its proper place in the world of news, opinion and media.
All content is owned by author exclusively. Expressed opinions are NOT necessarily the views of VT, other authors, affiliates, advertisers, sponsors, partners or technicians. Some content may be satirical in nature. All images within are full responsibility of author and NOT VT.
About VT
-
Read Full Policy Notice
-
Comment Policy