Email from CNN, Message from Vanunu, TWEETS to Bibi
by Eileen fleming
On 17 March 2011, this gmail came to me from the NGA Coordinator CNN BEST whose address ended @turner.com
I hope this is the correct email for Eileen Fleming in New Orleans, LA that has done some work for CNN.  If you are the correct person, I need to know who within CNN the work was done for so the invoice can be routed correctly.  If you could possibly contact me I would greatly appreciate it.
I replied: Thank you for thinking I am THAT Eileen Fleming, and how I would love to do some work for CNN, but I am not the Eileen Fleming you are hunting.
I am the Eileen Fleming who was INSPIRED by the Piers Morgan and Netanyahu's interview of 17 March 2011, so much so that I began to TWITTER to Benjamin Netanyahu.
REGARDING: A few Questions CNN's Piers Morgan Failed to Ask
I will TWITTER him again with this report in which I have taken the liberty to edit out Piers and replace him with this humble correspondent:
Piers Morgan and Israeli Prime Minister Benjamin Netanyahu – Full Transcript
Minus Morgan, we still begin with Japan-Israel's nuclear reactors:
BENJAMIN NETANYAHU, PRIME MINISTER OF ISRAEL: You know there is a difference between natural disasters and what we see today…This is a confluence of a natural disaster and a man-made disaster and the cloud of radioactivity. The uncertainty of what will happen is the cloud that hangs over the people of Japan, and I think right now, hangs over the world. It certainly caused me to reconsider the projects of building civil nuclear power plants. I have to tell you I was a lot more enthusiastic about it than I am now. In fact, you'd have to give me a very good argument to do it. And fortunately we found natural gas…We have some research plants, but not anything on a significant scale. And I don't think we're going to pursue civil nuclear energy in the coming years."
FLEMING: A few confluence's I bring to your attention:
On 20 March 2011, Vanunu edited his Youtube channel background graphics from black screen to Spring.
He also wrote Channel Comment 89 in his blog:
If all the world now questioning the use of Nuclear Energy,then we can say very_ clear that all the world have NO doubts about Nuclear weapons,All the world are against Atomic weapons,Except israel who still believe they can use Atomic weapons,Freedom Now for Vanunu,and End Nuclear Weapons in Israel.Freedom Now!!!!!
Hiroshima 1945 brought the end of Nuclear weapons ,65 years no one use Atomic weapons,Fukushima 2011 can Bring the end of Nuclear energy, in 50 years all the world will not use Nuclear Energy.!!!!!Freedom Now!
Another confluence is via Uzi Even, an Israeli scientist and a former top official at the Nuclear Research Center in Dimona, who on 17 March 2011, warned how the Dimona's 50-year-old reactor's cooling system could breakdown like Japan's Read more… ]
On 10 May 2010, Uzi Even also said, "The policy of nuclear ambiguity, by which we fool only ourselves and nobody else, is not good for us any more. It was good, effective and successful for close to 40 years, but over 40 years many things changed and now I am telling you clearly, this policy is no longer in our interest."
Prime Minister I wonder have you read Dr. Avner Cohen's latest release "The Worst-Kept Secret: Israel's Bargain with the Bomb"?
I also want to thank you very much Prime Minister Netanyahu for this response I received for a copy of BEYOND NUCLEAR: Mordechai Vanunu's FREEDOM of SPEECH Trial and My Life as a Muckraker: 2005-2010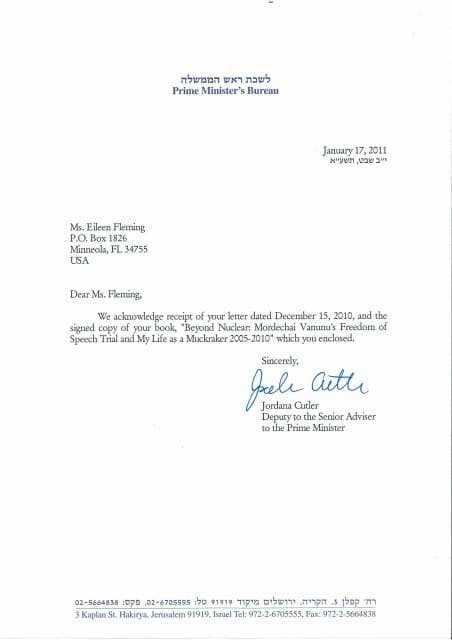 My question now is regarding Cohen's interview with Haaretz regarding a late-1969 meeting between Golda Meir and Nixon, "the United States and most of the Western world agreed to accept Israel's special nuclear status. In other words, Israel did not join the Non-Proliferation Treaty, but it received special status, and pressure was not exerted on it with regard to this topic. Ambiguity is the Israeli-American policy. Without the West's agreement, there would be no ambiguity…I mainly believe that on the most basic and deepest level, ambiguity is simply not enlightened behavior, not in terms of the state's citizens, and not in foreign relations." [1 ]
NETANYAHU: I think, you know, we always blame Moses, that he was our greatest leader and one of the most gifted people in the world. He brought us the moral code and so on, belief in one God…"
FLEMING: Can you tell me what is moral about the threat of living in a time when a nuclear holocaust be it by accident or design could end the world as we now know it?
What could be moral in continuing to deny Vanunu the right to leave the state?
I bring to the light comments made on December 21, 2009, by Uzi Eilam, a former head of Israel's Atomic Energy Commission to PRESS TV that Vanunu, "served the regime because his revelations helped Tel Aviv intimidate others…I've always believed he should be let go. I don't think he has significant knowledge to reveal (about Dimona) now."
NETANYAHU: Well, you have to give it some thought. I mean, how could you not take pause and think about this?… but when you have this kind of shock…So this is a real issue. Unless we find solutions to this challenge, then I think that leaders should reconsider…
FLEMING: I think leaders MUST consider the need to abolish all nuclear energy and in particular nuclear weapons; for because of the later we have the former!
Regarding the revolutions in the Middle East
NETANYAHU: First, it didn't begin in Tunisia. It began in Tehran a year and a half ago. Millions went to the streets and called for freedom, for democracy, from this repressive regime and they were put down brutally. And then it, you know, it came back in Tunis. And then from Tunis it went to Cairo, and then from Cairo it is going everywhere…
FLEMING: Indeed and do you realize that it will not end until Gaza Palestine is free?
Are you aware that there are 800,000 youth in Gaza younger than 16 years of age and over 60% of the entire population of the Middle East is under 30. The tech savvy Middle East activists harnessed the power of social media- which is The Media of The Arab Revolution to get the word out and although they utilized Facebook and Twitter, they organized and used nonviolent tactics to topple repressive regimes that were once thought to be invincible.
NETANYAHU: …Yes. Because the spread of information technology creates an inevitable conflict; that is, in many ways, the 20th century passed by a lot of the Arab world and the Muslim world. And incomes the information technology of the 21st century and it is telling all these people what they missed out on. And this creates the turbulence…I think each country is different but they are all-they all suffer the same gap between people's expectations and the performance of their societies up to now.
FLEMING: Indeed no government will successfully impede the power of nonviolent righteously angry people who have risen up in solidarity to seize their inalienable human rights.
As Israel's very statehood was contingent upon upholding the UNIVERSAL DECLARATION OF HUMAN RIGHTS Read more… isn't it time Israel honors it?
NETANYAHU: Well, you know we all have our hopes and we all have our fears…and we still hope, that you will have a democratic transformation. That the, you know, the Google kids, the
Facebook kids, you will create a Google heaven and a Facebook paradise, and all these people will come to power. That is obviously what people in the West, and people in free societies would like to see.
FLEMING: As Charlie Rose said in 2005, we have yet to imagine the power and potential of the Internet I add nothing is more powerful than an idea whose time as come and ideas are bulletproof.
Regarding the PM's nightmare scenario:
NETANYAHU: That you get another Iran.
FLEMING: That leads me back to Cohen's interview with Haaretz:
"The bitter irony is that right now, ambiguity serves the interests of Israel's rival in the Middle East. Iran is creating its own version of ambiguity: not the concealment of its project, but rather ambiguity with regard to the distinction separating possession and non-possession of nuclear weapons. It reiterates that it has no intention of building a bomb, but that it has the right to enrich uranium, and even come close to developing [nuclear] weapons – while still remaining true to the nuclear Non-Proliferation Treaty. It is straddling the line, and in my opinion, Iran wants to, and can, remain for some time with the status of a state that might or might not have the bomb. Iran is a state of ambiguity."
And that reminds me of 2006, when Virginia Tilley, Professor of political science wrote:
"In his October 2005 speech, Mr. Ahmadinejad never used the word 'map' or the term 'wiped off.' According to Farsi-language experts like Juan Cole and even right-wing services like MEMRI, what he actually said was 'this regime that is occupying Jerusalem must vanish from the page of time.'
"In this speech to an annual anti-Zionist conference, Mr. Ahmadinejad was being prophetic, not threatening. He was citing Imam Khomeini, who said this line in the 1980s-a period when Israel was actually selling arms to Iran, so apparently it was not viewed as so ghastly then.
"Mr. Ahmadinejad had just reminded his audience that the Shah's regime, the Soviet Union, and Saddam Hussein had all seemed enormously powerful and immovable, yet the first two had vanished almost beyond recall and the third now languished in prison.
"So, too, the 'occupying regime' in Jerusalem would someday be gone. His message was, in essence: 'This too shall pass.'" [2] .
NETANYAHU: Well, look, Mubarak kept the peace. Egypt kept the peace for over 30 years and it should be remember and appreciated. The people in Gaza, and those who are affiliated with Hamas, want to see the collapse of the peace and the eradication of Israel. They are supported by Iran, that has given them tens of thousands of mortar shells, rockets. They fired already 6,000 rockets and missiles on Israel. So clearly that is not a force for peace or for progress.
There are other people in Gaza, but they are in fact subjugated by Hamas. They are not given any choice, any more than the people in Iran were given a choice. They are not given a real choice for freedom. They are knocked down. You know, if you can give me a deal.
If God came down from heaven and said, here, I'll give you a choice. OK, this revolution from the Khyber Pass to the Straits of Gibraltar, that is shaking everything in place, except us, because we are an open, democratic, prosperous society. But everybody else is suffering this groundswell, this earthquake, this sandstorm, volcanic eruptions, OK?
FLEMING: Please respond to these eruptions beginning with Father Manuel, the parish priest at the Latin Church and school in Gaza who wrote in November 2006:
"Gaza cannot sleep! The people are suffering unbelievably. They are hungry, thirsty, have no electricity or clean water. They are suffering constant bombardments and sonic booms from low flying aircraft. They need food: bread and water. Children and babies are hungry…people have no money to buy food. The price of food has doubled and tripled due to the situation. We cannot drink water from the ground here as it is salty and not hygienic. People must buy water to drink. They have no income, no opportunities to get food and water from outside and no opportunities to secure money inside of Gaza. They have no hope.
"Without electricity children are afraid. No light at night. No oil or candles…Thirsty children are crying, afraid and desperate…Many children have been violently thrown from their beds at night from the sonic booms. Many arms and legs have been broken. These planes fly low over Gaza and then reach the speed of sound. This shakes the ground and creates shock waves like an earthquake that causes people to be thrown from their bed. I, myself weigh 120 kilos and was almost thrown from my bed due to the shock wave produced by a low flying jet that made a sonic boom.
"Gaza cannot sleep…the cries of hungry children, the sullen faces of broken men and women who are just sitting in their hungry emptiness with no light, no hope, no love. These actions are War Crimes!
The Audacity of Hope: U.S. Boat to Gaza: New York City Fundraiser
Putting Words in Ahmadinejad's Mouth
Eileen Fleming founded WeAreWideAwake.org. She produced videos "30 Minutes with Vanunu" and "13 Minutes with Vanunu".  She has authored many books including; A USS Liberty Remembrance of 50 years USA Government Cover-Up of Israel's 8 June 1967 Attack on USA Spy-Ship, Wabi Sabi Body ETERNAL SPIRIT, and Heroes, Muses and the Saga of Mordechai Vanunu. Click here to see her latest books. Visit Eileen's YouTube Channel
ATTENTION READERS
We See The World From All Sides and Want YOU To Be Fully Informed
In fact, intentional disinformation is a disgraceful scourge in media today. So to assuage any possible errant incorrect information posted herein, we strongly encourage you to seek corroboration from other non-VT sources before forming an educated opinion.
About VT
-
Policies & Disclosures
-
Comment Policy
Due to the nature of uncensored content posted by VT's fully independent international writers, VT cannot guarantee absolute validity. All content is owned by the author exclusively. Expressed opinions are NOT necessarily the views of VT, other authors, affiliates, advertisers, sponsors, partners, or technicians. Some content may be satirical in nature. All images are the full responsibility of the article author and NOT VT.