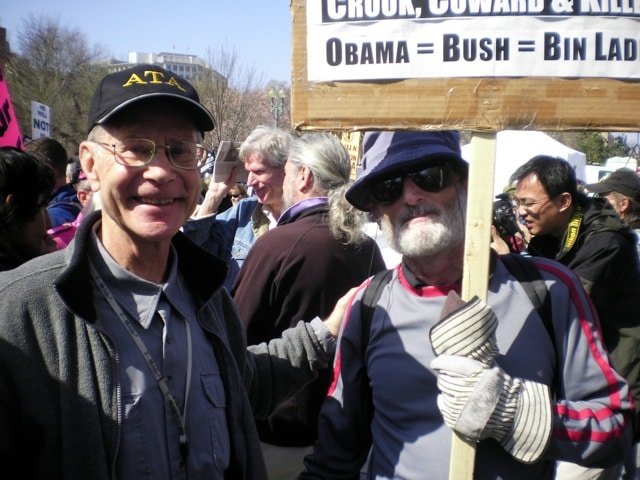 Antiwar Protests Dog Obama's White House
A Russian-American Samizdat columnist
As the United States escalates its serial wars around the world, the antiwar movement has sprung alive. On Saturday noon, March 19, 2011, antiwar protests, marking the 8th anniversary of the US attack on Iraq, took place in more than 800 cities and towns across the country. This report is focused on Washington where thousands people rallied in Lafayette Park, then marched for several blocks before laying "siege" to the White House. The most forthright among them, 113 persons, were arrested for refusal to obey orders to leave the White House fence. While denouncing the occupation of Iraq, the marchers also demanded cessation of US warfare in Afghanistan, Pakistan, Yemen, and Libya. Organized by a coalition of antiwar groups headed by Veterans for Peace (VFP), of which this reporter is a member, the rally was a worthy follow-up to a similar "siege" of the White House on December 16, 2010. (See my previous report in Veterans Today).
Non-Violent Disobedience
By and large, it was a replay of the winter "siege." However, this time, partially due to good weather, more people came out. It attracted more onlookers, lasted longer and inspired more hope. The tone was just as solemn and civil. Both the organizers and several speakers stressed their patriotism and devotion to the ideals of the US constitution. They insisted on adhering to the principles of non-violent civil disobedience. Yet, in view of the upheaval in Tunisia, Egypt, Yemen, Bahrain, and Libya, as well as the awakening of the US labor movement (Wisconsin style), a radicalization of attitudes was evident. Several speakers challenged not just current US policy, but the "imperialist nature of the US system." The theme of "Obama-nization" of George Bush's wars came stronger to the fore. It's not enough to blame George Bush and the neocons for deceptively taking the country on the war path.
Ralph Nader
One significant addition to the rostrum of speakers was Ralph Nader, a veteran crusader for workers' and consumers' rights, as well as for peaceful resolution of international conflicts. His remarks about the right of the Palestinian people to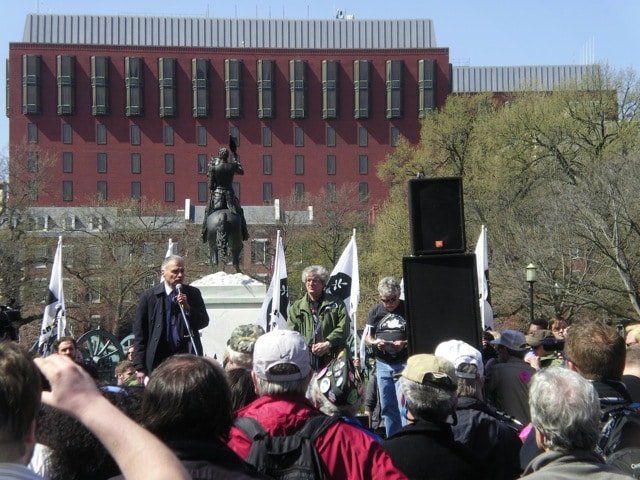 live peacefully in the land of their ancestors drew perhaps the greatest applause. He also offered practical suggestions, noting that to stop the war-mongering policies of the US government, we have to curtail the steady trend toward an "imperial presidency." The best way to do this, he suggested, is by forcing Congress to cut the military budget. Nader asked the crowd to start collecting money for the next rally, adding that only by escalating pressure on the government from one rally to another can the peace movement be effective.
Brian Becker
Brian Becker was prescient in suggesting that the No-Fly Zone approved by the UN Security Council a day earlier will escalate to US bombing of Libya. Becker is the leader of the ANSWER Coalition (Act Now to Stop War and End Racism). "The U.S. government would never tell the people that 'we' are going to invade or bomb another country in order to control and exploit its natural resources," said Becker. It would provide a "humanitarian" cover as it did for the 1999 bombing of Yugoslavia.
Daniel Ellsberg
Daniel Ellsberg, the military analyst who in 1971 released the Pentagon Papers, detailing US strategy in Vietnam, focused on the inhumane treatment of Pfc. Bradley Manning, alleged to be a source for Julian Assange's Wikileaks. Ellsberg compared Manning to Nathan Hale, the American executed by the British in 1776 for spying for George Washington's troops. Manning's revelations of the shenanigans of the US government in the conduct of criminal wars were no different than Hale's disloyalty to King George III, said Ellsberg. Manning's act makes him successor to other patriots who chose moral fortitude over political expediency.
Medea Benjamen
Medea Benjamin, Code Pink Women for Peace co-founder, knew how to get the crowd involved. She asked rhetorically: Who is happy about healthcare? Nobody, replied the crowd. Are there any states without a budget deficit? None. Do you find it easy to avoid a house mortgage default? No. The solution to all such problems is "End these wars," shouted Medea.
Mike Ferner
Mike Ferner, former VFP president and one of the organizers of the rally said, 'Since 2003, U.S. taxpayers have spent over 780 billion dollars to kill more than a million Iraqis [and] 4,439 U.S. troops and many thousands more [wounded]. At every level our economy is bankrupt, while state budget crises prove that maintaining an Empire kills people abroad and turns our people and cities into 'collateral damage.' Our infrastructure isn't bombed, it simply rots from neglect.'
Crhis Hedges
Mike Ferner introduced the next speaker, Chris Hedges, as a "combat journalist," explaining that non-violent "combat" demands no less courage than physical combat. Hedges was on the New York Times team that in 2002 won a Pulitzer Prize for its coverage of global terrorism. Then Hedges turned passionate critic of the Iraq war. Last year he published a book, Death of the Liberal Class. Our crisis is existential, said Hedges. Hypocrisy has engulfed our religious and social institutions. We are no longer a virtuous state. We have a great capacity for evil. Our Christian churches worship a wrong God because they ignore Jesus' injunction against violence. 'This peace rally, this place right here,' declared Hedges, is 'more sacred' than all the rituals of all our churches, temples and synagogues combined. This was the strongest indictment of the spiritual state of the country in years. It showed a turn-around from the time, when Ronald Reagan denounced the USSR as the Evil Empire.
Ryan Endicott
"We know firsthand that our enemy is not the people of Iraq or Afghanistan, who for years have been struggling to survive a brutal occupation… The biggest threat to the people of the United States is not thousands of miles away, but hundreds of yards away, right here in the White House, in the Pentagon, on Wall Street", so proclaimed Ryan Endicott, an Iraq war veteran who is now a member of March Forward! and the ANSWER coalition. Change no longer comes from the ballot, he went on, but from the street. "We are here to make history," he concluded to a cheering crowd.
Slim Taps
Just as on December 16 when the first snow was falling on the White House and the hundreds of antiwar "Winter Soldiers" besieged it, Bill Homans, a blues musician professionally known as Watermelon Slim, played taps. Hats off, the crowd observed a silent vigil. But before leaving the stage, Slim shouted: "we need our own revolution here."
A Solemn Vigil
Well, revolution it was not. It was a solemn vigil, a quiet march for peace, stretching for several blocks in the vicinity of the White House. In my estimate, several thousand marched. In addition to a demand for cessation of all US wars, the marchers demanded the release of Bradley Manning, more jobs, assistance to the poor and better education.
Smaller Rallies Improvised
In about an hour, the marchers returned to Lafayette Square. Then hundreds of them marched straight to the White House to lay "siege" to its northern fence. Not being able to join them, by 2:30, I started heading home across the square. There was a group of Libyans clamoring for US support against Gaddafi. Another congregation turned out to be Syrians. They too asked for solidarity against their dictator. A dozen Korean drummers marched across the square. I asked if they were for South or North Korea. "Neither," said one of them. "We are for peace."
Concepcion Picciotto
There was yet another memorable event in store. As I was talking with a Special Forces veteran whose peace sign bore the portrait of Congressman Ron Paul, someone nudged us gently away. It was a tiny woman with weather-beaten face and piercing dark eyes. She was an old acquaintance. It was she, Concepcion Picciotto, who has been keeping a peace vigil here, day and night, for nearly 30 long years, since August 1, 1981. For what I know, she may even qualify to be entered in The Guinness Book of World Records.
The reason she nudged us was because we inadvertently stepped on her "real estate," several square feet of park grass around her improvised booth, richly supplied with leaflets, home-made antiwar signs and such. This was both her work place and her lodging: Park Police do not allow leaving the booth unattended at night. I first met Concepcion there in the mid 1990s when I was working as a contract interpreter for State Department. Each tour I guided for our Russian-speaking visitors from former Soviet Union included the White House. Well, we never met anyone there, but, just across the street,
Concepcion was always on hand, happy to give the message of peace and friendship. Our visitors, former Soviet citizens, were invariably impressed with the freedom of her protest.
Israel and Zionism Is the Issue
In the 1980s, Concepcion's main concern was the nuclear standoff between the USA and the mighty USSR. Her message then was: "Stop building nuclear weapons, and let's use the money to eliminate poverty." Presently her focus has shifted to a critique of excessively pro-Israel and pro-Zionist policies of the United States. Concepcion is not alone. Ever since two professors, John Mearsheimer and Steve Walt, published their book, The Israeli Lobby and U.S. Foreign Policy in 2007, the general public became aware that the ruling elite of this country, especially in the media, does not tolerate an open debate of the issue. Other important books followed, such as Steve Sniegoski's The Transparent Cabal: The Neoconservative Agenda, War in the Middle East, and the National Interest of Israel and Jeff Gates' Guilt by Association: How Deception and Self-Deceit Took America to War. These books were, however, largely ignored and their authors have suffered hard times under the glare of the false accusation of "anti-Semitism." Even former President and Nobel Peace Prize winner Jimmy Carter did not escape the charge for insisting, in his book Palestine Peace Not Apartheid, on fairness toward the Arabs. No wonder Concepcion feels that she has to raise the issue wherever she sees the daylight.
Zionism Versus Judaism
Conception made it clear, however, that she neither hates Jews nor equates Zionism with Judaism. Recently, a number of prominent American Jews have made the same point. Professor Lawrence Davidson in his article "The Zionist Attack on Jewish Values," elaborated on Albert Einstein's thesis that "the attitude we adopt toward the Arab minority will provide the real test of our moral standards as a people." According to Davidson "every human rights organization that has examined Israeli behavior toward the Palestinians over the last 50 years, including Amnesty International, Human Rights Watch, and Israel's own B'Tselem, leaves no doubt that the Zionists have failed Einstein's test." Allan Brownfeld in his article,"Israel Is Not the Homeland of American Jews," goes as far as accusing the Israeli authorities of "interfering in the domestic affairs of our country" when they view American Jews as "Israeli in exile."
Dwight Eisenhower Was There Too
It was only on the metro ride back home that I found time to read a leaflet I picked up from Concepcion's booth. On the very top it read: "There is no way in which a country can satisfy the craving for absolute security; but it can bankrupt itself, morally and economically, in attempting to reach that illusory goal through arms alone." The quote is from President Dwight Eisenhower's reflections on war and peace. Do I need to say that Eisenhower was prophetic? What he warned against, was heeded neither by George Bush nor Barack Obama. The country is on the brink of bankruptcy, but the government still tries to solve the problems of the Middle East "through arms alone." When will we ever learn?
Final Reflections
The major reason for our chasing the "illusory goal through arms alone" is the same as I indicated in my previous report: the mainstream media is in cahoots with the government. The media simply ignores any criticism of Israel or, what is worse, squashes the public debate by intimidating opponents. It does so on the wrong assumption that US foreign policy goals are identical with those of Israel. But they cannot be identical. For one thing, the US government's support for Israel's aggrandizement and its claim of exclusive rights to Jerusalem violates both the freedom of religion and the principle of separation of church and state enshrined in the US Constitution.
Rallies, like the above in Washington, rolled across the states and many cities, but they were barely reported by the media. Comparing media coverage of the protest movement now with that of the Vietnam War era, Debra Sweet, a veteran peace-maker, says on her site World Can't Wait: "The paradox is that people living in this country are now more ignorant, all the way around, of what this country is doing in its wars."
It's hard to disagree. While fighting "for democracy and human rights" abroad, we lose them at home and stay ignorant about the loss. Our pro-Israel media chooses to keep us ignorant as we fear to ask the hard questions about the one-sided US support for Israel that continues to poison US relations with the Arab and Muslim countries.
Europe Is Ahead of Us
A recent survey of European public perception of the Israel-Palestine conflict showed that Europeans are way ahead of us in having a more realistic attitude toward that conflict. Whereas in the US many people are afraid to criticize Israel for fear of being labeled "anti-Semitic," in Europe only 12% consider it anti-Semitic. In Europe 65% believe that Israel does NOT treat all religious groups the same. Yet we continue to extol Israel as a democracy akin to ours. Unless we learn to discuss openly and without prejudice our too cozy relationship with Israel and Zionist extremists, there is no way to improve the US image in the world.
Upon returning home, I checked my email and got the following message from ANSWER which I am happy to share with you, my reader:
"The big business mass media suppressed or downplayed coverage of the March 19 antiwar protests that took place in more than 800 cities and towns throughout the United States. Many of these demonstrations were the largest in that local area in some time. Every progressive movement is confronted with the problem that the mainstream media represents the political establishment of society. We have to count on ourselves to spread the word – and that's just what the movement is doing. More than 150 cities have sent in reports and photographs so that they can be circulated by others. The A.N.S.W.E.R. Coalition is bundling these reports so that they can receive massive circulation on the internet and elsewhere."
Spread the word! Please forward this email to friends.
W. George Krasnow (also published as Vladislav Krasnov), Ph.D., runs the Russia and America Goodwill Association, a non-profit organization of Americans for friendship with Russia. Formerly, he was a professor and director of Russian Studies at the Monterey Institute of International Studies in California.
Under the name of Vladislav Krasnov he published three books:
His op-ed columns have appeared in The Wall Street Journal, New York Times, International Herald Tribune, San Francisco Examiner, San Diego Union, and Dallas Morning News.
Recent articles, signed W. George Krasnow, can be found online, as well as in Johnson's Russia List, Russia Blog, Russia: Other Points of View, OpenDemocracy (UK) and a number of Russian-language outlets.
ATTENTION READERS
Due to the nature of independent content, VT cannot guarantee content validity.
We ask you to
Read Our Content Policy
so a clear comprehension of VT's independent non-censored media is understood and given its proper place in the world of news, opinion and media.
All content is owned by author exclusively. Expressed opinions are NOT necessarily the views of VT, other authors, affiliates, advertisers, sponsors, partners or technicians. Some content may be satirical in nature. All images within are full responsibility of author and NOT VT.
About VT
-
Read Full Policy Notice
-
Comment Policy