by Brett Clarkson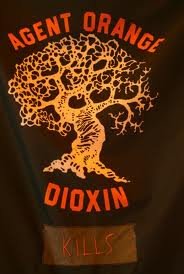 Anyone believe them?  I smell another cover-up as the revolving door spins in Canada.
NIAGARA FALLS, Ont – Despite some confusion, the provincial Agent Orange probe will include both of its chemical ingredients and not just the one, a ministry of natural resources spokesman said Thursday.
The panel headed up by University of Guelph, Ont., toxicologist Dr. Leonard Ritter will examine the usage of the chemical 2,4,5-T and any other chemical that may have been mixed with it, said ministry spokesman Brett Thalmann.
"The panel will look at 2,4,5-T and anything it may have been mixed with," Thalmann said. "If there were cases where 2,4-D was mixed with 2,4,5-T, that will be looked at."
Meanwhile, the University of Guelph confirmed that two of the former manufacturers of Agent Orange, Dow Chemical and Monsanto Corp., fund ongoing projects at the university that do not involve Ritter.
The confirmation comes after questions were raised by critics about the independence of the panel, given that Ritter has been a professor since 1993 at the University of Guelph.
"He's not the faculty person connected with this research," said university spokesman Lori Bona Hunt.
Mayor Jim Diodati, who spearheaded a city council investigation into the usage of Agent Orange in Niagara Falls, Ont.,was encouraged by that news.
"I think that's good because we want to eliminate any appearance of partiality and I think it's good," Diodati said.
Diodati said he so far believes in the integrity of the panel.
"I'm not too concerned because the science will be the science," Diodati said. "As long as they're willing to have their results peer-reviewed by a credible third party, I'm OK with it. It's a certainly a start that takes us in the right direction."
Debate has swirled since the Ontario government admitted that several ministries and the former Ontario Hydro used a mix of 2,4-D and 2,4,5-T as a brush-clearing herbicide from about 1950 to the late 1970s.
The Agent Orange used in Vietnam was a 1:1 mix of the two chemicals.
NDP MPP Gilles Bisson was still skeptical despite the ministry's vow to investigate any chemical mixes involving 2,4,5-T.
"I'm not convinced we're there yet," Bisson said. "I understood that originally that whole investigation was to be about the entire cocktail of Agent Orange. Then we get Ritter saying, 'I'm only looking at 2,4,5-T,' then you get the minister supporting that. Time will tell. I will get back to the minister and find out in fact if that's what they're doing."
Thalmann disputed Bisson's "unsubstantiated claims" about the government trying to limit the probe as well as his efforts to "discredit" Ritter.
"This independent panel was set up so that we could arrive at the facts and those will be made public," Thalmann said. "It's not being limited in scope at all."
Although 2,4,5-T is generally considered the most dangerous component of Agent Orange because of the presence of a highly toxic dioxin known as TCDD, 2,4-D is also toxic, according to some advocates like Dr. Meg Sears, an Ottawa-based environmental researcher.
Carol Brown Parker, president of the Agent Orange Association of Canada, believes the University of Guelph's ties to Dow and Monsanto could potentially affect the impartiality of the panel.
"In my opinion, yes it does," Parker said.
Dow is funding three research projects valued at $110,768 in total at the university, Hunt said. Monsanto is funding three projects valued at $243,568.
The projects involve two professors in a separate department from Ritter, Hunt said.
Richard Moccia, the university's associate vice-president of research, pointed to Ritter's reputation as a world-leading toxicologist.
"Although the University of Guelph and many of its research scientists have done work over the decades with a variety of different private corporations, I guess it's up to your readers to try to decide if that itself represents undue influence on the nature of Dr. Ritter's findings," Moccia said. "I would say there's absolutely no support for that philosophy and no evidence that that would be the case with Dr. Ritter."
Ritter didn't respond to e-mails and phone calls requesting comment.
View Original Post
ATTENTION READERS
We See The World From All Sides and Want YOU To Be Fully Informed
In fact, intentional disinformation is a disgraceful scourge in media today. So to assuage any possible errant incorrect information posted herein, we strongly encourage you to seek corroboration from other non-VT sources before forming an educated opinion.
About VT
-
Policies & Disclosures
-
Comment Policy
Due to the nature of uncensored content posted by VT's fully independent international writers, VT cannot guarantee absolute validity. All content is owned by the author exclusively. Expressed opinions are NOT necessarily the views of VT, other authors, affiliates, advertisers, sponsors, partners, or technicians. Some content may be satirical in nature. All images are the full responsibility of the article author and NOT VT.