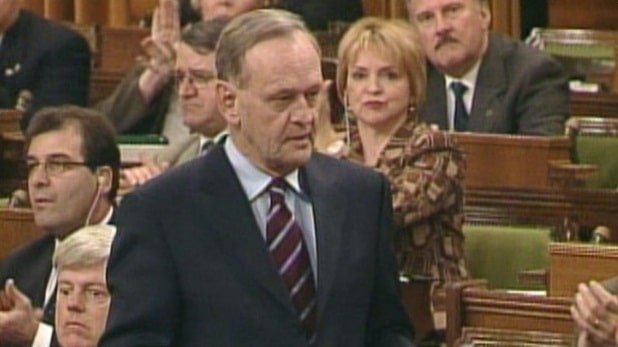 'Please destroy cable'
'While for domestic political reasons… [Canada] has decided not to join in a U.S. coalition,… they are also prepared to be as helpful as possible in the military margins' —Secret U.S. diplomatic cable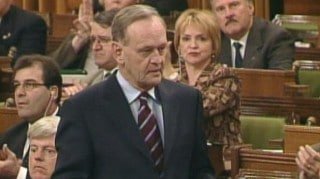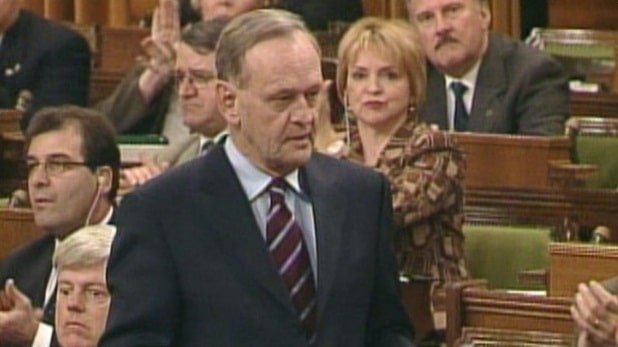 The same day Canada publicly refused to join the 2003 U.S.-led invasion of Iraq, a high-ranking Canadian official was secretly promising the Americans clandestine military support for the fiercely controversial operation.
The revelation that Canadian forces may have secretly participated in the invasion of Iraq is contained in a classified U.S. diplomatic memo obtained exclusively by CBC News from the whistleblower website WikiLeaks.
On March 17, 2003, two days before U.S. warplanes launched their attack on Baghdad, prime minister Jean Chrétien told the House of Commons that Canadian forces would not be joining what the administration of then U.S. president George W. Bush dubbed the "coalition of the willing."
Chrétien's apparent refusal to back the Bush administration's invasion, purportedly launched to seize weapons of mass destruction possessed by Iraqi ruler Saddam Hussein (which were never found), was hugely popular in Canada, widely hailed as nothing less than a defining moment of national sovereignty.
But even as Chrétien told the Commons that Canada wouldn't participate in Operation Iraqi Freedom, Canadian diplomats were secretly telling their U.S. counterparts something entirely different.
The classified U.S. document obtained from WikiLeaks shows senior Canadian officials met that same day with high-ranking American and British diplomats at Foreign Affairs headquarters in Ottawa.
The confidential note, written by a U.S. diplomat at the gathering, states that Foreign Affairs official James Wright waited until after the official meeting to impart the most important news of all.
According to the U.S. account, Wright "emphasized" that contrary to public statements by the prime minister, Canadian naval and air forces could be "discreetly" put to use during the pending U.S.-led assault on Iraq and its aftermath.
At that time, Canada had warships, aircraft and over 1,200 naval personnel already in the Strait of Hormuz at the mouth of the Persian Gulf, intercepting potential militant vessels and providing safe escort to other ships as part of Operation Enduring Freedom, the post-Sept. 11, 2001, multinational war on terrorism.
The U.S. briefing note states: "Following the meeting, political director Jim Wright emphasized that, despite public statements that the Canadian assets in the Straits of Hormuz will remain in the region exclusively to support Enduring Freedom, they will also be available to provide escort services in the Straits and will otherwise be discreetly useful to the military effort.
"The two ships in the Straits now are being augmented by two more en route, and there are patrol and supply aircraft in the U.A.E. [United Arab Emirates] which are also prepared to 'be useful.'
"This message tracks with others we have heard," the U.S. diplomat wrote in his briefing note to State Department bosses in Washington.
"While for domestic political reasons… the GOC [Government of Canada] has decided not to join in a U.S. coalition of the willing,… they are also prepared to be as helpful as possible in the military margins."
'Please destroy cable'
The original U.S. briefing cable, dated the day of the meeting, was marked "unclassified." Two days later, the U.S. Embassy in Ottawa issued an urgent internal notice to "please destroy previous cable," replacing it with the same message but marked "confidential."
The Canadian official involved, James Wright, is now Canada's high commissioner in London. He declined to comment for this report.
The U.S. ambassador to Canada at the time, Paul Cellucci, says he couldn't be at the meeting in Ottawa that day — he was stranded in a snowstorm in the U.S. — but the version of events in the leaked memo "sounds right."
"The message from the Canadians was pretty clear," Cellucci told CBC News. "We are not putting boots on the ground in Iraq. We will say good things about the United States and not-so-good things about Saddam Hussein."
And finally: "We will keep our ships in the Persian Gulf helping in the war on terror — and any way else we can help."
Exactly what that meant for the Canadian naval ships and surveillance aircraft in the Gulf region at the time — and how much they ultimately became involved in the Iraq war — remains a matter of considerable debate.
Before the invasion of Iraq, the duties of the Canadian ships had been mainly to protect other vessels from attacks by militants and to intercept craft suspected of gun-running and other potentially militant-related activities.
The issue is what, if anything, changed after the Chrétien government decreed those ships and aircraft couldn't be involved in intercepting vessels connected to the Iraq war.
Eugene Lang, chief of staff to then defense minister John McCallum, says there was no end of internal debate over whether the Canadian Forces were being put into a mission impossible.
"How do you know if something is connected to terrorism or Iraq? When you are intercepting unknown boats, you don't know what you have taken over until you have taken it over."
Lang says that after "painful" consultations with federal lawyers, the Department of National Defence issued Canadian naval commanders in the Gulf clear orders not to engage in anything to do with Operation Iraqi Freedom.
"But who knows whether in fact we were doing things indirectly for Iraqi Freedom? It is quite possible."
McCallum's former chief recalled a bitter internal battle over whether to pull the Canadian ships out of the Gulf altogether to avoid any confusion.
"For a long time, the [Canadian] military pushed really hard not to be in Afghanistan, and instead be part of a full-blown boots-on-the-ground Iraq invasion," Lang said.
"So the military was dead set against pulling out [of the Gulf], and in the end the government decided we would stay mainly, I think, for Canada-U.S. relations."
Former defense minister McCallum recalls he and his officials having "extremely long and detailed meetings to make sure that we were not in fact committing to help the war in Iraq."
"Now, what happens on the high seas is not something I can prove or disprove, but those were the orders that the military had."
U.S. didn't seem to care
Ironically, after all the fuss, the Americans didn't seem to care whether Canada contributed a lot of military might to the Iraq mission.
A former senior Canadian bureaucrat said: "The Americans knew we were stretched to the limit on the military side, and they really just wanted a political endorsement of their plan to go into Iraq."
Former U.S. ambassador Cellucci concurred: "We were looking for moral support. That's all we were looking for.… We were looking for 'we support the Americans.' "
Then defence minister McCallum met with his counterpart, U.S. defense secretary Donald Rumsfeld, three months before the Iraq invasion. McCallum recalls Rumsfeld never even mentioned Canada's possible military contribution to Iraq.
A U.S. diplomatic briefing note prepared for Rumsfeld prior to the meeting states: "As for what Canada might bring to the table, our expectations should be modest."
The memo, also obtained by CBC News from WikiLeaks, goes on to say: "Canada probably would need to use assets currently devoted to Operation Enduring Freedom, including a naval task group [in the Gulf] and patrol and transport aircraft."
If the secret U.S. memos cast doubts on Canada's status as a refusenik of the Iraq war, the public also didn't exactly get the whole truth about a group of Canadian soldiers the government admitted were in Iraq.
From the outset, the Chrétien government said a "few" Canadian soldiers embedded with the U.S. and British militaries as exchange officers would be allowed to remain in their positions, even if they wound up in Iraq.
While the revelation caused a ruckus in Parliament, it all sounded relatively innocuous at the time.
But Lang, defense minister McCallum's chief of staff, says military brass were not entirely forthcoming on the issue. For instance, he says, even McCallum initially didn't know those soldiers were helping to plan the invasion of Iraq up to the highest levels of command, including a Canadian general.
That general is Walt Natynczyk, now Canada's chief of defense staff, who eight months after the invasion became deputy commander of 35,000 U.S. soldiers and other allied forces in Iraq. Lang says Natynczyk was also part of the team of mainly senior U.S. military brass that helped prepare for the invasion from a mobile command in Kuwait.
The Department of National Defense refused to comment on Natynczyk's role, if any, in the invasion of Iraq.
ATTENTION READERS
We See The World From All Sides and Want YOU To Be Fully Informed
In fact, intentional disinformation is a disgraceful scourge in media today. So to assuage any possible errant incorrect information posted herein, we strongly encourage you to seek corroboration from other non-VT sources before forming an educated opinion.
About VT
-
Policies & Disclosures
-
Comment Policy
Due to the nature of uncensored content posted by VT's fully independent international writers, VT cannot guarantee absolute validity. All content is owned by the author exclusively. Expressed opinions are NOT necessarily the views of VT, other authors, affiliates, advertisers, sponsors, partners, or technicians. Some content may be satirical in nature. All images are the full responsibility of the article author and NOT VT.