I remember clearly the first time I learned that the Third Reich, at least on paper that is scrupulously kept from eyes beneath raised eyebrows, still exists. You didn't know that – did you? I didn't – until fairly recently.
The legendary German attorney, Horst Mahler, now serving a lifetime sentence for having rushed in bravely where angels fear to tread, called me one merry morning right after my husband was kidnapped by agents of my government to please the Noisy Lobby, and gave me the low-down on this.
In Horst's own words, since tauntingly repeated to much judicial and editorial squirming in several recent thought-crime trials in Germany, including the ghastly show trial that cost Ernst Zundel five years:
"The German Reich, including its people, never surrendered! Only the Wehrmacht did."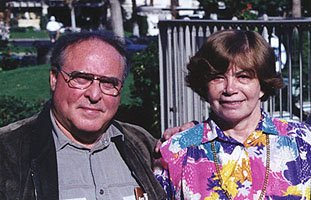 At the time, I shrugged this off as obscure legalese that had no relevance to what I was desperately trying to do – to explain to the authorities that my husband had been swept up under the guise of a fig leaf of a "visa overstay" so as to silence him for his politically incorrect sins. Since then, I have learned differently.
Now it makes sense to me that what is happening in Europe, especially in Germany, where in the last ten years more than 100,000 upright citizens have found themselves in conflict with the law for having misspoken themselves to the displeasure of the Ruling Mandarins. This could only have happened thanks to a Shadow Government – an Occupation Government since 1945! – that passes itself off as legit!
More shall be said about the shameful record of the so-called "Bundesrepublik" of Germany that jails its dissidents in the tried-and-true Stalinist Mode – without allowing the slightest defense. Not only that – even defense attorneys are now being jailed who dare to speak Truth to Power!
[youtube UGATDr0cDfI]  – Ernst – Israeli interview
The letter below was sent to me by a South African friend who happens to be – get this! – a banker whose email is [email protected] You see why I am always optimistic that patriots can still be found in weird and wonderful places? His name is Stephen Goodson – and I am sure he doesn't mind my giving away his moniker because he is running for office. His letter below features a man who calls a spade a spade. It gives me great please to pass it on to you for your elucidation:
Stephen Goodson Letter
It is not often that one has an opportunity to confront one's adversaries and ask penetrating questions without fear of arrest or retribution, as may well have been the case if the following encounter had taken place in the allegedly "freest" Germany of all time.
On the evening of Monday, 24 January 2011, I attended a symposium entitled "21 and 15 years on: To what Extent Can Germans and South Africans Enjoy their Respective 'Living' Constitutions?", sponsored by the German Consulate General in Cape Town.
The South African panelists were advertised as Pius Langa, former president of the South African Constitutional Court, and Roelf Meyer, former Minister of Constitutional Affairs, who was chief negotiator at Kempton park, Johannesburg (1992-1996) and who played a leading role in selling South Africa out to the international banking cartel behind the smokescreen of majority rule. After his election, President Thabo Mbeki personally thanked David Rockefeller for his invaluable support in this regard.
The German panelists were represented by emeritus Professor Hans-Peter Schneider, a former member of a number of provincial (Laender) Constitutional Courts, and Professor Herta Daeubler-Gmelin, a former
Minister of Justice (1998-2002) and member of the Bundestag.
During her term of office Frau Gmelin was responsible for introducing same sex "marriages" or civil unions, and for fining and jailing hundreds of "thought criminals". But she was fired from her post in 2002 after comparing the methodology of President George W Bush in Iraq to that of Adolf Hitler. Her leader, SPD chief Gerhard Schroeder, who apologized profusely to Bush, said at the time that he could not sit at the same Cabinet table with someone who had connected Bush to a "criminal".
In the event, of the four invited panelists, only Professor Schneider was present. The South Africans were indisposed and Frau Gmelin's flight was delayed.
Three Points
In the spirit of clarification, I directed the following three points to Professor Schneider:
(i) Two days prior to the enactment of the German constitution on 23 May 1949, a Secret Treaty (Geheimer Staatsvertrag) was signed, which gave complete Allied control over electronic and print media, film, culture and education until the year 2099.
As a result thereof, there are still 100,000 occupation troops in Germany; after 66 years there still has been no peace treaty concluded between Germany and the Victorious Allied Powers; and all of Germany's gold reserves are held in the U.S. Federal Reserve Bank of New York, in which the Rothschilds have a 57% shareholding.
This treaty has been confirmed by Major-General Gerd-Helmut Komossa, former head of German Military Intelligence in his book "Die Deutsche Karte" (The German Card).
(ii) There appear to be two constitutions. According to a resolution of the Constitutional Court (Verfassungsgericht) of 17 August 1956, "It is upheld that the German Reich has outlasted the collapse of 1945 and has never gone under or fallen, either through capitulation or through the exertion of foreign state authority in Germany by the Allies, or in the later course of time; it is still an entity with legal capacity, even though it is not fully operable as a government due to a lack of organization. The Federal Republic of Germany is NOT the successor of the German Reich".
It needs to be noted that the Constitution of the Third Reich dates back to the North German Constitution of 1866. The principal reason why it still exists is because only the German High Command surrendered on 8-9 May 1945, and not the German Government.
Furthermore, the 1949 Constitution is termed the Basic Law, because it is a provisional constitution, pending unification of the lost territories. So far, only central Germany has been reunified – 3 October 1990. The eastern territories, as defined by the 1937 borders, still remain under Polish and Russian control.
(iii) Freedom of expression is guaranteed by Section 5 of the Basic Law (Grundgesetz), but it is clearly contradicted by Section 130 of the Criminal Code (Strafsgesetzbuch) under the heading 'Agitation of the People'. Any alternative view of the Establishment's version of history is punishable by up to 5 years in prison (12 years in the case of Horst Mahler), and thousands of innocent people have been jailed or fined.
I will give two brief examples. Dr Wilhelm Staeglich from Hamburg was forced to resign as a judge and lost 20% of his pension for five years for publishing a book about World War II, "Der Auschwitz
Mythos". In a letter to me dated 21 October 1990, he wrote:."…In Germany the book has been banned forever."
My second example concerns Germar Rudolf, who graduated in Chemistry at Bonn University and was a researcher at the Max Planck Institute. In 1992 he wrote a scientific report about the so-called concentration camps in the east, which was peer-reviewed by over 300 professors of Inorganic Chemistry. Not one of them could find a single mistake. He was sentenced to 2 1/2 years in prison for writing this Report.
Finally, I wish to quote a sentence from Professor Dr Ernst Nolte, who was a witness at the recent Kevin Kaether trial in Berlin: "Such questioning must be allowed, or else scientific truth in this area of
history is ruled out – this is simply not a possibility."
The Result
Halfway through the third question, the moderator of the symposium requested a "termination", in other words, he wished to stop the questioning. Professor Schneider only replied to this, the third question, saying flatly that freedom of speech is protected by the Constitution and that the Criminal Code is there to protect it from "hate" speech.
After the symposium ended for the public, I expanded on the rest of my question to him as well as mentioning that the famous German historian, Professor Helmut Diwald, had had his book, "Geschichte der Deutsche" pulped in the late 1970's, after he had written (p.165) that whatever happened to the Jews who were evacuated to the east after 1940 is "still unexplained with regard to the central questions, in spite of all that has been written." Professor Schneider seemed to agree that such questions needed to be treated more seriously.
Regarding the secret Treaty discussed in point (i) above, Schneider said that he was unable to say whether it was true or false. There has been much debate about its authenticity, but the fact is that the provisions contained in it have all been applied.
Concerning the constitution of the Third Reich never having been abrogated, as discussed in point (ii) above, he admitted that it still exists, but apparently only so that those who worked during that period could still receive their pensions!
The Crux
The crux of any constitution is the unfettered right to freedom of expression. This has recently (3 June 2010) been formulated by the Human Rights Council, a subsidiary of UNESCO, as follows:
"The exercise of the right to freedom of opinion and expression is one of the essential foundations of a democratic society, and is instrumental to the development and strengthening of effective democratic systems." Until this righthas been restored in Europe, injustice and repression will persist, notwithstanding Germany's false claim of being a Constitutional state ("Rechtsstaat").
During the discussions, it was revealed that there had been a steady decline in the participation of the German people in the party political system. Furthermore, large-scale violent riots had erupted because of the dumping of nuclear waste in Lower Saxony and the construction of a new underground railway station in Stuttgart, indicative of general dissatisfaction and possibly a new direction.
Another indication was the finding by a recent opinion poll that 89% of Germans do not believe the official version of 9/11, a hopeful development, no doubt spurred on by the Internet.
The response to my questions and points from the audience of about 60 people was muted, and was epitomized by the glum look on the face of the Consul General. However, afterwards a former Jewish student of political philosophy and a black film maker both said that they found it an intriguing revelation that Germany was still under the control of foreign powers.
Hopefully, the Germans will one day have the opportunity to write their own constitution, free of foreign interference, and one which would fully reflect their own culture and traditions.
(Stephen Goodson, the writer of this article, graduated in Roman-Dutch Law at the University of Stellenbosch.)
Editors Note…Jim W. Dean: I am going to close with a video of Sylvia Stolz, Ernest Zundle's attorney, who was sentenced to 3.5 years for challenging Germany's Kangaroo Court thought crime prosecutions. They rival any show trials that the Stalinist Soviets or the Chinese Red Guard communists put on. It is a disgrace to all of those who died in WWII that the such legal repression would conducted over this blood stained ground.
Ernest Zundle was renditioned out of the U.S. during the early abuses of the Patriot Act where they were making up the rules as the went along. I remember the sad day when I went with Ingrid down to the German Consulate's office in Atlanta where it was like talking to a brick wall. The only rise we got out of him was when he asked why I was there, and I told him:
… "national security reasons…that this rendition operation represented a penetration of our security forces just so Germany could settle a thought crime score with Ernst Zundle."
Sylvia speaks here in German with English subtitles, but you all need to watch this as a certain Lobby is working 24/7 to bring such trials here, to be used against people with incorrect thoughts.
[youtube _uNU2huXLjc]  – Sylvia Stolz
Ingrid Rimland is an award-winning ethnic novelist and documentary producer. Currently she works on a wide-screen feature movie (Category: Contemporary Political Drama) called THE EXPATS.
Born to Russian-German Mennonites in the Ukraine, she experienced World War II as a small child. Multilingual and gifted linguistically, she brings a unique perspective to the Patriot struggle, having lived under four dictators in her young years – Stalin, Hitler, Peron of Argentina, and Stroessner of Paraguay.
Ingrid is proudly married to one of the world's most politically incorrect human rights activist, Ernst Zundel, kidnapped by America's Zionist-beholden government goons on American soil in 2003 for having spoken Truth to Power about the so-called "Holocaust". She has earned a doctorate in Education from the University of the Pacific and been a U.S. citizen since 1973.
ATTENTION READERS
Due to the nature of independent content, VT cannot guarantee content validity.
We ask you to
Read Our Content Policy
so a clear comprehension of VT's independent non-censored media is understood and given its proper place in the world of news, opinion and media.
All content is owned by author exclusively. Expressed opinions are NOT necessarily the views of VT, other authors, affiliates, advertisers, sponsors, partners or technicians. Some content may be satirical in nature. All images within are full responsibility of author and NOT VT.
About VT
-
Read Full Policy Notice
-
Comment Policy