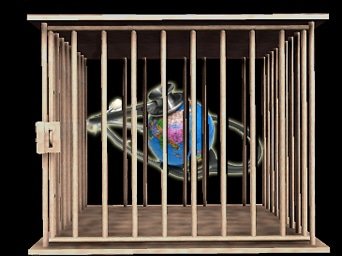 The biggest, and least informative, political issue of this new century has been the insane push to establish "Universal healthcare."
Like an immovable object confronting an irresistible force, it simply cannot be—by definition.
How can a society establish a viable, fair, and honest system when that society is totally wrapped in a plastic coating of unhealthy fascist monopoly?
We do not have the freedom to chose health in this corrupt society. If you discovered a surefire cure and preventive for cancer, You could not claim it regardless of the truth, because the "authorities" would squash you in the blink of an eye. Same goes for any other kind of health claim outside the malicious monopoly. We all should know this is true.
In 1994, the aware "health nuts" of America actually rebelled against the fascism, and won a partial victory by forcing the Congress to adopt a rule change for purveying dietary supplements that removed the stranglehold on certain health claims for obvious products that legitimately challenged pharmaceuticals.
Nutrition underlies all health. That's a Fact of life that Americans have ignored, with plenty of government and corporate help for almost a century. Ignoring the obvious and being swayed by "authorities" is destroying any shot at a vibrant robust society.
Of course power players in our fascist system abhor vibrant, robust people. They have worked overtime to prevent such health. Government has encouraged corporations to pollute and denigrate nutrition with abandon; as the populace becomes dulled by chemicals such as fluoride in water systems and confused proteins from genetic tinkering; and mass produced white breads with lots of sugars and additives the aging people grow sicker exponentially, only to encounter the bleeping medical/pharmaceutical/insurance/government monolith at a time when they are losing energy and vibrancy while aging.
The food system, medical systems and "investment first" mentality has done a job on God's special creature, so that he falls into a black hole of fading health practically before he matures and builds a future.
How can a "Healthcare system" be designed out of this morass?
It cannot be done with any sanity whatsoever.
Mild-mannered Congressman Ron Paul knows full well of what I speak, and he has spoken out about it, but not as forcefully as he should. Being from a dairy farm family and a medical practitioner, Paul is well situated to lead such a freedom charge. The money issue is more immediate, I agree. Toxins and malnutrition seldom kill us quickly.
Before government should try universal healthcare, a very appealing program for dummies, should they not define what health is?
This thing we have in the news is an Orwellian term of the first order, even without the prefix—Obama.
---
Related Sites:
ATTENTION READERS
Due to the nature of independent content, VT cannot guarantee content validity.
We ask you to
Read Our Content Policy
so a clear comprehension of VT's independent non-censored media is understood and given its proper place in the world of news, opinion and media.
All content is owned by author exclusively. Expressed opinions are NOT necessarily the views of VT, other authors, affiliates, advertisers, sponsors, partners or technicians. Some content may be satirical in nature. All images within are full responsibility of author and NOT VT.
About VT
-
Read Full Policy Notice
-
Comment Policy